Editors' Note: This article discusses micro-cap stocks. Please be aware of the risks associated with these stocks.
The long-suffering maritime shipping industry is poised to flourish again after nearly a half decade of despondency. How bad has it been you ask? Recent years have proven to be arguably the worst crisis in the industry's modern era. As recently as last month, according to ship broker Clarkson PLC (OTC:CKNHF), charter rates across the industry represented the lowest daily averages since 1990. Furthermore, according to Clarkson and Fearnley Consultants, a maritime research company based in Oslo, the fleets of both dry-bulk carriers and supertankers have exceeded demand by the largest margin since the 1980's. It has been, for lack of a better word, a nightmare.
A completely inverted supply and demand ratio, low freight rates, high fuel costs, and deteriorating asset values, all in the wake of the global financial crisis, managed to cripple one of the oldest and most reliable industries on the planet.
However all that is about to change. According to Nordea Bank (OTCPK:NRBAY), the world's fifth largest shipping bank, a reversal of fortune is imminent. Hans Kjelsrud, the head of Nordea's shipping unit, stated last month, "Once we get through this year, deliveries of new ships will be a lot lower. We believe 2014 will be better than 2013, and that 2015 will be even better than 2014." He is not the only qualified maritime expert to share these sentiments. In fact, for those of you listening carefully, the mounting voice of optimism in the industry has been systematically growing louder and louder.
The Great Wilbur Ross
Wilbur Ross, the billionaire founder of WL Ross & Co., is a substantial proponent of global shipping's inevitable return to prominence. As far back as two years ago, Ross was part of a consortium that purchased a fleet of 30 tankers in a 900 million dollar transaction. Then, as recently as May of this year, Ross was quoted as saying, "We've actually been quite happy with our shipping investments so far and we're going to do a lot more..." That's a significant statement when considering that Ross' company already has a majority stake in Navigator Holdings Limited (OTC:NVIGF), a company that controls one-third of the world's mid-sized carriers of liquefied petroleum gas. One can't help but wonder, for a man that has already done so much during the industry's downturn, what could he have planned for 2014 and beyond? It's impossible to say for sure. However, what we do know is that men like Ross rarely make losing bets, and he appears to be "all in" with the shipping industry for years to come.
What to Expect
Certainly activity in the supertanker industry, as it pertains to the petroleum supply chain, is set for changes. Locations of refineries, the growing role of the United States in the exporting of energy resources, and the consolidation of European based infrastructure are all factors. Some companies are more prepared for these changes than others. However, as OPEC has recently increased their forecast for the global demand of oil, the industry as a whole should improve across the board. Supply and demand, pertaining both to shipping vessels and production of their cargo, as well as to energy production and usage, are collectively beginning to favor fleet services once again.
In terms specifically of domestic markets, now that the U.S. has taken over Russia as the world's largest oil and gas producer, the pressure to begin exporting their supply is mounting. According to the Energy Information Administration, the U.S. is expected to be producing 8.4 million barrels of oil a day in 2014. It terms of just geography and landscape this is a considerable development. Given the location of the U.S. in proximity to other nations with considerable energy usage, the inevitable exporting of their domestic supply will immediately impact the petroleum shipping markets globally.
However, for all the growth potential that surrounds supertankers and energy resources, the real growth will likely take place in the dry bulk sector.
A Brief History of the Dry Bulk Sector
When one says "dry bulk shipping", what are they talking about? Generally speaking, it is the shipping of dry bulk commodities such as coal, iron ore, and grain. The relative health of the dry bulk shipping sector is reflected by the Baltic Dry Index. The Baltic Dry Index, or BDI, is by definition as follows; "an assessment of the price of moving major raw materials by sea. Taking in 23 shipping routes measured on a time charter basis, the index covers Handysize, Supramax, Panamax, and Capesize dry bulk carriers carrying a range of commodities." Simply put, the BDI is like a thermometer which measures the temperature of the dry bulk shipping industry. Primarily, the index measures the demand for shipping capacity versus the supply.
The BDI was introduced in 1985, and since then, has been the standard measurement of how to evaluate the dry bulk sector as a collective industry. Here is a simple graph detailing the performance of the BDI since its inception:

As can be seen, dry bulk shipping peaked between 2007 and the late autumn of 2008. It hit its record high on May 20, 2008 when it hit 11,793. Notoriously volatile, the BDI then plummeted to 663 in December of that same year. In truth, the BDI was an accurate indicator of the growth and prosperity of the industry when it began its climb in 2004. The world economy was healthy at the time (or so we thought) and shipping was expanding rapidly on the back of growing demand. The health of global shipping has long been linked to the health of the global economy.
However, as is the case with all "global industries" the standard measurement of industrial health is largely related to the U.S. dollar. Defined by the IMF and World Bank as the principal world currency, the U.S. dollar and its global strength at any one time is likely to affect, for better or worse, global industries such as dry bulk shipping. Therefore, as can be observed on the above chart, when the U.S. economy began to fall victim to a mortgage and housing crisis in 2006, confidence in the dollar fell as did the BDI.
Despite the crisis unfolding in the United States that year, it was still largely considered a 'housing issue'. That is to say, it was written off to an extent as being an 'in house' problem (i.e. domestically isolated), and caused strictly by the 'housing bubble'. Therefore, after initial panic and adjustment, the BDI continued its climb upwards on the back of a healthy Western European economy and existing long term charters.
By the first part of 2008 however, it was becoming painfully obvious that the financial crisis in the United States was not just a housing crisis, but rather a debt crisis. This realization could not have come at a worse time for the dry bulk sector.
Since the BDI had been climbing at an unprecedented pace, and to unprecedented heights, overzealous shipping companies began to build. They began to build a lot. Vessels were being ordered, manufactured, and put into the market at a completely unsustainable rate. The shipping companies objective was to meet demand in order to grow with it. Unfortunately, they completely overestimated the demand and completely underestimated the severity of the debt crisis. By Q3 of 2008 the writing was on the wall. The dry bulk sector was completely upside down to a horrifically tragic degree.
Shipping times were being increased in order for the vessels to travel slower and save on fuel costs. Liquidity among shippers had become a massive problem. The debt and credit crisis had become a global epidemic. A lack of access to bank letters and credit for shippers led to catastrophic consequences at departure ports, cargo loads, and shipyards. Vessels were being abandoned half built. Banks couldn't extend credit lines. Over extended shipping companies were laying off workers, preparing for bankruptcies, and closing doors. All the while, the price of raw commodities, which is built into shippers fiscal forecasts, was plummeting. To call it "disarray" would have been a massive understatement.
After a series of ups and downs, some ethical and some otherwise, shippers struggled to survive through the autumn of 2010. The ones that had survived were not in good positions. Revenues, growth, fleet management, and liquidity were all suffering. By 2012 the BDI hit a new multi-decade low of 643 (see below). The industry had officially been exhausted into submission.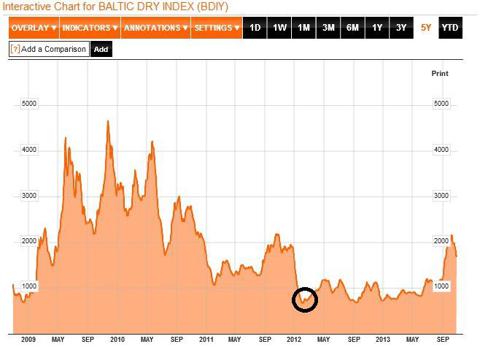 The Dry Bulk Recovery
The world economy has continued its march towards recovery in recent months. By the beginning of October, exports from South Korea and Taiwan were up 2.9% on the year. Italy's industrial sector is incrementally showing signs of life. Germany, whose producer-price index was up 0.3% in September, is slowly inching towards mild inflation. There are signs everywhere, albeit small ones, that the global economy is improving. Of course, the most significant, near term, global market catalyst would be if a solution for the budget crisis in America came to fruition the first part of 2014.
In terms of the dry bulk sector, there are both old and new opportunities on the horizon. While the best days for the seaborne coal trade are likely behind us, one man believes that could be a good thing. Mats Berglund, chief executive of Pacific Basin Shipping (OTCPK:PCFBF), operator of the world's largest fleet of Handysize vessels, sees a way to fill the void. With countries slowly making the transition to alternative and more sustainable fuel sources, wood pellets used for biomass-fueled power stations are in increasing demand. In fact, wood pellets have slowly been replacing a segment of the coal demand in Europe over the last year.
This one prospective transition, from coal to wood pellets, could have a significant impact on dry bulk shippers. According to Berglund, "Since you need more ships to carry wood pellets than you do to carry coal to produce the same amount of energy, it increases the number of shipments required, and they are primarily long-term contracts ranging from eight to 12 years."
Of course, there are other, more traditional factors to consider;
Capitalism and global trade is dependent on failure. From 2007 - 2011 the competition in the dry bulk sector was reduced substantially. Many companies ceased operations, unable to recover from bankruptcies and failing to retain their assets. The surviving shipping companies now have fewer competitors to deal with. When supply exceeds demand, the end result is a clear line being drawn between winners and losers. It's the market's way of thinning the herd. Therefore, for those shippers left standing, even if it is on shaky ground, future conditions should help to provide more sure footing.
In addition, with charter rates for dry bulk shippers increasing in both the spot market and long term contracts, the ability to offset costs and see revenues turn into profit is increased. Furthermore, the price of raw goods such as iron ore and wheat are moving upwards due to increases in demand. This bodes well for dry bulk shippers. From September of 2008 (financial crisis) - September of 2013 (current recovery period) the price for iron ore has doubled (see below).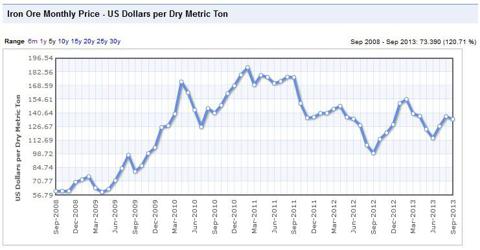 In addition, since June of 2010, the price for wheat has doubled as well (see below).
Increasing stability in global economies, less competition on the docks, increases in charter rates, improving supply and demand ratios, growing demand for old products, increasing demand for new products, and a significant reduction in new vessels entering the market, all indicate that 2014 will be the year that dry bulk shipping begins its return to pre-debt crisis levels.
How to Profit from the Dry Bulk Recovery
There are a plethora of dry bulk shipping companies offering substantial upside for investors. Options for consideration include Paragon Shipping (PRGN), who in preparation of increased demand recently acquired two Ultramax dry bulk carriers; Safe Bulkers (NYSE:SB), who has seen their PPS grow from 3.50 in January to upwards of 7.00 this month; and Diana Shipping (NYSE:DSX), whose fleet is tailor-made for recent charter rate increases.
Of the 34 vessels owned by Diana Shipping, nine of them are of the Capesize variety. In terms of charter rates for Capesize's, they have grown from a 2013 YTD average of less than 10,000 dollars per day to current rates around 30,000 dollars per day.
For those of you with considerably higher risk tolerances, and a tendency to support the underdog, there are two other companies to consider; FreeSeas (FREE), a small Athens based shipper who recently eliminated enough debt to remain in the game, and Genco Shipping and Trading (NYSE:GNK), a one-time well respected company that is now struggling amidst rumors of insiders funneling shareholder dollars into outside businesses.
Conclusion
The global shipping recovery has already begun. Not only is the BDI starting to recover, but all the factors that aren't measured in the BDI indicate strength. The global economy is growing, but not at a reckless rate. Charter rates are improving, but not disproportionately to demand. Dry bulk goods are growing in price, which is indicative of increased need. Fuel costs are finally finding a post crisis equilibrium. Furthermore, the industry won't be allowed to repeat the same mistakes it made between 2006 and 2010. Shareholders, banks, executives, lien holders, and board members won't allow misguided managing partners to build new vessels at irresponsible rates. The majority of people, after all, learn from their mistakes. In this case, the truly careless of the bunch have already suffered their fate. Many board members, partners, and executives have been demoted, fired, or replaced since 2009. Some companies have been sold, downsized, absorbed, or dissolved over the same time frame.
Every precaution has been taken in order to ensure the industry thrives. That much had to happen. Dry bulk shipping is a necessity of global commerce. No other mode of transportation can handle the weight, cargo, or demands required to transport goods across oceans. The industry therefore must move forward. So then the question becomes, when does it rebound? Clearly, it appears the rebound will start in 2014, and should continue responsibly for years thereafter.
With any investment though, there are obvious risks. Dry bulk shipping is no different. Furthermore, the factors that contribute to dry bulk revenues can change on a daily basis. In addition, forecasting the need for new products such as wood pellets is nearly impossible. That is a largely subsidy-driven market. Also, even for the dry bulk companies that managed to survive, there was damage done. Quite literally, every remaining dry bulk shipper has potential downside risk. For some it is overextension, for others it is minimal liquidity, and for several more it is older vessels. Lastly, during the era of desolation that the industry is now emerging from, there were rumors of widespread financial misappropriation. It cannot be known for sure if all of those desperate accounting measures have been accounted and atoned for.
If history has taught us anything though, it is that while some men do create their own circumstances, in most instances, circumstances make men. So, with the changing of the tides in the shipping industry beginning to favor shippers again, one can reasonably expect to see some shippers do extraordinary things. As for what companies are worthy of your investment; that isn't for me to say. It is largely dependent on your risk tolerance, and the corporate attributes that you prioritize. While some companies are mentioned herein, I would suggest that anyone considering the industry for the first time do substantial due diligence in order to satisfy individual concerns.
The dry bulk industry as a whole is risky, but as the saying goes, "Scared money never made money." The dry bulk sector will turn around in 2014, and should return to prominence by 2015/16. The industry, as an investment, is well worth your consideration, and the time to consider it is now.
Disclosure: I am long FREE. I wrote this article myself, and it expresses my own opinions. I am not receiving compensation for it (other than from Seeking Alpha). I have no business relationship with any company whose stock is mentioned in this article.