By Guy Adami
Wonderful, wonderful Copenhagen
Friendly old girl of a town.
'Neath her tavern light
On this merry night
Let us clink and drink one down!
Everybody, together now! What, I've lost you already? OK, let's sort this out.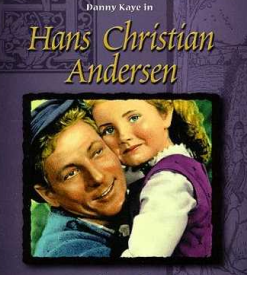 Danny Kaye led quite a life. Although married to Sylvia Fine from 1940 until his death in 1987, Kaye was linked to many women. Arguably the most famous of them was Eve Arden. Some may recall Arden as Principal McGee in the movie "Grease," in which she uttered one of my all-time favorite lines: "If you can't be an athlete, be an athletic supporter." But back to Danny Kaye.

I remember growing up watching 1952's "Hans Christian Andersen." The majority of the movie was dedicated to song, with my personal fave being "Wonderful, Wonderful Copenhagen." As a matter of fact, during our daily optionMONSTER morning call, I sang a few lines to Pete and the boys--they were thrilled, I'm sure. And thanks to the genius of the Internet, I was able hear Kaye singing the song again on YouTube.

The eyes of the world have been focused on Copenhagen, where world leaders convened to discuss climate change. Of course, these events are not without drama, the latest taking the form of Chinese Premier Wen Jiabao missing President Obama's first closed-door meeting at the summit. Perhaps he got caught up visiting some of the sights of the city.

Aside from these sideshows, however, the climate conference has brought the spotlight back to alternative-energy plays. So today I would like to mention a few names in the solar industry.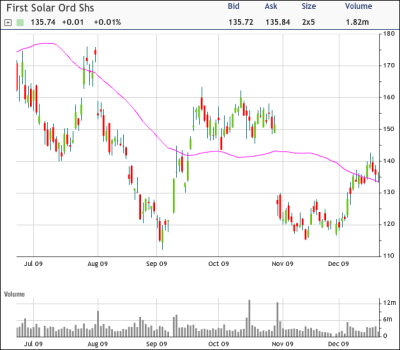 First Solar (NASDAQ:FSLR)

One of the most talked-about names in this space is First Solar. With a market cap of $11.45 billion. it easily dwarfs some of the other names in the sector.
Yesterday the company said fiscal 2010 earnings would come in between $6.05 and $6.85 per share versus the consensus estimate of $6.60 EPS. First Solar also anticipated sales of $2.7 billion to $2.9 billion and said consolidated gross margin would come in around 38 percent with operating margin between 23 percent and 24 percent.

At the height of all the hype over solar technology, FSLR made an all-time high of $317 on May 14, 2008. The stock suffered a precipitous drop at the end of that year, and today we find it trading around the same price as it was at the end of 2008. Using the midpoint of the EPS guidance that FSLR provide us with yesterday, FSLR is trading around 21 times forward earnings. Not exactly cheap, but not as rich as some other names in the group.

First Solar is headquartered right here in the United States, in Tempe, Ariz. It is currently the largest manufacturer of thin-film solar modules. In 2008, the achieved the lowest manufacturing cost per watt in the industry, breaking the $1-per-watt barrier. By the end of this year, First Solar will bring its total capacity to more than 1.1 gigawatts. (For reference a kilowatt is equal to 1,000 watts, and a gigawatt is equal to 1 billion watts.)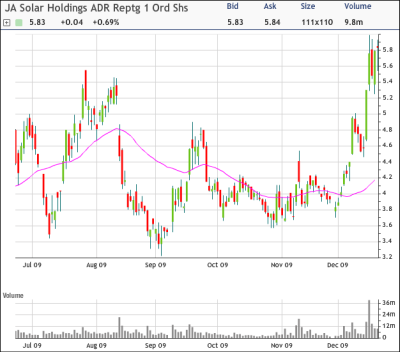 JA Solar (NASDAQ:JASO)

Another well-known name in the solar space is JA Solar. Headquartered in Zhabei, China, JASO is in the business of developing, producing, and marketing photovoltaic (PV) solar cells. On Dec. 14, JASO said its fourth-quarter shipments should exceed the higher end of previous guidance. The company also said that shipments will exceed 488 megawatts for fiscal 2009, compared with earlier estimates of 448MW to 478MW, and that fiscal 2010 total shipments should be in the range of 750MW to 800MW.

The very next day JA Solar was upgraded to "buy" from "hold" at ThinkEquity. Then today Nomura Securities got into the act, upgrading the shares to "buy" from "reduce" and raising its price target to $7 from $3.38.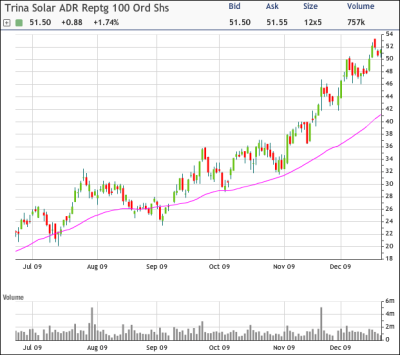 Trina Solar (NYSE:TSL)

Remaining in China we have Trina Solar. TSL reported a fantastic third quarter on Nov. 19, with revenues of $249.7 million that well exceeded the $216.3 million that analysts had forecast. Operationally, gross margin of 28.5 percent came in higher than previous guidance of 23.5 percent to 26.5 percent.

Third-quarter gross margin also compared favorably to the second quarter's gross margin of 27.4 percent and last year's third-quarter gross margin of 22.4 percent. On Dec. 10, Collins Stewart raised its price target to $56 from $51 for TSL after channel checks indicated that assumptions for the business were too low. Since this time last year, TSL is up some 628 percent to the highest we have seen since December 2007.

So as the conference in Copenhagen comes to a close, take a look at some solar names. The clouds may be dissipating for the space.

Disclosures: I do not have positions in any of the stocks mentioned.

(Chart courtesy of tradeMONSTER)