The stock market just keeps grinding higher and higher in what seems to be an endless rally. Sure, there were some recent "speed bumps" in the rally but ever since the Federal Reserve decided to postpone tapering, and after the U.S. Government announced it would raise the debt ceiling, it seems that investors are once again, exceedingly confident that stocks are the only place to be for now. This apparent lack of fear and robust level of confidence and greed has pushed stocks to near record highs. There are a number of reasons why investors should consider taking at least some profits by selling into this rally. Let's take a look at what might be "red flags" and signs of a market top, along with the chart for the S&P 500 Index (NYSEARCA:SPY), which looks very extended now: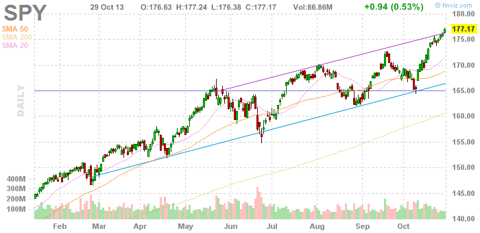 Click to enlarge
1) Even though Washington is able to pay its bills thanks to the debt ceiling being raised at the last minute, the deal made is only temporary and early next year we could see a very similar battle heat up between the Republicans and the Democrats. Republicans want the record levels of debt to be addressed, however, President Obama has said he will not negotiate, even though President Clinton and Reagan both negotiated to get a more permanent debt ceiling deal done. All this means that the market may have some big declines in early 2014, if history repeats.
2) The Fed-induced bubble economy is alive and well thanks to massive "QE" or quantitative easing programs coupled with artificially low interest rates. The programs have helped to revive the housing bubble and auto sales, as well as the stock market, but it has done little to create jobs, increase wages or improve other areas of real and organic growth. We saw a hint of how addicted this market is to the Federal Reserve's QE programs when investors sold off stocks when fears of "tapering" where starting to take the market lower in August. However, the Federal Reserve postponed tapering because the real economy just isn't that great. The fear is that once you take off the training wheels (that is comprised of massive stimulus, bond-buying, and low rates), this economy will show that it has not and will not reach escape velocity. It means this Fed-induced market rally and the underlying economy will quickly soften and possibly head back into a recession without continued government manipulation and financial engineering.
3) If this economic "recovery" was based on solid fundamentals and sustainable organic growth, companies like Caterpillar (NYSE:CAT) would probably be reporting very strong numbers across many markets such as construction, mining, forestry and agriculture, but it is not. Instead, Caterpillar has reported negative earnings surprises in all the past four quarters and the stock has greatly lagged the market. Analysts have even been downgrading the stock to a "strong sell" in recent days as guidance for 2014 and other factors keep the outlook at uninspiring levels.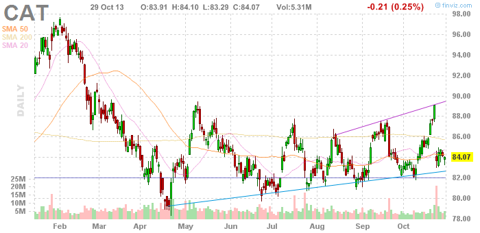 Click to enlarge
4) Another potential warning sign that this market is at or near a potential top that can be seen when looking at how frothy some stocks appear to be trading. There are numerous stocks where investors are being told that earnings or valuation just don't matter. Some stocks have gone past what appears to be sensible or realistic valuation levels and continue to move higher, burning many shorts in the process. Momentum investing has been working great in 2013, and a "sky is the limit" approach to investing seems to be drawing investors to names like Amazon.com (NASDAQ:AMZN), Tesla (NASDAQ:TSLA), LinkedIn (NYSE:LNKD), Netflix (NASDAQ:NFLX), Yelp (NYSE:YELP) and many others. Remember how stupid naysayers looked in 2005, 2006, and 2007 just before the real estate market nearly collapsed? Remember how wrong the skeptics were before the Internet stock bubble deflated? The point here is that the disconnect in valuation that some stocks seem to have might go on for awhile, but at some point valuation will matter and skeptics may be ultimately vindicated. These type of valuations are a sign of froth and a potential red flag for the market in general. The huge moves in some of these stocks is a potential sign that greed is running rampant and fear is minimal. Take a look at some of the charts below to see the outsized gains (not surprisingly some of these companies raised capital in secondary offerings this year):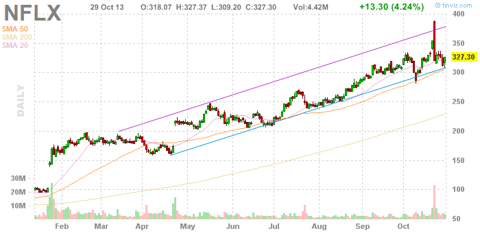 Click to enlarge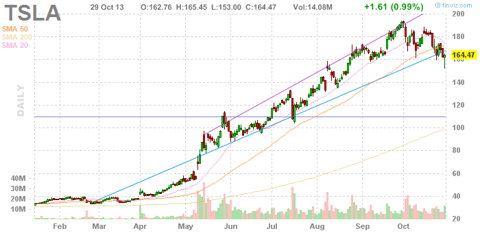 Click to enlarge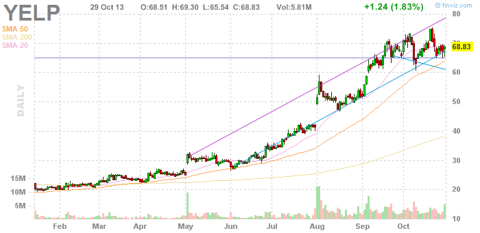 Click to enlarge
5) Another potential red flag is that the stock market has recently hit record highs and that is coinciding with record levels of margin debt (this pattern also occurred just before the last market top). In September 2013, margin debt stood at about $401 billion, which is even higher than where it was before the financial crisis as it peaked in July 2007 at $381 billion. This 2007 peak in margin debt came just 3 months before the S&P 500 hit an all-time high and then collapsed in the aftermath of the financial crisis. Record levels of margin debt are another sign of pervasive greed in the market and a lack of fear which often come at market tops.
By no means am I saying that investors should sell all of their stocks, but if you like to buy low and sell high, this might be a great time to take some profits, raise cash and patiently wait for what might be much better buying opportunities in the future.
Data is sourced from Yahoo Finance. No guarantees or representations are made. Hawkinvest is not a registered investment advisor and does not provide specific investment advice. The information is for informational purposes only. You should always consult a financial advisor.
Disclosure: I have no positions in any stocks mentioned, and no plans to initiate any positions within the next 72 hours. I wrote this article myself, and it expresses my own opinions. I am not receiving compensation for it (other than from Seeking Alpha). I have no business relationship with any company whose stock is mentioned in this article.