First Solar (NASDAQ:FSLR) is a leader in the alternative energy field. With renewed interest in solar power from emerging markets like China and Japan, FSLR has huge opportunities to capitalize upon. During its second quarter, FSLR announced that it would be partnering with GE where FSLR will be acquiring GE's solar intellectual property and also supplying solar panels for GE's global operations. FSLR is expected to do some great things in the future and this upcoming earnings report should be a testament to that exact fact.
First Solar is expected to report FQ3 2013 earnings on October 31th after the market close. The information below is derived from data submitted to the Estimize platform by a set of Buy Side and Independent analyst contributors.
The current Wall Street consensus expectation is for FSLR to report a $0.92 EPS and $961.29M revenue while the current Estimize consensus from seven buy side and Independent contributing analysts is $0.61 EPS and $908.19M revenue. The magnitude of the difference between the Wall Street and Estimize consensus numbers often identifies opportunities to take advantage of expectations that may not have been priced into the market. In this case, we're seeing a huge differential between the Estimize and Wall Street numbers compared to previous quarters.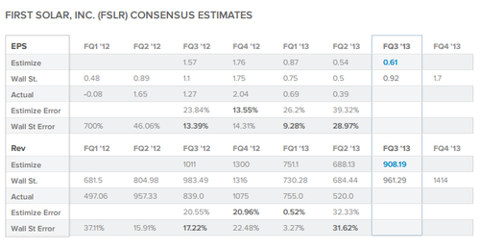 Over the past four months the Wall Street consensus trend for EPS has increased from $0.54 to $0.61 while Wall Street revenue expectations have increased from $684.44M to $961.29M. The Estimize EPS and revenue consensus have surged throughout the quarter with EPS going from $0.54 to $0.61 and revenue increasing from $688.13M to $908.19M.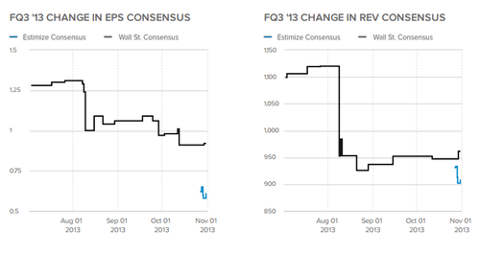 Over the previous six quarters, FSLR has beaten the Wall Street consensus for EPS 3 times and revenue 2 times. Over the same time period FSLR has beaten the Estimize EPS consensus one time and the Estimize Revenue consensus one time.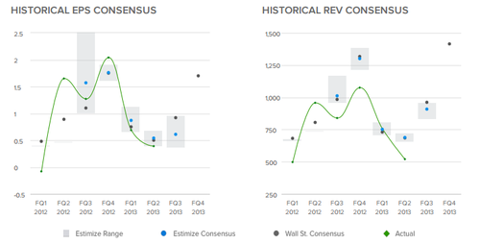 The distribution of estimates published by analysts on Estimize range from $0.95 to $0.36 EPS and $830M to $955M revenues. We're seeing a smaller distribution of estimates this quarter for FSLR than normal. The size of the distribution of estimates relative to previous quarters often signals whether or not the market is confident that it has priced in the expected earnings already. A narrower distribution signaling the potential for greater volatility post earnings, a wider vice versa.
The analyst with the highest estimate confidence rating this quarter is Rens Puts who projects $0.49 EPS and $849M in revenue. Estimate confidence ratings are calculated through algorithms developed by our deep quantitative research which looks at correlations between analyst track records and tendencies as they relate to future accuracy.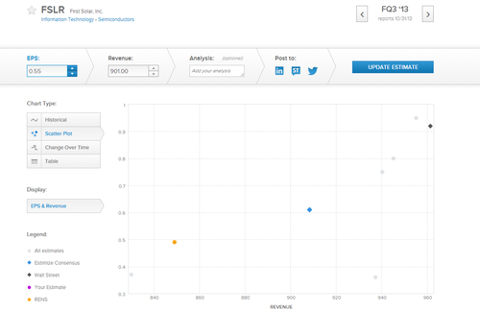 First Solar is a company with a lot of possible growth. However, for numerous quarters, it has failed to meet or beat Wall Street expectations. And though one could blame that problem on a lack of success and interest in alternative energies in prior quarters, one can sense that with the steps that FSLR has taken in recent months that it's setting itself in a position to generate future success. However, that success may not be immediate, as shown by the more bearish outlooks to FSLR by Estimize analysts compared to Wall Street analysts. What one can expect, however, is for FSLR to begin a slow and steady climb to the top.