By Brandon Matthews
This past week, there were several Sirius XM Radio (NASDAQ: SIRI) related news items that did not make Satellite Radio headlines and may have been overlooked by some. So many in fact, that I thought a quick review might be in order.
On the earnings front, Best Buy (NYSE: BBY) reported its third quarter earnings. The retail electronics giant reported strong year over year same store sales and Black Friday sales that resulted in double digit year over year increases. The company attributed this to increased foot traffic and higher average purchases.
Carmax (NYSE:KMX) reported exceptional used car sales and earnings. Carmax is one of Sirius XM Radio's Certified Pre-Owned partners. The company saw comp store used unit sales increase 8% this quarter compared to a decrease of 24% last year. The significant increase in used vehicle revenue was due in roughly equal measure to increases in unit sales and average selling price, despite a challenging economic environment of double digit unemployment.
Liberty Capital's (NASDAQ: LCAPA) plans for world domination in the Satellite Radio space continue to confuse those who have remained watchful. A report Friday suggests that Worldspace (OTC:WRSPQ) India may fall victim to Worldspace's bankruptcy and be shut down. This news followed a report that Worldspace Satellites may be de-orbited, leading many to wonder if Liberty Media simply wants the broadcast licenses. Some speculate that bandwidth on other Satellites could be "rented" and include content from Sirius XM Radio. Stay tuned…
Speaking of de-orbiting… in a filing with the FCC this past week, Sirius XM Radio, under its subsidiary Satellite CD Radio, filed an application for its FM-1, FM-2, and FM-3 non-geostationary satellite orbit (NGSO) system in order to extend the license term by seven years, through February 11, 2017. As part of that filing, the company also requests authority to de-orbit the space stations at the end of their useful life. This may suggest an inevitable shift towards a single platform to occur at such a time.
Suddenly everyone's an expert in technical analysis and is quick to employ some scare tactics, which is why I find point & figure charting to be especially useful. Point & figure charting eliminates the "noise" associated with volatility and small price proves. A potential bullish catapult continues to develop, albeit at a snail's pace. According to my chart, we could see Sirius shares rise to .85 or more in the not too distant future. [click to enlarge]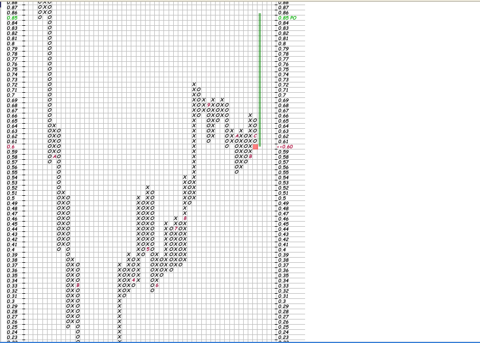 In other news, Samsung (OTC:SSNLF) has released a new Android based phone, which includes a Sirius App through its partnership with Sprint (NYSE: S). This may suggest that an app for the Google (NYSE: GOOG) Android market may not be too far away.
In programming news, Sirius XM Radio made four announcements of upcoming special programming. These include The History of Howard Stern: Act III, an Interfaith special hosted by Archbishop Timothy Dolan and Rabbi Harlan J. Wechsler, the broadcast of 25 Bowl Games This College Football Postseason and the return of Regis Philbin as Special Guest Host of 'Bing Crosby Christmas Radio' Channel.
Position: Long SIRI