We have provided an analysis of the valuation attractiveness of The Applied Finance Group's (AFG's) World Index, which consists of 9 of the main global indices, including the S&P 500.
Today we're evaluating the overall valuation attractiveness of the FTSE 100, an index that consists of the 100 largest companies on the London Stock Exchange. We will take a look at the companies we find most attractive from the index.
Over the past year, Europe has felt the hardships of the global recession. The European markets have taken a hit and are beginning to feel the effects of the decreasing value of the Euro, when compared to the dollar. However, good investment opportunities remain, despite these factors.
AFG uses proven proprietary criteria to identify firms around the world that are more likely to outperform their benchmarks, and filter out those that are unattractive. These criteria include variables such as management quality, earnings quality, valuation, and AFG's Economic Margin methodology (described below).
Below we take a look at the 10 most attractive companies within the FTSE 100 according to AFG's global valuation model.
10 Most Attractive FTSE 100 Stocks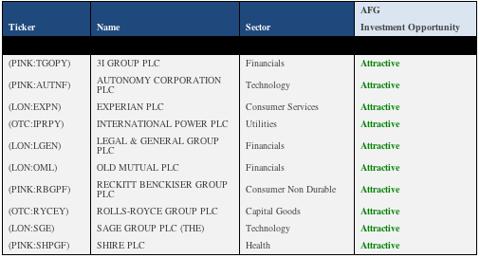 *These companies were listed as attractive investment opportunities as they ranked highly relative to their sector peers in terms of valuation, expected improvement in economic performance, and management quality.
To stay updated on companies AFG believes are attractive investment opportunities register here.
Although AFG's Value Expectations research is used on an individual stock basis, investors can still gain insight by looking at the market index on an aggregate basis to understand the expectations priced in today.
Below is a snapshot of the FTSE 100's current annual sales growth expectations vs. what the index has been able to deliver historically. Very similar to understanding the expectations that are priced into a stock, using these charts helps clients to better understand whether the index as a whole has high or low expectations currently priced in.
In 2008, the average company in the FTSE 100 delivered roughly 12% sales growth. The market currently has 3.35% sales growth priced in. If you think the market can deliver better than 3.35% annual sales growth over the next 5 years, then the FTSE 100 would appear to be undervalued (low expectations). If you believe the average company in the FTSE 100 will deliver less than 3.35% annual sales growth, then the FTSE 100 would appear overvalued (high expectations).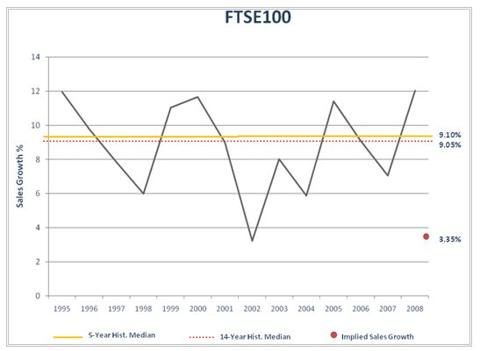 AFG model portfolio performance has shown that companies with low expectations relative to what they have historically delivered are more likely to outperform than those companies with high expectations. The key is for investors to identify markets and/or stocks that have low "value expectations" embedded into their stock prices.
AFG's Valuation Metric – Measures the percent to target (deviation between a stock's current trading price and its AFG current default target price). To derive the intrinsic value of a firm, AFG uses its proprietary Valuation Model (modified discounted cash flow model).

Economic Margin - A corporate performance measurement that addresses the gaps in GAAP, eliminating distortions caused by accounting policies to measure what a company is truly earning above or below their cost of capital.

Management Quality – Assesses management's ability to make wealth creating decisions.
Disclosure: none