Recently, Dominion Resources Inc. (D) announced plans to expand its natural gas gathering, processing and liquids facilities in West Virginia. Dominion plans to spend $253 million for its expansion project, which is called the Gathering Enhancement Project. More recently, Dominion also reaffirmed its dividend policy and appointed two new directors.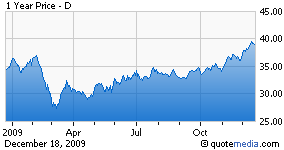 The expansion project is designed to increase the efficiency and reduce high pressures in its gathering system, thus increasing the amount of natural gas local producers can transfer through Dominion's West Virginia system.

The expansion includes nine new units totaling approximately 7,000 horsepower for compressing gas over the next three years, 25 miles of new and replacement pipeline, and two new processing plants in Pleasants (10 million cubic feet per day capacity) and Lewis counties (40 million cubic feet per day). Daily capacity is expected to increase approximately 50 million cubic feet to 280 million cubic feet. It also includes a 60,000 gallon per day expansion of the Hastings Extraction Plant in Wetzel County.

The project is expected to be complete by the fourth quarter of 2012 and will be paid for by producers at their rates.

On the following day, the board of directors of Dominion reaffirmed its dividend policy established in October 2007 to achieve a 55% payout ratio by 2010. The board also increased the 2010 dividend rate by 4.6% to $1.83 per share, up from $1.75 per share paid this year. Dominion expects to declare its first quarterly dividend of 45.75 cents per share in January 2010, which will be payable in March 2010.

The board has also elected two new directors − William P. Barr and Robert H. Spilman Jr. − who will join the board effective Dec 18, 2009. This brings the size of the Dominion board to 12 members from 10.