Starbucks (NASDAQ:SBUX) just announced its fiscal 4th quarter results. Here are some quick highlights from the announcement:
Earnings per share came in at 63 cents, compared to 46 cents a share the year ago. Estimates were for 59 cents a share.
However, 2014 guidance was somewhat light with the company predicting $2.55 to $2.65, while analysts expected $2.67 per share.
The lighter guidance sent shares down 2.5% after hours on Wednesday.
The board of directors approved yet another dividend increase. This point is the focus of this article.
This article was written in 2012 when Starbucks announced its dividend increase for that year. With the latest increase, it is time to re-run the numbers. Let us get into the details.
New Dividend: The new annual dividend per share is now $1.04, crossing the $1 mark for the first time ever. This gives the stock a current yield of 1.3%, which seems pretty low on the surface. But let us dive deeper.
Payout Ratio: The payout ratio stands at 46%, given the new dividend of $1.04 and trailing twelve months earnings per share of $2.26. The payout ratio has remained the same as in the original article linked above. This speaks of the company's earnings power and/or buybacks.
Cash on Hand: Despite being a company that invests significantly in new stores and countries, Starbucks has a cash hoard of $2B. As mentioned in other articles before, a moderate payout ratio and cash on hand comfort investors about a company's ability to continue paying and raising dividends.

(Source: YCharts.com)
Dividend Growth Rate [DGR]: Starbucks doesn't yet have the 5 year consecutive dividend growth streak that most income investors look for. But it is pretty close now, as the dividends have been increased 4 times now. Since the first dividend of 10 cents per share in 2010, the dividend has grown 160% to the current level of 26 cents per share/quarter, as the chart below shows.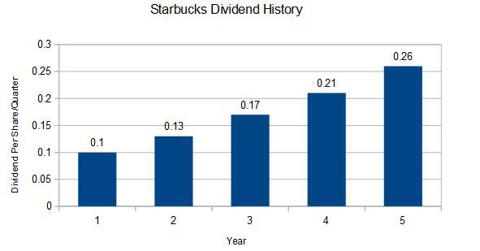 Extrapolation: In its short dividend history, Starbucks' DGR stands at an enviable 27%, down slightly from the 28% at the time of the previous article. However, as mentioned in this article about Visa (NYSE:V), companies tend to increase dividends rapidly when they are new to the dividend club because they are still high growth companies with low payout ratios. It would not be prudent to assume Starbucks would grow its earnings or dividends at this rapid pace forever. This is something even the company's CFO Troy Alstead mentioned during the recent conference call.
Hence, the table below assumes an annual dividend growth rate of 10% for the first five years and 7% for the next five years. The yield on cost still more than doubles for the investors. And dividend return isn't the only enticing factor here.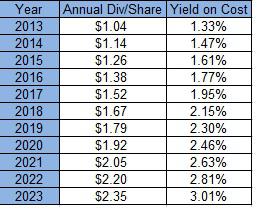 Earnings Potential: Again, as mentioned in the article linked above about Visa Corporation, Starbucks is also a company that is still in the growth mode. The company is expected to grow at 20% per year over the next 5 years, in an industry that is expected to grow at half that rate.
Starbucks is still expected to open thousands of stores in the so-called saturated U.S and Chinese markets. This speaks a lot about its ability to grow internationally as well. Also, the recent report indicated margin has grown from 15.4% to 17.6%.

(Source: Finance.Yahoo.Com)
Conclusion: Very few companies offer long-term income plus capital appreciation potential. We have now looked at two such stocks in the last two articles. Investors looking to establish a position in Starbucks may want to watch this post-results pullback to pull the trigger. Also, there is no denying the market has been flying high this year and a pullback could be around the corner. This is definitely one of the stocks we will be following closely for the points mentioned above.
Disclosure: I have no positions in any stocks mentioned, and no plans to initiate any positions within the next 72 hours. I wrote this article myself, and it expresses my own opinions. I am not receiving compensation for it (other than from Seeking Alpha). I have no business relationship with any company whose stock is mentioned in this article.