It is getting a bit absurd to read all of the bullish articles on Bank of America (NYSE:BAC) of late. I realize that many folks are looking to make a quick buck on an "affordable" stock, but the fact of the matter is that just because a big company has an "affordable" stock price does NOT make it cheap, undervalued, a bargain, or a gift to the investing world.
Bank of America is a stock that has created its own little world of shareholders who truly believe they are getting in on a bargain, and that the stock is going to fly really soon. I would say wake up people, there are far too many risks right now for an investor to plunk down money on shares of BAC, plus they do not pay shareholders to hold the shares!
Let me be clear; If you currently hold shares, look for up ticks to sell them and trade the stock, or write some covered calls to reduce some risk, or sit tight for 5 years when the stock MIGHT make a comeback.
I am personally, too chicken to short the stock myself, but some folks might make some money that way if I am correct!
Do Not Minimize The Legal Issues
It amazes me that smart folks will rationalize billions upon billions of potential legal costs and losses, simply because the share price to book value is low. The shocking truth of the matter is that the discount to book is significant because nobody wants the stock! It is cheap because of all of the headwinds, primarily the civil liabilities as well as the government liabilities.
Do you honestly believe that the bv would be at such a discount if everything was peachy keen? If you do, then you really should learn how to look beyond some of the "positives."
BAC has turned its business around
Fine, they had to. Taxpayers bailed the bank out and Countrywide has too many issues for the bank to walk away from unscathed.
BAC has loads of cash and is financially sound
Brilliant, this was MANDATED by the Fed! In order to get a favorable rating from the Fed, and pass the "stress test, the bank HAD to have a ton of cash. They cannot do anything with it unless the Fed gives its blessing, and in this case, BAC was "allowed" to have a share buyback plan. Guess what; it hasn't worked and the discount to book is still ridiculously high.
If any investor just points to that and says the stock is on "sale," then they have no idea as to why the discount has remained so "appealing."
Let me put it this way; walk into a department store and look at the clothing that has been marked down. Maybe some of the stuff has been marked down 3 or 4 times! Wow, a bargain, right? NO, that bargain just might be the ugliest piece of clothing that nobody would be caught dead wearing!
The same holds true with BAC. This stock is cheap because it should be cheap! Now do not get me wrong. When BAC was at 4-5 bucks/share it WAS cheap. The easy money had been made and now Bank of America has to settle the issues swirling around before I would consider it a "bargain" or a "buy."
Now, Even Bank Of America Acknowledges The Issues
I am not making this stuff up folks, just earlier this evening the Washington Post reported this story.
A U.S. attorney plans to recommend that the Justice Department file a civil lawsuit against Bank of America over its bundling of home loans into securities, the bank said Wednesday in a regulatory filing.

The disclosure is the latest sign that federal prosecutors remain steadfast in their efforts to hold Wall Street accountable for misconduct........In a quarterly filing Wednesday, Bank of America said a working group comprising state and federal prosecutors is investigating its purchase, packaging and underwriting of home loans and residential mortgage-backed securities. The bank did not disclose which U.S. attorney would be making the recommendation to the Justice Department.
This is a "buzz saw" story people. Do you truly want to put money into a stock that I have said will be "dead money"? Read the article, I am not pulling this stuff out of thin air.
Here is another report from CNNMoney:
BofA revealed in a securities filing Wednesday that staff from a U.S. Attorney's office have disclosed plans to recommend that the Department of Justice file a civil lawsuit against the bank related to the packaging and sale of mortgage bonds. Such securities played a key role in the 2008 financial crisis, failing in huge numbers as the housing market collapsed. Wall Street firms have since been deluged with lawsuits alleging that they misrepresented the quality of risky mortgages when they sold these securities.......The Justice Department already has another civil lawsuit pending against Bank of America over a mortgage bond offering that was announced in August, and the Charlotte-based firm will likely be on the hook for billions of dollars' worth of future settlements.
This is not OLD news, this is new folks, and BAC is now revealing the information themselves!
Actually, all I really needed to do was put these two articles up and not add another word. Unfortunately, with the plethora of what I consider to be in correct articles, I had to but my 2 cents in, again, and again.
Let me finish with this chart: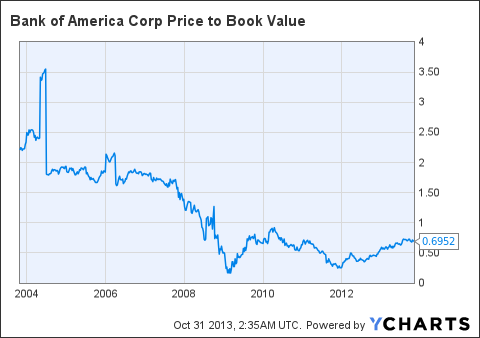 A picture is worth a thousand words right? Well, you tell me; If Bank of America is such a great bargain, then why does the price to book stay down so low? Why hasn't it been pushed all the way back to AT LEAST 2005 or 2006 levels?
I will tell you why: It simply is not worth it, and the smarter money is staying away for now. That is my take, and I already made a nice chunk of change on BAC. If the stock drops to around $8/share, I will buy it again. For now, it is dead money.
Let the fireworks begin, but first...READ the news and look beyond your own rationalizations.
Disclaimer: The opinions of this author are NOT recommendations to buy or sell any security. It is YOUR responsibility to do your own research before making any investment decisions.
Disclosure: I have no positions in any stocks mentioned, and no plans to initiate any positions within the next 72 hours. I wrote this article myself, and it expresses my own opinions. I am not receiving compensation for it (other than from Seeking Alpha). I have no business relationship with any company whose stock is mentioned in this article.