Yahoo! (NASDAQ:YHOO) recently reported third quarter earnings. The only question that comes to mind after looking at the below slide is: What turnaround?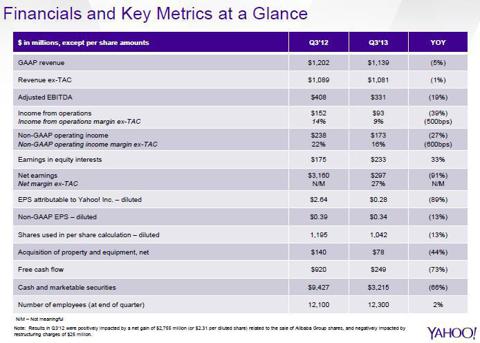 Image Source: Yahoo
GAAP revenue down 5%. Revenue ex-TAC down 1%. Adjusted EBITDA down 19%. Income from operations down 39%. Non-GAAP operating income down 27%. Net earnings down 91%. EPS attributable to Yahoo down 89%. Non-GAAP EPS down 13%. Free cash flow down 73%. Cash and marketable securities down 66%.
It's flat-out puzzling that CEO Marissa Mayer included the following statement in the third-quarter press release: "I'm very pleased with our execution, especially as we've continued to invest in and strengthen our core business." We understand the importance of staying positive, but her statement is quite a stretch considering actual financial performance at the core Yahoo business.
The only line item in the slide that showed improvement was the firm's 'Earnings in Equity Interests,' which advanced 33% from the same period a year ago. As many investors are aware, Yahoo's 'Earnings in Equity Interests' are generated from private Alibaba Group and publicly-traded Yahoo Japan (4689-JP), in which Yahoo! holds equity ownership stakes of 24% and 35%, respectively, as shown below:

Image Source: Yahoo!'s 2Q'2013 10-Q, 8/18/2013
Alibaba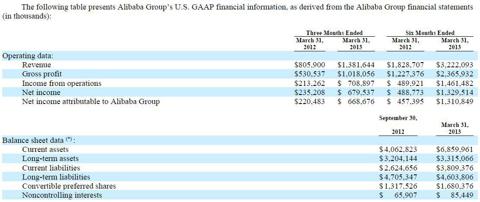 Image Source: Yahoo!'s 2Q'2013 10-Q, 8/18/2013
Our back-of-the-envelope intrinsic value calculation for privately-held Alibaba considers the firm's significant long-term revenue growth potential, healthy operating margins, and impressive net earnings expansion. However, we estimate Alibaba's intrinsic value is closer to $75 billion than the $125 billion estimate indicated by a few sell-side analysts. Still, this ownership stake represents roughly $17 per share to Yahoo! equity holders, by our estimates.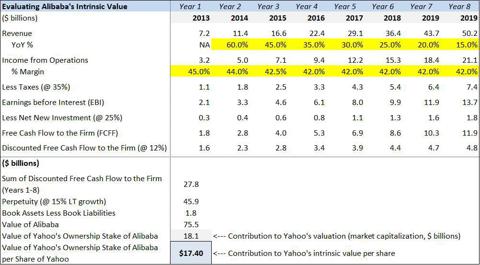 Source: Valuentum
Yahoo Japan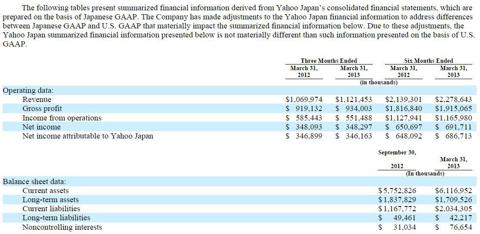 Image Source: Yahoo's 2Q'2013 10-Q, 8/18/2013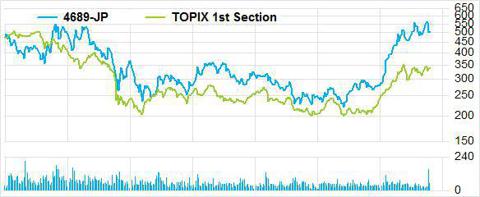 Image Source: FactSet
Yahoo Japan's equity market value is roughly 2.9 trillion yen, or about $29 billion USD at current exchange rates. Assuming Yahoo! could liquidate its ownership position without impacting the trading environment, Yahoo's ownership position is roughly $10 billion, or about $10 per share of Yahoo. However, investors must be cognizant that Yahoo Japan's equity price has more than doubled since July 2012 (see chart above), when its market value was closer to $12 billion (at current exchange rates), or $4 per share of Yahoo. We think $7 per share is a good estimate for the value of Yahoo Japan to Yahoo's shareholders.
Valuentum's Take
Yahoo's core business is in secular decline, and based on third-quarter performance, we don't see much value in Yahoo's core assets. At the high end of our fair value range ($34 per share), we assign roughly $10 per share to Yahoo's core business (about 7-8 times annualized third-quarter 2013 earnings), with the balance coming from its ownership stakes in Alibaba ($17 per share) and Yahoo Japan ($7 per share). Though there may be upside to our fair value estimate if Yahoo more effectively monetizes Alibaba relative to our forecasts or if it is able to exit Yahoo Japan at higher levels, we're comfortable with our fair value range at this time. We're not interested in Yahoo! above $34 per share.
Disclosure: I have no positions in any stocks mentioned, and no plans to initiate any positions within the next 72 hours. I wrote this article myself, and it expresses my own opinions. I am not receiving compensation for it (other than from Seeking Alpha). I have no business relationship with any company whose stock is mentioned in this article.