Occidental Petroleum Corporation (NYSE:OXY), a primarily domestic producer, is an international E&P O&G company headquartered in Los Angeles, CA. The company has operations in the United States, Middle East/North Africa and Latin America regions: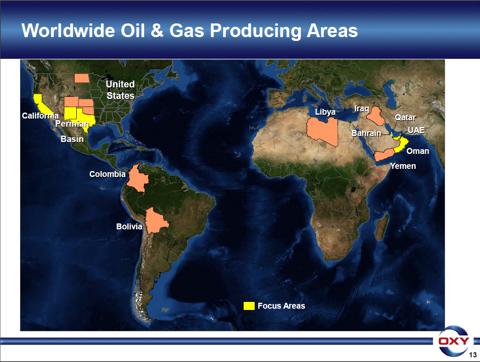 Occidental Petroleum operates in three segments: oil and gas, chemical (OxyChem), and midstream/marketing/other. The company is one of the largest US integrateds with an equity value in excess of $78B and a last-twelve-months' pre-tax profit of $8.68B. Occidental Petroleum has proved to be a shareholder-friendly O&G producer with a history of increasing dividends and periodic buybacks, while maintaining a steady return-on-equity of 10%: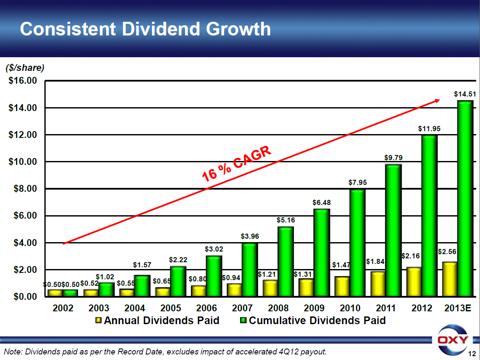 The share performance has been outstanding quite as well: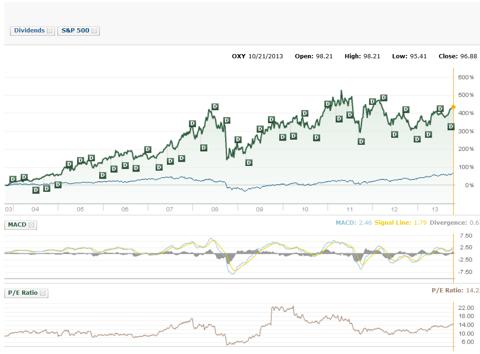 (Data courtesy of TD Waterhouse)
As it turns out, the stock has beaten the S&P 500 benchmark in every single year since 2003. The total return is astounding: an investor who bought shares of Occidental Petroleum 10 years ago at an average price of $17.55 for that year has so far collected dividends totaling $14.01 (~80% of purchase price covered by dividends as of today) and has experienced an aggregate return of 532% (or 18% CAGR). This track record has enabled the stock to trade at a premium to the average in the peer group, although it is also justified by better-than-average ROA and EBITD margin: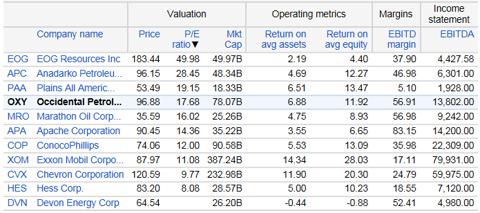 The generous cash-equivalent returns (mix of dividends and buybacks) have come to OXY at a cost: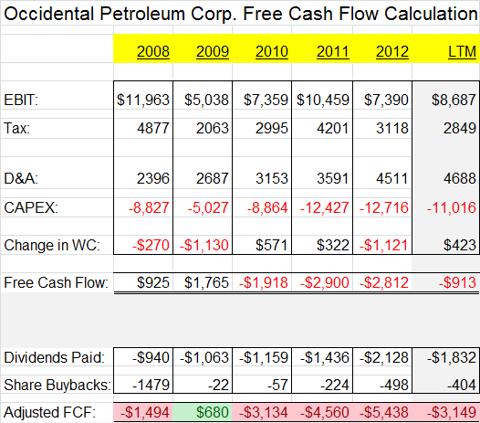 The readers see that Free Cash Flows (especially, the Adjusted ones) has largely been negative in the past 5.5 years. The major reason for that is Capital Expenditure, although it is offset by reductions in Working Capital. To meet the requirements for such rewards, the company increased long-term debt on its balance sheet from $2.049B in 2008 to $7.026B in Q2 2013. Even though the increase is more than threefold, the Total Liabilities-to-Assets ratio has merely increased from 0.34 to 0.38 over the years, partially due to growth in Deferred Tax Liabilities.
Valuation
Quite a few analysts cover Occidental Petroleum which makes their estimates representative samples: there are 25 estimates for 2013, 24 for 2014, and 14 for 2015. The estimates have been obtained through a TD Waterhouse trading platform: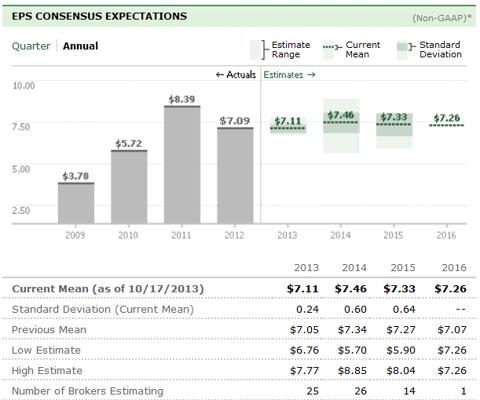 (Data courtesy of TD Waterhouse)
Instead of using the current P/E ratio of circa 17.5X, I have chosen a 5yr average multiple of 16.1X and applied it to the estimates:

The distribution looks the following way: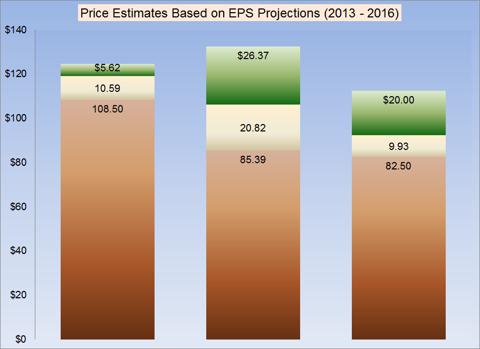 The differences between the High and the Low and the High and the Mean estimates are depicted as premiums on top of the Low base. There appears to be more variability for 2014 estimates than for the other two years. Analysts have largely capped the upside for the High scenario and have given it a small premium over the base. However, in 2014 and 2015, both the Mean and the Low estimates are expected to decrease significantly from current levels. Due to that and additional variability associated with future uncertainties, High and Mean estimates have expanded in range in 2014 and 2015. Anyway, the current price of the stock floats quite below the fair value range.
Technical Analysis
The chart analysis has been performed by Recognia Inc, and represents the firm's position in regards to the technical picture: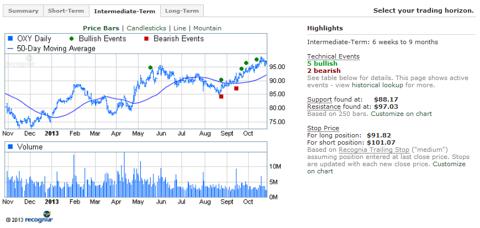 The stock has been trading above the 50-day moving average since the beginning of September. A breakout through the resistance level at $97.03 may indicate a continuation of the upward trend. One can see that volumes pick up at the price of around $97 per share. The technical analysts identified 5 bullish events vs. 3 bearish which implies that the stock has more bullish momentum than bearish.
Summary
Occidental Petroleum plans to grow production by 5-8% a year and boost ROCE metrics. Most importantly for shareholders, the company plans to keep dividend increases constant and buy shares back at attractive valuations.
Conclusion
I issue a "BUY" recommendation on OXY with a price target of $105 - $112 for the next 6 - 12 months. Investors should not forget about the modest but ever-increasing dividend of 2.65%.
Analysts' Estimates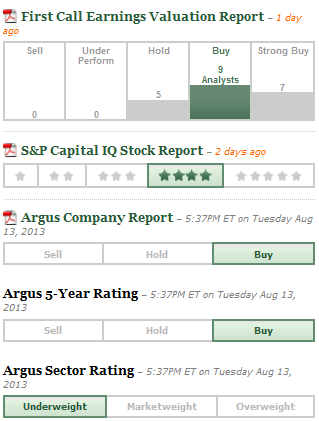 Disclosure: I have no positions in any stocks mentioned, but may initiate a long position in OXY over the next 72 hours. I wrote this article myself, and it expresses my own opinions. I am not receiving compensation for it (other than from Seeking Alpha). I have no business relationship with any company whose stock is mentioned in this article.