On September 15,
BioCryst Pharmaceuticals (NASDAQ:BCRX)
appointed The Neopharm Group as its distributor in Israel for peramivir, the only intravenous antiviral with a Food & Drug Administration Emergency Use Authorization for use against the H1N1 swine flu. The Neopharm Group is a diversified health care company that has grown to become the second largest group in the Israeli healthcare market, with annual sales of more than $300 million. They received 10 courses of treatment for testing purposes.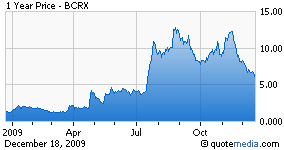 The Rambam Health Center, which is under the Ministry of Health in Israel, recently
reported
that at least three of the initial 10 courses, consisting of five daily doses each, have been administered to patients, with excellent results.

On November 5, BioCryst sold 10,000 courses of peramivir at $2,250 each to the U.S. Department of Health and Human services. The price per course is easily justified when a day in the Intensive Care Unit on a ventilator can cost upwards of $30,000. BioCryst will report that $22.5 million sale as revenue in the December quarter.

In the rest of the world, BioCryst has priced peramivir somewhat higher. The cost of a course of peramivir in Israel is $3,000. In light of H1N1 patient Kamal Halabi's, recent recovery, the Ministry of Health decided to order 150 more doses of the drug for $450,000, in addition to the ten acquired by Israel beforehand. Shortly after Kamal Halabi began to recuperate, peramivir was administered to two women, one of whom is 49 years old and hospitalized in Rambam. This patient has recovered as well, and is in the process of being weaned off mechanical ventilation.
The $450,000 order has not yet been reported by The Neopharm Group or BioCryst. BioCryst has over 100,000 courses of peramivir in inventory, worth $300 million at rest-of-world prices, and should be able to fill all orders promptly, so these revenues could be reported this quarter.
In the U.S., neither the FDA nor the Centers for Disease Control have convened a similar conference of intensive care unit heads and infectious disease specialists. Consequently, doctors have not known about peramivir for most of the course of the disease. The CDC recently doubled its estimate of deaths from H1N1 infection to nearly 10,000. From the time the FDA granted the drug an Emergency IND status in mid-June, approximately 8,000 people have died. The CDC did not change their antiviral recommendations from mid-June until late October, when they granted peramivir an Emergency Use Authorization. During this period, only 32 patients received peramivir under the cumbersome E-IND process, and 29 of them recovered - a 90% cure rate in the sickest patients.
But because doctors have not known about or been educated about the drug, less than 1,000 courses of peramivir have been used since the Emergency Use Authorization. Doctors have to apply for permission to use each course of treatment, even though they do not have to supply any patient information. The CDC then has BioCryst air courier each course of treatment to the requesting hospital, at a large and unnecessary expense to the taxpayer. The drug should be stocked in hospital pharmacies, and used much earlier in the treatment process to avoid the lung scarring problem that H1N1 causes these extremely sick, often young patients.
As doctors gain more experience with peramivir, I expect medical and political pressure to build on the CDC to do what they should have done in the first place: Stock peramivir in hospitals and use it as soon as it is obvious that an intravenous antiviral is needed, long before the patients have to be put on a ventilator. At a 90% cure rate, early use of peramivir might have saved 7,200 of the 8,000 who died after the E-IND was granted. That is more people than died in Hurricane Katrina and 9/11 combined. At some point during the flu's usual winter acceleration, patients and doctors are going to demand better access to this life-saving drug, and BioCryst's revenues will accelerate.

Disclosure: Long BCRX