Background
Balchem Corporation (NASDAQ:BCPC) is a major global diversified chemical company that develops, manufactures, and sells specialty performance ingredients and products for the food, nutritional, feed, pharmaceutical and medical sterilization industries. Balchem has three main segments that produce its earnings: Specialty Products; Food, Pharma & Nutrition; and Animal Nutrition & Health. The Animal Nutrition & Health Segment is the largest segment of the company by far, making up approximately 70% of the company's earnings in 2012. In this report, I will spell out my investment thesis on why I believe this chemical producer, with robust revenue and dividend growth, provides a great opportunity for investors in a variety of niche markets.
Investment Thesis
1. A major part of my investment thesis for Balchem is capturing the multi-decade rise in global dairy and meat production due to increasing middle classes in a number of developing countries throughout the world, without taking on a number of the risks associated with the production of meat and dairy products. According to the United Nations' Farming and Agriculture Organization (FAO), developing countries, excluding China and Brazil, should see a rise of 23% in meat consumption between the years 2015 and 2030. Balchem stands to gain from this trend because animal nutrition supplements will rise as global dairy and meat production rise as well. Another key component is Balchem's products (such as ReaShure, which helps cows produce milk more effectively) are geared more for lowering costs and inefficiencies, as the focus on farmers' production over their profit margins will mean a smother demand over time that will not be subject to a drop if profit margins are turning negative.
2. The next major component of my investment thesis is Balchem's role in producing choline and other derivatives that are used for the construction of shale natural gas wells and other industrial applications. Balchem is well positioned to take advantage of the budding fracking boom across the United States. Much like the animal nutrient supplements described above, the products Balchem designs for natural gas wells and other industrial applications are key inputs for an end device, and will be in high demand even if energy prices or profits fluctuate. Choline and other derivative products are a major growing part of Balchem's business. Sales have increased 28.8% in the first two quarters of 2013 compared to prior year period, mainly due to higher volume in usage for fracking. These sales made up approximately 35% of the Animal Nutrition & Health segment's sales.
3. The final major component of my investment thesis is the strength of Balchem's balance sheet and cash position. As of June 30, 2013, Balchem has over $171 million in cash and cash equivalents, and no debt. This large cash position gives Balchem a lot of flexibility. In the long term, the company could drastically increase its dividend or it could start a more aggressive share buyback program. In the short to medium term, however, management has best decided to use the cash to continue to make acquisitions of smaller firms, something Balchem's management has done very well. Since 2001, Balchem has completed several different acquisitions that have added over $100 million in acquired sales to the firm. Balchem also uses its strong cash position to continue to increase investment in capital expenditures and research and development to grow the company organically.
A major asset to Balchem that could potentially create a lot of value for shareholders is a development in its pharmaceutical sector. Using its encapsulation technology, Balchem has helped produce a drug that helps treat autism. This drug has passed phase III of the FDA clinical trials and has moved forward to filing a new drug application. Once this drug hits the market, Balchem stands to benefit not only from the manufacturing side, but also from the royalties as well.
Valuation
The free cash flow model that I created (see below) has Balchem valued at $71.82, which means that Balchem currently trades at a 22.18% discount to its intrinsic value (price at market close 10/23: $58.78). In my model, I have operating cash flow continuing to grow at its current five year growth rate, and capital expenditures to grow at 21.66%, its ten year median rate. The model also uses a discount rate of 7.73%, which was derived using CAPM.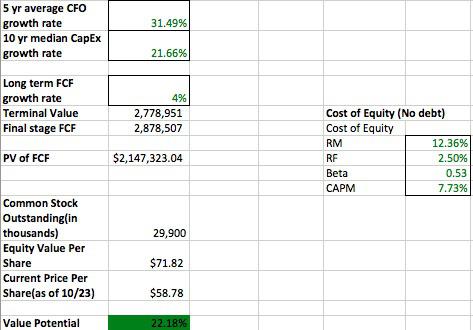 Relative Valuation
With a current ratio and quick ratio of 9.4 and 8.4, respectively, Balchem's liquidity position is very strong relative to the rest of the diversified chemical industry companies of similar size, which have an average current ratio and quick ratio of 2.6 and 1.9, respectively. With over $170 million in cash and no debt, Balchem's solvency is not an issue and would have no issue borrowing money and making payments on a loan, even in an environment of potentially higher interest rates.
From a multiple valuation standpoint, Balchem's multiples are more expensive relative to its peers, on average. Balchem's forward P/E ratio, P/S ratio, and P/CF ratio are 31.49, 5.4, and 10.19, respectively. Balchem's peers' forward P/E ratio, P/S ratio, and P/CF ratios are 12.51, 1.61, and 26.56, respectively. These higher multiples for Balchem are justified, however, once you consider the higher growth prospects and margins for Balchem relative to its peers. Balchem's sales growth over the next five year is estimated to be at 12% a year, relative to the industry's 6%. This growth will mainly come from the Animal Nutrition & Health segment, but will also be complemented from the other two segments as well.
Balchem's management has also done a tremendous job at managing its assets and equity relative to its peers. Balchem's ROA and ROE is 13.5% and 15.3%. Its peers' average ROA and ROE are 10.05% and 2.96%. Balchem's management has an excellent track record of buying businesses that help add sales to their firm, and management is on record of wanting to continue such acquisitions.
Risks
A major risk for Balchem is the event of a recall on one of its major products, and the disruption that would have on revenue and earnings. In May of 2012, Balchem voluntarily suspended its AminoShore-L, 52% lysine product due to safety concerns. Balchem has been able to weather the hit of this recall, and has still been able to increase sales and earnings from a year ago with the help of other products. If a product recall happens on a bigger product, or worse, multiple products, Balchem may not be able to increase sales or could take a loss on the quarter. Balchem has spent valuable capital and over a year's time on re-launching this project, which should be able to enter the market in the fourth quarter of 2013, or first quarter of 2014 at the latest.
Another major risk factor for Balchem is the effect that rising commodity prices and other inputs have on its margins and bottom line. Balchem does participate in forward contracts in order to guarantee it the rights of certain commodities at certain prices, however, management has continued to state that raw commodity shortages, while unpredictable, can adversely affect profitability. In order to account for higher input costs, Balchem may be forced to raise prices on its products, which will allow more competition into the marketplace.
The final risk factor that can affect Balchem is its large percentage of institutional investors. Institutional investors hold approximately 75% of the entire outstanding shares, and with only 29.9 million common shares outstanding, any event that could cause a short-term sell in the company may be volatile.
Conclusion
All in all, Balchem offers great exposure to two vastly growing markets with a lot of potential, shale natural gas and food production. With a strong balance sheet and cash position, Balchem is well positioned to take advantage of opportunities in the marketplace for future growth, whether through acquisitions or capital expenditures. Management has proven the ability to grow revenue and earnings consistently, in a variety of different economic environments. Management has also shown the penchant to continually increase its dividend, as it has a 25.7% CAGR since 2008. With the fundamentals and products Balchem has in place, I feel confident in recommending Balchem for your portfolio.
Disclosure: I have no positions in any stocks mentioned, and no plans to initiate any positions within the next 72 hours. I wrote this article myself, and it expresses my own opinions. I am not receiving compensation for it. I have no business relationship with any company whose stock is mentioned in this article.