As we mentioned last Friday, the current earnings beat rate for companies that have reported this season is just above 60%. The top-line revenue beat rate, however, is lower than that in the low-50s.
Below is a look at how stocks have performed on their report days this season based on whether they beat or missed earnings or revenue estimates.
Just over 1,000 companies have reported so far this season, and the average company that has beaten earnings estimates has gained 1.6% on its report day. The average stock that has beaten revenue estimates has gained more than that at +2.02%, which makes sense given that fewer companies are beating revenues than beating earnings.
The average stock that has missed earnings estimates has declined more than the average stock that has missed revenue estimates, which also makes sense given that the earnings beat rate is higher than the revenue beat rate.
So far this season, investors are rewarding the companies that beat revenues and selling companies that miss earnings.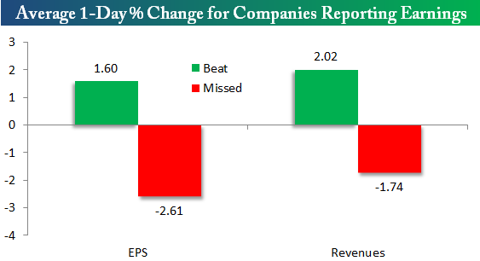 The overall 1-day average change for every company that has reported this season currently stands at +0.28%. Below is a look at the stocks that have had the best one-day reactions to their earnings reports. (For companies that report in the morning, we use that day's change. For companies that report after the close, we use the next day's change.)
As shown, Symmetricom (NASDAQ:SYMM) stands alone at the top of the list with a huge one-day gain of 51.15% on its report day. Apollo Group (NASDAQ:APOL) ranks second with a one-day gain of 27.98%, followed by Natus Medical (NASDAQ:BABY), Align Tech (NASDAQ:ALGN) and JAKKS Pacific (NASDAQ:JAKK). Other notable stocks on the list of earnings season winners include Nutrisystem (NASDAQ:NTRI), Deckers Outdoor (NASDAQ:DECK) and Chipotle Mexican Grill (NYSE:CMG).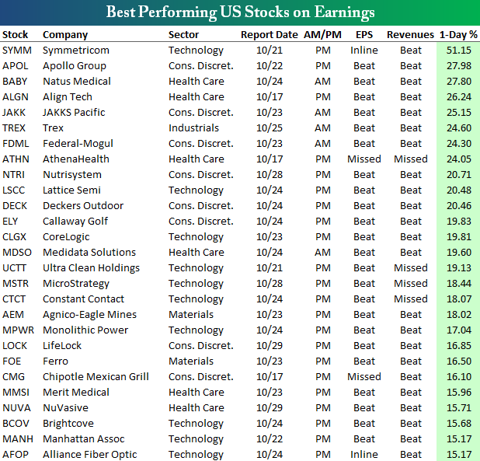 Healthways (NASDAQ:HWAY) has been the biggest loser this earnings season with a one-day decline of 31.02%. Cyan (CYNI) has been the second worst with a decline of 29.64%, followed by Calix Networks (NYSE:CALX), Fusion-io (NYSE:FIO) and Datalink (NASDAQ:DTLK).