Executive Summary: Rediff's (NASDAQ:REDF) ecommerce business is growing at a very fast pace but it is yet to attract investor attention. India's largest e-commerce company flipkart.com is likely to go public next year. This may attract investor attention towards Rediff's e-commerce business.
Changing Business
Rediff started as a traditional Web 1.0 company focused on the Indian audience. It faced similar problems like other Web 1.0 companies when users started to spend more time on Web 2.0 companies. The company tried its hand in many new businesses but never really put in any significant efforts or gained any significant traction in those businesses - until now. Off late, the company appears to be putting significant efforts in its e-commerce business and these efforts are showing positive results. Here's a look.
Nothing tells more about an internet company's strategy than its website. Let's start with how the company's website has changed recently.
Figure 1: Snapshot of Rediff's website in 2012 (Source web.archive.org)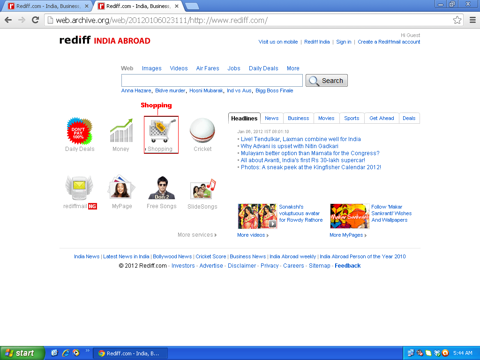 Figure 2: Snapshot of Rediff's website in 2013 (current)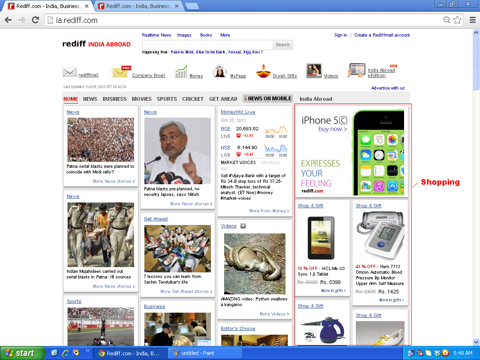 One can clearly see that the space the company is devoting to its e-commerce business on its front page has increased drastically in 2013. Now almost 40% of its front page (2 out of 5 columns) is dedicated to its e-commerce business. This shows a strategic shift in the company's priorities. Till last year, e-commerce was just a non-core side business but now it is one of the top priorities of management.
Why is this important?
Rediff is 16th most visited website in India. According to comScore media metric, Rediff's website has an 18% reach in India with 14 million unique visitors at the end of September 2013. If the company is able to cross sell its e-commerce offering to its user base, it could mean significant revenues and profits for the company. The strategy seems to be working and the company grew its e-commerce revenues by 82% year-over-year last quarter. This despite of ~20% depreciation in value of Indian Rupee against US Dollar. If we would adjust the forex impact, the growth in Rediff's e-commerce business may well be approaching 100% year-over-year.
Why is it not getting noticed?
Rediff's e-commerce business is small no doubt. What additionally depresses its e-commerce revenues is the fact that it only reports its commissions in revenue line and not the Gross sales.
The company does not separately report its net sales from e-commerce business but its total non advertising revenues from India in the last quarter were $1.3 million. Given the strong momentum e-commerce business has seen over the last couple of years (was up 61% year-over-year in 2Q last year and is up 82% in 2Q this year), I believe at least 3/4th of the company's non advertising Indian revenue now comes from e-commerce business. This equals to ~$1 million quarterly or $4 million annual run rate.
If we assume the company's average commission on sales to be around 10%, we will get the total gross sales to be ~$40 million. This still is significantly lower than Rs. 2000 crores or $333 million in sales which Indian e-commerce leader flipkart has. However, flipkart recently raised funding at five times its gross sales ($1.6 billion) and if Rediff was to trade at similar multiple, its stock price could have tripled based on just its e-commerce valuation alone.
Don't get me wrong, I am not saying that Rediff should trade at similar P/S multiple like flipkart.com. But even if its e-commerce business is able to achieve half the P/S multiple flipkart has, it would mean significant upside.
What can make market notice Rediff's e-commerce business?
A couple of things can warm up investors toward Rediff. The biggest catalyst will be the US IPO of flipkart.com in 2014 which will draw investor's attention towards Rediff's e-commerce business and the investment community will start giving it an appropriate multiple. Also, if Rediff continues to post strong results and an impressive growth rate in its e-commerce business like it did last quarter, the investment community will have to take a note. This year, the company's good performance in e-commerce business was offset by decline in advertising business. As, e-commerce continues to become a bigger piece of overall revenues, its performance will show in both top and bottom lines. (Rediff's e-commerce business has 14% operating margin.)
Conclusion
Rediff currently has a market cap of $65 million. It has no debt and a cash of $16 million on its balance sheet. If the company is able to maintain its second quarter growth rate, the company may do ~$7.2 million in e-commerce commissions and ~$72 million in gross sales next year. Also, unlike the US which is saturated, internet penetration is still growing at 22% year-over-year (unique visitor count) in India which implies a secular tailwind for Indian internet companies.
While prospects of Rediff's media business are not very bright, its e-commerce business may drive significant growth. Valuing Rediff's e-commerce business is like valuing a startup and I wouldn't like to go into that. However, if the recent encouraging trends continue going forward, the stock can prove to be a multibagger.
Risks
The biggest risk for Rediff is that its e-commerce strategy does not work and the recent encouraging trends do not continue. This is a typical problem with any new business line and forecasting what will happen is difficult. The only thing one can do is to keep a close tab on the quarter-over-quarter performance of the company's e-commerce business.
Another risk is that the promoters control a majority of the shareholding and outside investors have to wait and trust the management with its strategy.
However, at the current stock price, these risks are already priced in. Investors are not yet giving any significant valuation to the company's e-commerce business and promoter control is already well known.
Disclosure: I have no positions in any stocks mentioned, and no plans to initiate any positions within the next 72 hours.
Business relationship disclosure: GS Analytics is a financial research firm providing customized research services to US hedge funds. This article was written by Anjali Paliwal, one of our Research Analyst. We did not receive compensation for this article (other than from Seeking Alpha), and we have no business relationship with any company whose stock is mentioned in this article.