Telefonica (NYSE:TEF) is Spain's largest telecommunications company that faced a series of backlashes over the last two years. High leverage ratios, a dividend suspension that pushed the dividend yield from 10% to 0% and a comprehensive effort to tackle cost inefficiencies have made Telefonica an unprofitable investment for shareholders over the last two years. In addition, the company faced revenue challenges from its heavy South European operations footprint and a contracting economy in Spain.
Spain has fallen back into recession in 2012 and toughening economic conditions kicked off Telefonica's restructuring programs and deleveraging processes.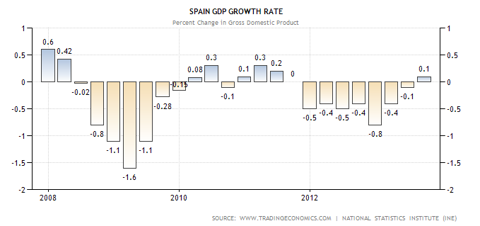 Click to enlarge
The temporary suspension and eventual alignment of Telefonica's dividend with profitability is a good thing for shareholders. Telefonica used to pay about €1.50 to €1.75 per share in dividends, bringing the cash flow yield to about 10-11% back in 2011. The company now pays a total of €0.75 per share bringing the yield to 5.9% (based on Euro rates), which is both more sustainable in the long-run and leaves the company sufficient flexibility to grow its business.
Since 2012, the company concentrated on streamlining and restructuring its business and has staged an impressive comeback evidenced by a significant rebound in its share price: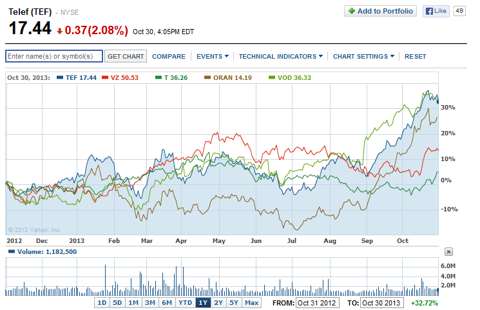 Click to enlarge
Telefonica shares are up 33% over the last year and increased 27% YTD. Despite this great performance so far, it is more insightful to look at Telefonica's two year chart to see that the beginning of Telefonica's share price decline started just when Spain's economy began to tank. As a result, the return differential between Telefonica and its US peers increased leading to substantial underperformance (and great upside potential):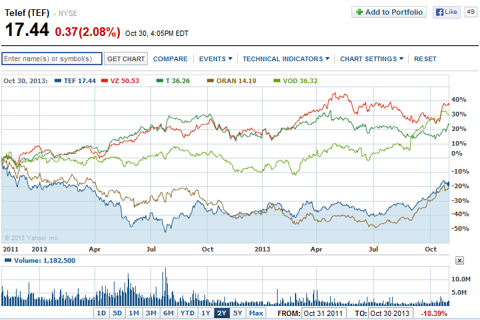 Click to enlarge
Value proposition
I think Telefonica makes a great value proposition even after strong YTD performance and a share price approaching $18. A couple of reasons make Telefonica an interesting investment and a valid alternative to established US telco companies in the sector:
1. Spain's economy (Telefonica's core market) is rebounding.
2. Telefonica has a hugely attractive Latin American operations footprint. Latin America contributes about 50% of revenues to Telefonica's group revenue mix and posts double-digit growth rates. Dividend increases in the future are likely to be driven by growth in this market.
3. Lagging performance gives Telefonica huge potential to catch up to US peers.
4. Valuation. Telefonica is a large-cap telco that trades much cheaper than peer firms Verizon (NYSE:VZ) or AT&T (NYSE:T). Large valuation discounts translate into higher return potential once the market recognizes that Telefonica's growth profile is much more attractive than the ones from Verizon or AT&T. US peers mainly operate in saturated markets with comparatively limited growth opportunities.
5. Cash flow yield. Telefonica, after resumption of its semi-annual dividend in November 2013, will be one of the highest yielding blue-chip companies in the telco sector. Revenue and earnings growth from Latin America add dividend fantasy to the stock with potential dividend increases down the road.
Valuation
After all, one of the most compelling reasons to buy Telefonica is its price/yield trade-off. I like to purchase companies for my income portfolio that have two characteristics: One of the lowest sector valuations and highest yields. Then usually the odds are high that one has found a real bargain with great upside potential.
Despite the run-up in Telefonica's share price, the company remains relatively undervalued. Telefonica just trades at 10.89 times earnings only surpassed by Orange (NYSE:ORAN) at 8.89. Telefonica also trades significantly lower than the peer group average of 12.63 and is much cheaper than Verizon, AT&T and Vodafone (NASDAQ:VOD).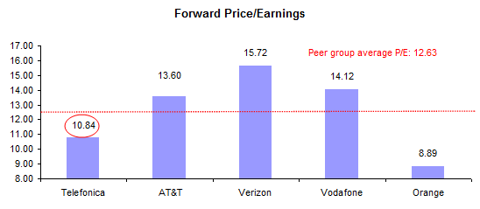 Click to enlarge
Dividend investors get to enjoy an initial dividend yield of 5.87% which is top-in-class. I assume that Telefonica will raise its dividend in the future just like it did in the past.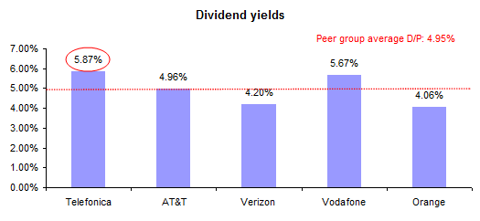 Click to enlarge
Telefonica still trades at a 14% discount to the peer group average P/E of 12.63 and pays a 19% premium to the average peer group dividend yield of 4.95%.

Click to enlarge
Conclusion
The telco sector historically pays high dividend yields because of relatively stable cash flows from its product and service offering. Telefonica has the most attractive growth profile of any large-cap company in the sector with substantial revenue generation in growth markets in Latin America. Although Telefonica has gained nearly 30% since the beginning of this year, the company is still one of the cheapest in the sector at a forward P/E ratio of just 10.84. At the same time, Telefonica has the highest dividend yield of almost 6% with prospects of increasing payouts in the future. I think that Telefonica's growth and valuation profile is much more attractive than the profiles for both AT&T and Verizon. Telefonica's lagging share performance also indicates that the company has substantial rebound potential to achieve the valuation of its US peers. Pullbacks in Telefonica's share price offer investors the chance to purchase this dividend champ at an even higher initial cash flow yield. Strong long-term BUY.
Disclosure: I am long TEF. I wrote this article myself, and it expresses my own opinions. I am not receiving compensation for it (other than from Seeking Alpha). I have no business relationship with any company whose stock is mentioned in this article.