Introduction
In this article, I'll have a look at the Q3 results of Garmin (NASDAQ:GRMN), one of the leading navigation device makers in the world. I'll provide my view on the company's financial statements and balance sheet and will have some special attention for the dividend. This will result in my investment thesis at the end of this article.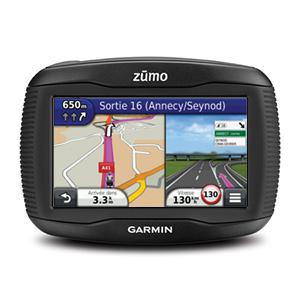 My view on the financial results
Garmin reported better results than expected, as the company was able to show a net income of almost $188M on a revenue of $643.6M. This translated into an EPS of $0.96 (although the pro forma EPS was 'just' $0.69), which crushed the net profit generated in the same quarter last year by a shocking 33% thanks to a $49M difference in tax provisions. As the company recorded an excellent gross margin of 55% and operating margin of 24%, it subsequently raised its full-year targets and now expects the operating income to be approximately 6% higher than the previously estimated $500M for this year, even though the expected tax rate was also hiked by 6.66% to an average of 16%.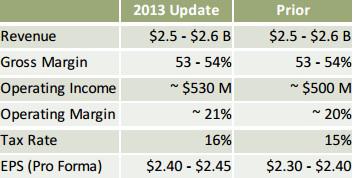 Looking at sales volumes, Garmin shipped 12% less devices, but the volume loss was compensated by a price increase of approximately 8%, so the net decrease in revenues was 'just' 4%, compared to the same quarter last year.
Garmin likes to draw the attention of investors to its free cash flow generation, which was very impressive in Q3, as the company generated $205M in free cash flow, which brings the total for the first nine months of the year to $439M, which gives an annualized free cash flow of $585M or approximately $3/share. The company has guided for a FCF of $525M this year, but I think Garmin will do better than its guidance.
Even though the total revenue dropped, I'm still quite positive on Garmin, as the company was able to generate $439M of free cash flow on a revenue of $1.87B which is a good indication for the very healthy margins as Garmin was able to convert almost 25% of its revenues into free cash flow. However, investors cannot ignore the falling revenue, and as the company doesn't want to provide a guidance for 2014 yet, some uncertainty will be created in the market which could cause some pressure on the share price.
My view on the balance sheet
Garmin's balance sheet still looks very clean, as the company currently has a working capital position of $1.47B (of which almost $1.1B is being held in cash) and a current ratio of 2.5 which is very healthy. Keep in mind a ratio higher than 1 means the company has sufficient current assets to cover its current liabilities. As the company also doesn't have a lot of long-term debt, its current assets actually cover all of its debt and liabilities, which puts Garmin in an enviable position.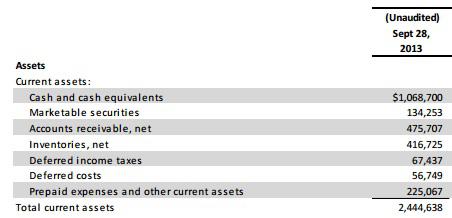 If only every company's balance sheet would look as pristine as Garmin's, investors would live carefree. This balance sheet allows Garmin to pay most of its free cash flow as a dividend, which is obviously greatly appreciated by dividend investors as well, as the current dividend yield is approximately 3.8%.
The Dividend
Garmin currently pays a quarterly dividend of $0.45, which results in a current yield of almost 3.8%. The dividend payments cost the company approximately $352M on an annualized basis, which is less than 65% of the expected minimum free cash flow, so I consider this dividend to be well-covered. On top of the dividend, Garmin also buys back shares which ultimately reduces the share count, so the total dividend payout will decrease over time (because there will be less shares), which could bode well for a potential dividend hike down the road.
Because Garmin pays most of its free cash flow to its shareholders, one could consider GRMN to be very shareholder friendly. As the company has a very clean balance sheet, paying dividends and buying back stock are probably the best possibilities to spend its cash on.
Investment Thesis
Garmin definitely isn't cheap on a price/earnings basis and even on a price/free cash flow basis, as it trades at respectively 20 times earnings and 18 times its free cash flow (although I personally expect Garmin to beat its FCF estimates and show a P/FCF ratio of 16-17). But I can imagine a lot of investors are attracted by the very nice dividend, which definitely provides support to the share price.
However, as revenues are still declining and the management team still doesn't want to provide a preliminary guidance for 2014, investors should expect some further bumps in the road ahead. If I would assume the company generates $550M in free cash flow this year, and I would like to invest at a FCF yield of 8%, the fair price for Garmin would be $35/share. If an investor is happy with a 7% yield, he should wait for a share price of $40 to get in the stock. One obviously can never be sure whether or not a share price will meet its buy-order, I prefer to work with written put options. I'm particularly looking at a P40 April 2014 at an option premium of $0.90, which results in an annualized yield of 4.5% while waiting for the share price to hit the preferred purchase price.
However, if investors are happy with a 5% FCF yield, Garmin could reach $55/share within the next few quarters. I personally feel comfortable with a 7% FCF yield, and am hoping the share price will go back down to $40 or lower so I can pick up some shares as I missed the big run up after the previous quarterly results.
Disclosure: I have no positions in any stocks mentioned, and no plans to initiate any positions within the next 72 hours. I wrote this article myself, and it expresses my own opinions. I am not receiving compensation for it (other than from Seeking Alpha). I have no business relationship with any company whose stock is mentioned in this article.
Additional disclosure: I currently have no position in Garmin, but might write some put options if the option premiums are attractive enough.