By Paul Goodwin
In the spirit of the season, it seems fitting to feature a newborn stock, but I'll have to settle for one that's been public for a little more than two years. It's CNinsure (NASDAQ:CISG), a fast-growing Chinese insurance company that's riding the growth of the Chinese middle class to excellent gains. CNinsure (the name is probably supposed to mean China Insure) was incorporated in 1999, and had a hard time getting out of the shadow of China Life (NYSE:LFC). But with a good mix of property, casualty and life insurance, the company is thriving in a country in which people have more and more to protect.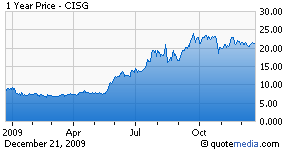 The company's revenues have been growing quickly, up 92% in 2007 and 105 in 2008. After-tax profit margins are also robust, reaching 25.8% in Q3.
Chart-wise, CISG made a big off-the-bottom move, ripping from 7 in May to 25 last September. Since that peak, the stock has been consolidating sideways, and is now trading in a very tight range with support at 20 and resistance at 22. Volume has been generally falling since late October, but the New Year should bring some renewed interest.
I wish you all Happy Holidays, Merry Christmas, Happy New Year. Take your pick or take all of them. Health, peace and prosperity to everyone!