As equity markets continue to trade higher, and economists have largely turned into cheerleaders for an unsubstantiated recovery, the junk bond market has begun to reflect a smaller degree of risk. Not only have prices risen to the point where many poorly rated bonds are trading at levels that mirror their financially sound counterparts, but companies which real financial challenges have been able to issue more debt at attractive interest rates.
One of the largest junk bond issuances occurred last week when Clear Channel Outdoor Holdings (CCO) issued a full $2.5 billion which was significantly higher than the original plan to sell $750 million. Clear Channel Outdoor is the spinoff child of the larger Clear Channel Communications which is privately held by Thomas H. Lee Partners and Bain Capital. Investors have been bidding CCO higher as more capital would normally create a healthier company for investors. However, the picture is a bit more complex and the bond offering may turn out to be little help for the leveraged advertising company.
As it turns out, nearly all of the capital raised will be used to repay the parent company which is privately owned and leveraged 14.4 times. This means that for every dollar of equity Clear Channel Communications has created, there is $14.40 in debt – a staggering level. The heavy debt is largely a risk born by the private equity companies and Clear Channel Outdoor is simply the conduit that the private equity holders are using to borrow capital from public markets to reduce their own exposure. Since CCO is a healthier entity (and that is a stretch because CCO is leveraged 4.6 to one), it is easier to use this vehicle to raise capital.
Clear Channel Outdoor is the outdoor advertising division of the media conglomerate which was brought public in an IPO in 2005. While the stock initially traded well, doubling in price during its first year as a public company, the last two years have been difficult for many advertising companies. CCO has since dropped from a high just above $30 to a low of $2.14 during the financial crisis. But like many speculative stocks, CCO has rallied sharply, and is now up 416% from the ultimate low.
2009 has been a very difficult year fundamentally for the company. Revenues have been sharply lower each quarter, and despite the rising stock price, the company has reported a sharp loss for the year. On June 30, the company announced that it would take a write down of $812 million to account for the lower value of many intangible balance sheet items and even in 2010, the company is expected to lose 17 cents per share. It's a bit baffling to see the stock trading with such strength when the actual company is under such duress.
One bullish case for the company is that the parent company – or more accurately the private equity owners – could take CCO private, buying out the public shareholders at a premium. The parent company already owns 89% of the company and if things got bad enough, the private equity team could simply buy the remainder of the company and wait for a better opportunity to re-issue the company to the market. However, if the private equity holders were up for this type of transaction, I believe they would have taken advantage of the opportunity when the stock price was much lower.
More likely, the private equity holders will look for an opportunistic time to begin selling their 89% ownership stake and thus reducing their risk. Liquidating their holding into a market that is now willing to take on risk could be a very wise move – especially if a weakened consumer leads to a continued weak environment for advertising. A sell of CCO stock would likely cause pressure and drive the price lower, so the private holders will have to be careful how they initiate the transaction.
The bottom line is that there is significant risk in CCO shares at this price. The firm is under a significant debt burden, and the recent junk bond issuance does little to relieve that burden. The equity and bond markets may be extremely forgiving today, but if and when the environment turns south, CCO equity holders and debt holders could be left holding a lot of risk and very little in the way of profitable assets.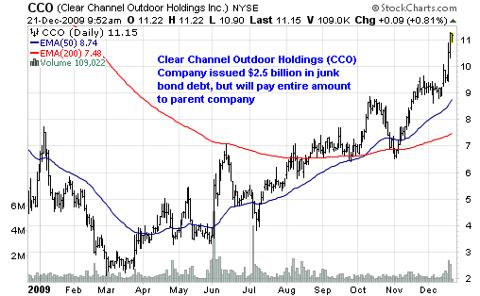 Disclosure: Author does not have a position in CCO