Introduction
In this article I'll have a closer look at Taseko Mines (NYSEMKT:TGB) which operates the Gibraltar copper-molybdenum mine in British Columbia, Canada. I'll provide my opinion about the company's financial statements and balance sheet, and will again look forward to the timeline to get the massive Prosperity gold-copper project permitted. This will result in my investment thesis at the end of this article.
My view on the financial results
Taseko reported copper sales of 36.7M pounds and 284,000 pounds of molybdenum, but the company only sold 20 million pounds of copper and 110,000 pounds of molybdenum due to a shipping problem. This is not unexpected, as I already talked about this in a previous article. This means that the Q3 results are much lighter than they should be, and that the Q4 results will show a much larger cash flow when the copper concentrate shipment will be recorded as revenue instead of as an increased inventory. As such, the Q3 numbers don't really give a fair impression of the company's progress.
Taseko has generated a revenue of $66.8M which resulted in earnings from operations (after depletion and depreciation) of $9.8M. After deducting the G&A and exploration expenses, Taseko recorded a net profit of $120,000. This might seem low, but you should again keep in mind that a large part of the quarterly production has not been recorded yet. As I said in several previous articles, it might be more useful to have a look at the cash flow statements instead of the income statements, as the cash flows might give a better idea about the underlying business.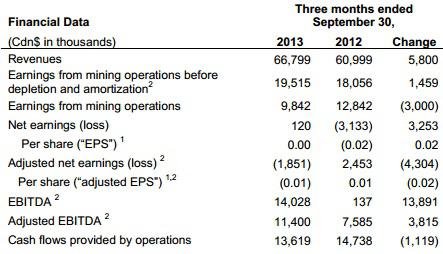 There we see that Taseko generated an operating cash flow of $13.6M, which is approximately 40% higher than the 'earnings' from operations. Unfortunately the company was free cash flow negative in Q3, as it also spent $13.4M on its property and plant. The net cash outflow was approximately $13.7M, as Taseko also repaid $6.5M of debt.
I'm quite happy with these operating results, as I think it's extremely important to realize that Q3 wasn't a 'normal' quarter as almost half of its production wasn't recorded as revenue. This will be added to the Q4 production, which will very likely show a record revenue number of approximately $140M. The reason why I'm so positive about this quarter is that Taseko has proven that its expansion at Gibraltar is working as the new concentrator has been working at an average throughput of 90,000 tonnes per day over the past six weeks.
My view on the balance sheet
Because Taseko was unable to ship a substantial part of its quarterly production, we obviously note an increased inventory position on its balance sheet. The value of the copper concentrate in inventory almost five-folded, as can be seen in the next image.

Taseko's working capital position was $110.9M at the end of the quarter of which almost $80M was held in cash. The company's current ratio was a very healthy 2.40 (a ratio higher than 1 means the company has sufficient current assets to cover its current liabilities).
Again, because of the shipping problems, Taseko's balance sheet might give a wrong impression, and it will look much better at the end of this quarter, as a substantial part of its inventory will be converted into cash. As the capital expenditures at Gibraltar will also decrease, I'm expecting a huge hike in the cash position by the end of this year and the cash position might break the $125M threshold.
The road to New Prosperity
In an earlier article, I discussed the potential timeline for the permitting process of the New Prosperity project, which is also located in British Columbia. I said that 'Now the review panel has 70 days (until October 30) to write and submit a report to the federal minister of environment, after which the government has 120 days to decide whether or not it will issue the mining permit for New Prosperity. This D-Day will fall on February 27th 2014, as that's the final date the government has to decide whether or not to grant the mining permit.'
Today is October 30th, to I hope to hear about the decision from the panel any day now, so the timeline to get the final green or red light in February 2014 remains intact. I cannot emphasize enough how important the Prosperity project is for Taseko, as it would be a real company-changer because it would also allow Taseko to get exposure to the gold price.
Investment Thesis
Taseko Mines reported an excellent quarter at its Gibraltar mine, but unfortunately this did not translate into record profits and cash flows, as the company was unable to ship the entire production to the concentrate buyer.
However, this situation will be rectified in the fourth quarter, and investors should be looking forward to the numbers at the end of this year, as those will give a better impression of the operational results of Taseko.
The real value of Taseko Mines will be in succeeding the permitting process for its New Prosperity project, and we should see the final decision of the government by the end of Q1 2014. If Taseko gets the green light, the New Prosperity project will be a game changer as its output would increase significantly.
Disclosure: I am long TGB. I wrote this article myself, and it expresses my own opinions. I am not receiving compensation for it (other than from Seeking Alpha). I have no business relationship with any company whose stock is mentioned in this article.