Bigger is better.
But not always.
About 1.5 months ago, I wrote an article on Digital Realty (NYSE:DLR) and how I like the sector, but the company was no longer my top pick in the sector, instead turning my attention to CoreSite Realty (NYSE:COR) in the equity portion of the capital structure. Referring to my March 30, 2012 article recommending the stock, I stated:
Bottom line: I was wrong with my recommendation. The 4.40% dividend yield does not offset the loss on a total return basis. CoreSite knocked the ball out of the park and DuPont Fabros was in the game, but the largest player just plain lagged.
And concluding the article I stated:
Bottom Line: The bottom line is I was wrong. Wish there was a better way to put it, but any other way would be misleading and just plain wrong as well. I continue to like the REIT, but think there are better ways to invest in the space: CoreSite in the equity structure (or a combination of CoreSite/ Digital realty) and Dupont Fabros in the preferred space.
And wouldn't you know it, Digital Realty announced earnings that did not disappoint my thesis, while disappointing its investors (yet again).
One of the most important lines from the earnings release:
Revised 2013 FFO per share outlook to $4.60-$4.62 vs. $4.73-$4.82 previously, and revised 2013 core FFO per share outlook to $4.65-$4.67 vs. $4.74-$4.83 previously.
Other sound bites:
• Sees 2013 development capex $1.05b-$1.25b
• Board okayed $500m buyback plan in Oct.
• Sees 2014 FFO/shr growth in mid-single digits
• Sees 2014 development capex $600m-$800m
• Sees 2014 financing charges higher
• 3Q core FFO/shr $1.16, FFO/shr $1.10, est. $1.20
Bottom line on the earnings - weaker now, and weaker going forward. I had noted previously that FFO was not growing strong, and it turned out to be more than a one time thing as many had speculated. As well, the new investor relations hire (so trumpeted by commenters in my last article) can only do so much to spin this.
Some sound bites from the earnings call (my comments in bold):
The $10 million adjustment that we booked during the quarter represents a catch-up of the noncash straight-line rent that should have been recorded from the fourth quarter of 2010 through the third quarter of 2013 at a run rate of approximately $830,000 per quarter. The inability to book things properly is getting old, and should be factored into pricing, which I now believe it has.
We do, however, expect to raise preferred equity sooner rather than later, and may also revisit the corporate unsecured bond markets as well to take advantage of what we believe is an attractive low rate window. I look forward to seeing the pricing level on the preferred when it is issued. None of their preferred issues are currently callable, so this will be an addition to their preferred stack.
On the JV front, we are assuming up to $400 million of additional JV proceeds. Personally, I am not a huge fan of the JV approach as they have the balance sheet capability to take these assets on balance sheet if they are attractive.
And as I said in my remarks, we consider the returns on our development deals, the 10% to 12% unlevered, to be superior to what the return would be in repurchasing our common stock. Perhaps this puts the potential returns on the equity in perspective.
As a result, we saw the following:
Digital Realty Trust Inc (DLR US) was downgraded to "Equal-weight" from "Overweight" at Evercore Partners by equity analyst Jonathan Schildkraut. The 12-month target price is $56.00 per share.
Highfields Capital's Jonathon Jacobson says Digital Realty worth $20/shr, calls co. "melting ice cube," speaking at Ira Sohn conference.
The miss, reduced guidance and downgrades then resulted in: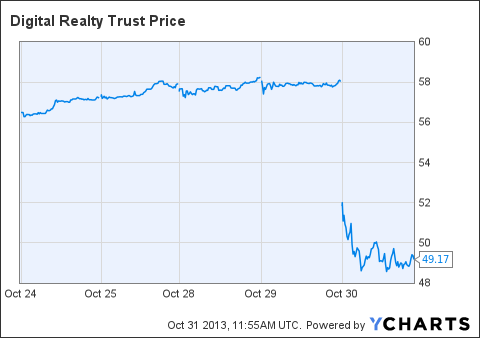 Not pretty for existing holders.
A quick look at the "earnings action" adjusted comparison to peers Dupont Fabros (NYSE:DFT), CoreSite Realty and Alexandria Real Estate Equities (NYSE:ARE):

As discussed, Digital Realty got hammered today, down nearly 3x as much as DFT and 5x COR. Since I last wrote about it, the stock is down 15%.
While I am not overly optimistic about the growth prospects of the REIT, the discount brought to investors makes the REIT more attractive. A P/FFO of 10.48x and a forward P/FFO of 10.35x versus 20x for CoreSite and 18x for DuPont Fabros makes DLR compelling. Add to this a 6.35% dividend yield (at a 61% payout) adds to the story. For those investors looking for yield with a margin of safety, Digital Realty might be worth considering. Mid single digit FFO growth is not fantastic by any measure, but I think you are getting paid for the slower growth. On a total return basis, I still like CoreSite, but an income investor might be more fond of the "on sale" Digital Realty.
Looking at a year-to-date basis,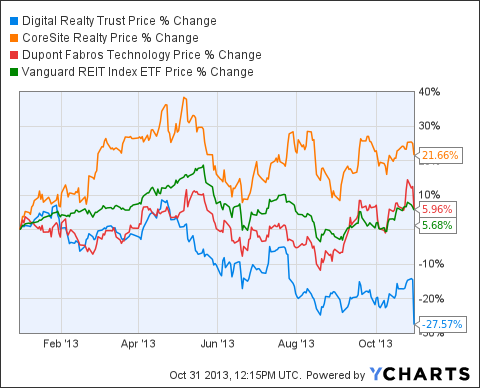 Looking at the preferred stock of the sector, I still favor the DuPont Fabros Series A cumulative perpetual preferreds.

Bottom Line: While certainly not a growth story, Digital Realty has a conservative balance sheet, scale within their markets and has seen decent lease-up volumes and is compelling for income focused investors. The stock is cheap to peers on virtually every metric and as a result of the earnings debacle is "on sale". Once again, I have to state from a total return perspective I like CoreSite, but I might be a buyer of Digital Realty for an income portfolio.
Disclosure: I have no positions in any stocks mentioned, but may initiate a long position in DLR over the next 72 hours. I wrote this article myself, and it expresses my own opinions. I am not receiving compensation for it (other than from Seeking Alpha). I have no business relationship with any company whose stock is mentioned in this article.