The mid-September taperless news by the Fed had both positive and negative connotations. Investors took it to mean that either the U.S. economy is still too weak to be pulled off life support, or a grim indicator that Congress might end up bollixing things up. The continued strength of the U.S. ISM Manufacturing index, however, sends out strong signals that industrials are currently at the beginning of a period of elevated capital spending, as global companies look to spur reinvestment. Businesses are under pressure to replace or upgrade machinery that is a bit long in the tooth, after a long period of dormancy during the recession. All that hand-wringing about the current slow pace of economic recovery is a bit overdone at this point.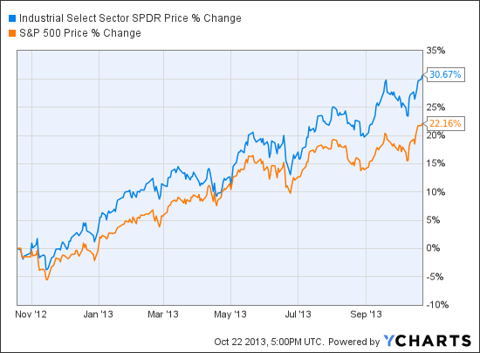 Click to enlarge
United Technologies (NYSE:UTX) is one of those rare industrial stocks that have been on a tear, yet backed it up with impressive earnings growth to keep their valuations in check. The Pratt & Whitney and Otis Elevators manufacturer is enjoying good revenue growth.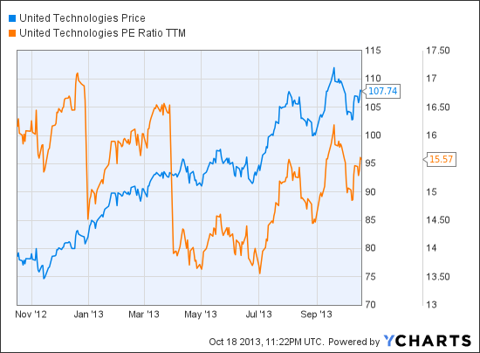 Click to enlarge
Strong revenue growth
United Technologies' strong revenue growth leaves its peers trailing in its wake. The company's high-technology products and services that it supplies to the global construction and aerospace industries have a robust 11.23% revenue growth TTM. Although revenue growth in the third-quarter came in at a lower 2.8%, mainly as a result of the weakness being experienced in the European markets, the firm's management hinted at robust growth in the fourth quarter. The company's Pratt and Whitney Division climbed 17% in the quarter, while climate control recorded a 13% rise in new orders. Elevator orders were up 4%.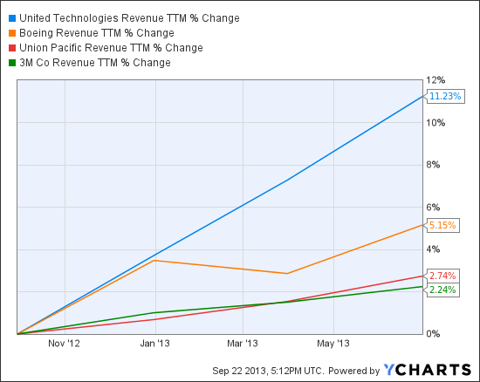 Click to enlarge
The new orders were a key feature of the company's recent earnings call. As a result of the better-than-expected segment growth, United Technologies raised its earnings guidance for the full year to $6.10- $6.15 per share, a 14 -15% growth. The European weakness is, however, expected to continue being felt in the near term, which prompted United Technologies to lower its full-year topline growth guidance from $64 billion to $63 billion.
The company has managed to record annualized dividend growth of more than 10.83% in the last five years. Its free cash flow has been improving, even as its payout ratio remains below 30%. This leaves ample room for dividends to climb even further.
China brings home the bacon
Third-quarter revenue growth came in at $15.5 billion, a 3% Y-o-Y growth, driven by strong demand in China's commercial aviation business. Inorganic growth due to the acquisition of Goodrich and International Aero Engines accounted for two percentage points of the growth while the company's topline contributed a single percentage point. Segment operating margins improved to 16% from 14% last year, mainly as a result of restructuring and cost-cutting measures being undertaken by its management. Third quarter profits benefited from the improved margins and jumped 13% compared to the same period last year to $1.4 billion.
The strong China sales growth helped offset the ongoing weakness in the firm's European markets.
Thriving in the midst of sequestration
United Technologies is a company that exists in the industrial sector, whose revenue growth is tied to economic cycles. It also exists in the aerospace and defense sector, although its exposure to the sector is considerably less than its exposure to the industrial sector ($11 billion defense revenues vs. $46.7 billion for industrial in 2012). Defense companies have no doubt been feeling the heat of sequestration for the past year. United Technologies recorded a 7% sales drop in Sikorsky, with only 42 military planes ordered in the quarter compared to 52 during the same period last year. The firm's lower exposure to defense sector has inured it against the effects of the defense budget cuts. The company has managed to record annualized dividend growth of more than 10.83% in the last five years. Its free cash flow has been improving, even as its dividend payout ratio remains below 30%. This leaves ample room for dividends to climb even further.
UTX amalgamating internal businesses
United Technologies announced on Sept. 23, 2013 that it was planning to combine its elevator and climate business segments. United Technologies arrived at the decision after its experiences in the Chinese market. CEO Loius Chenevert said that combining the two divisions will help United Technologies position itself better to fully leverage its presence in the all-important Chinese emerging market. The company recorded a 39% jump in elevator orders from China in the second quarter. The company decided on the rather strange decision based on trend it picked up in emerging markets such as China.
United Technologies peers
General Electric (NYSE:GE) is the biggest company in the Industrial Select Sector SPDR ETF. But General Electric is not considered a pure-play industrial due to its heavy reliance on its GE Finance arm for its revenues and profits. The finance division accounted for 44% of the firm's revenues and 33% of its profits in 2012. Although GE has been working hard to refocus on its core industrial line, with news that its consumer finance arm might be spun off in 2014, the company has way to go before being recognized as a pure industrial.
GE recorded an 18% jump in U.S. orders and an equally impressive 17% growth in Europe orders. Growth in emerging markets came in at 22%. The amalgamated 19% rise in new orders in the third-quarter added a good $6 billion to GE's bottom line. GE's total order backlog currently stands at a record $229 billion.
3M (NYSE:MMM) is an industrial conglomerate. The company had a great quarter, after all its business segments recorded positive organic growth. The firm's net income for the quarter jumped 7.9% Y-o-Y to $1.7 billion, with a $1.78 EPS. Operating margins came in at a strong 22%. All the firm's business segments recorded operating margins in excess of 20%. 3M's industrial segment recorded a healthy 6.2% sales growth. The company expects the full-year local currency organic sales growth to be between 4%- 5%, with a 90% free cash flow conversion.
Union Pacific's (NYSE:UNP) main business is its UP Railroad business. The company had a mind-blowing quarter, after it posted its best-ever quarterly financial results. The firm's third-quarter net income of $1.15 billion or $2.48 earnings per diluted share, was a 15% improvement over last year's comparable period. The firm's automotive and industrial divisions led the growth, with 17% and 11% growth respectively.
Bottom Line
The sterling third-quarter results posted by United Technologies and its peers have finally put paid fears of an anemic economy recovery, at least as far as industrial growth is concerned. The three firms' robust revenue growth is a clear indicator that the sector is in the pink of health.
Although United Technologies will continue to experience a slowdown in Europe as well as lower military spending in the U.S., strong growth in commercial aviation and robust demand for industrial products in China is likely to more than offset the weaknesses. The company's recent decision to merge its buildings and industrial systems will help it to better capture the growing opportunities in the emerging markets, particularly in China.
Disclosure: I have no positions in any stocks mentioned, and no plans to initiate any positions within the next 72 hours.
Business relationship disclosure: Syncopy Research is a team of financial analysts. This article was written by Alex Kimani, the firm's senior analyst. We did not receive compensation for this article (other than from Seeking Alpha), and we have no business relationship with any company whose stock is mentioned in the article.