Earnings continue to come out from the big internet names and thus far we have been pleasantly surprised by the strength in those numbers. Whether the sites are advertising supported or focused on retail, revenues are growing and the companies are finding ways to boost the EPS figures as they continue to cut costs and streamline their operations.
One trend we are noticing this earnings season which began last earnings season is that the names which have had success in penetrating the mobile market are the ones sporting the best growth rates as measured by revenues and profits. The margins are not necessarily following at this time as there is heavy investment in the mobile infrastructure, but we would imagine that over time margins would improve as cap ex for mobile decreases. These are exciting times as the web transforms yet again.
Chart of the Day:
Rates continue to hover around the 2.50% level on the 10-year, and the Federal Reserve seems content with this for now. Based off of their comments yesterday we would expect rates to remain steady and quantitative easing to remain in place through the early part of 2014, as we have previously stated. This is further wind to the back of equities heading into the end of the year.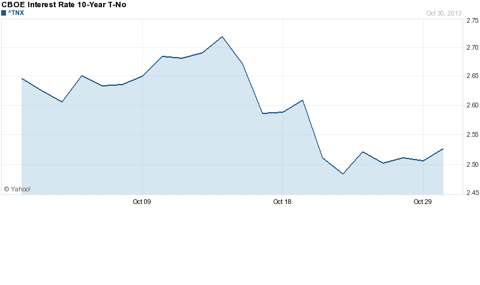 Source: Yahoo Finance
We have economic news today and it is as follows:
Initial Claims (8:30 a.m. EST): Est: 335k Actual: 340k
Continuing Claims (8:30 a.m. EST): Est: 2850k Actual: 2881k
Chicago PMI (9:45 a.m. EST): Est: 55.0 Actual: 65.9
Natural Gas Inventories (10:30 a.m. EST): Est: N/A
Asian markets finished lower today:
All Ordinaries -- down 0.09%
Shanghai Composite -- down 0.87%
Nikkei 225 -- down 1.20%
NZSE 50 -- up 0.86%
Seoul Composite -- down 1.43%
In Europe, markets are trading mixed this morning:
CAC 40 -- up 0.41%
DAX -- up 0.17%
FTSE 100 -- down 0.33%
OSE -- down 0.51%
Facebook Has Investors Perplexed...
Immediately after announcing its Q3 results, Facebook (NASDAQ:FB) shares jumped by nearly 20% as investors cheered the financial results. There was a lot to like in Facebook's most recent quarter as revenue growth came in above expectations with 60% growth and mobile advertising revenue continues to grow and now accounts for nearly 50% of total revenues.
The numbers being beat at Facebook can be easily traced, as the company has increased ads that appear in the newsfeed which has driven revenue growth and actually cut back on operating expenditures to figures that are lower than the company has previously guided. Facebook's management did say that the number of ads in the newsfeed would level out at these levels for the foreseeable future, so that they do not clog the newsfeed, and this will slow revenue growth moving forward. We already know that the ads on Facebook are extremely targeted and very good at converting eyeballs to actual consumers, so we would expect there to be revenue growth simply by increasing ad rates moving forward. Investors also need to recognize that Facebook has other properties to monetize, namely their Instagram app which could move the needle in future quarters.
What has really spooked the market and caused most of the initial gains to dissipate is that management discussed their monthly active users, which was up 18% year-over-year but showed the younger audience (the teen segment) spending less time on the site. This confirms a number of reports from research firms and analysts who have seen this pop up in their polls, so we now have confirmation that Facebook's audience is in fact aging. It will be interesting to see if Facebook can use an app like Instagram to tie in that younger audience to Facebook and keep it young and fresh moving forward, something we think Mr. Zuckerberg and the management team are already looking into or else they would not have addressed this issue during the conference call. Expect something a few quarters out that will attempt to rectify the trend.
Long-term Facebook is still a buy. Investors might want to use the market's skepticism as a buying opportunity to establish a position for 2014 when the company should have in place some new growth initiatives.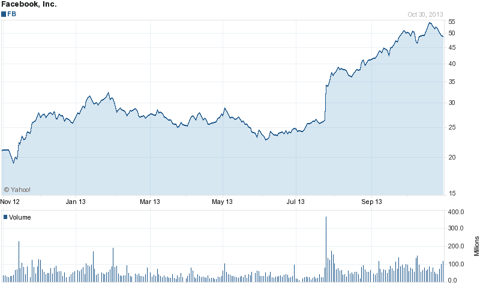 Source: Yahoo Finance
This is not an issue on the scale of that faced by Zynga (NASDAQ:ZNGA) a year or so ago with their platform issues and target audience growing weary of game titles becoming stale. We view this as a fixable issue and something that Facebook management is already ahead of and working on.
Travel Sites Continue To Show Strength...
Expedia (NASDAQ:EXPE) is holding onto its gains from after the close yesterday and is up 20% after strong results, which saw revenues climb 17% and come in above analysts' expectations. The company also beat on the EPS figures as hotel bookings increased by 20% and advertisers paid more for ads to Expedia during the quarter. This follows recent results from Priceline (NASDAQ:PCLN) which were strong and the those from TripAdvisor (NASDAQ:TRIP). The economy is certainly not back in full swing yet with many still feeling the pinch of the last economic recession, but it does appear that travel is picking up and as consumers remain focused on keeping their spending low and getting deals, the travel sites shall continue to do well.
Disclosure: I have no positions in any stocks mentioned, and no plans to initiate any positions within the next 72 hours. I wrote this article myself, and it expresses my own opinions. I am not receiving compensation for it (other than from Seeking Alpha). I have no business relationship with any company whose stock is mentioned in this article.