The temporary reprieve in Washington is likely to heat back up as we move into the end of the year ahead of January's budget battle. That could provide investors with opportunities to buy good companies on sale because investors are typically rewarded by the end of January for buying risk in November.
Strong Tailwinds Support Markets Into Early 2014
From here through the end of January, market ETF's have a solid track record of moving higher. Over the past decade, the S&P 500 ETF has finished the period higher eight times, generating an average and median return of 2.60% and 5.24%, respectively.
Click to enlarge images.

Source: Seasonal Investor Database.
If you analyze seasonality more closely, you discover one of the best performing baskets heading into winter is basic materials. The iShares U.S. Basic Materials ETF (NYSEARCA:IYM) has finished January higher than it begins November in eight of the past 10 years, producing an average and median return of 4.46% and 6.93%, respectively. That's nicely ahead of the broader S&P 500's return.

And, taking it to the industry level, energy stocks also offer strong returns for the period, with the S&P Energy Select SPDR (NYSEARCA:XLE) returning an average 6.18% through January.

2 Energy Service Stocks You Can Buy in November
Within energy, two energy service stocks offer robust seasonal upside. And, each has positive catalysts likely to help shares move higher again this year.
1. Helmerich & Payne (NYSE:HP)


Unconventional long lateral horizontal wells continue to boost adoption of next generation, maintenance friendly and highly mobile AC rigs, which offer higher top drive motor speed -- allowing rigs to drill more feet of pipe -- and more torque. The shift to efficient (smaller crews) bigger horsepower rigs supports above industry utilization, which despite lower activity tied to natural gas prices, was still 83% in the quarter ending June. Helmerich retired the last of its mechanical rigs in 2011 and is focused on the 1,000-2,000 horsepower market. That focus helped Helmerich grow the number of U.S. active land rigs to 246 in June, up from 239 in FY Q3 2012.
The softness in natural gas drilling has weighed on average rig revenue per day, which finished the June quarter at $28,160, down from $28,325 last September. But, margin has improved thanks to falling rig expenses. As a result, average rig margin per day grew $244 to $15,414 in the quarter. That helped Helmerich deliver quarterly net income of $266,159,000, or $2.46 per share, compared to net income of $149,925,000, or $1.38 per diluted share, during last year's third fiscal quarter.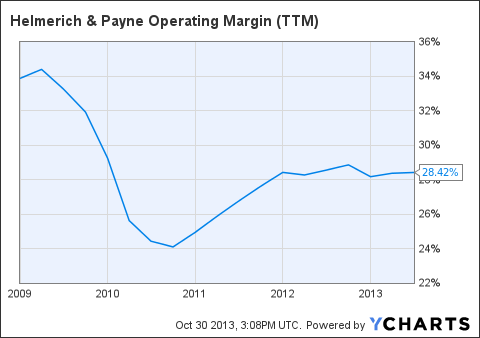 The operational performance and the sale of half its stake in Atwood Oceanics gave the board the flexibility to bump up its dividend from $0.15 to $0.50 per share per quarter in June. And, if cold winter weather supports natural gas prices and rig demand, spot market prices should offer upside and support early fiscal 2014 results. For additional reading, check out Helmerich's FY Q3 2013 earnings transcript.
2. Oceaneering International (NYSE:OII)


Operating income has never been higher for Oceaneering's fleet of remotely operated vehicles (ROV), which has the company forecasting record earnings per share this year. Exiting the quarter, Oceaneering bumped up its full-year EPS guidance to $3.35-$3.40 from its prior $3.20-$3.25 forecast -- up 25% from 2012. Revenue reached $853 million and net income totaled $104.4 million, or $0.96 per share, in Q3, up from $734 million and net income of $84.4 million, or $0.78 per share, a year ago.
The company also saw higher demand for subsea products in the Gulf of Mexico in both deep and shallow water, which helped lift the company's backlog to $902 million, up 38% from last year. That backlog has Oceaneering estimating 2014 earnings per share will reach $3.90-$4.10, up 19% from expected 2013 results. Street analysts are modeling earnings of $4.72 per share in 2015.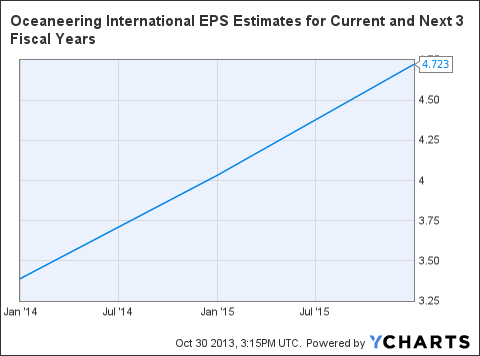 Driving those results is a return of activity to the Gulf of Mexico. According to the most recent Baker Hughes rig count, there are 60 rigs operating in the Gulf, up from 48 last years and just 33 two years ago. Activity is also strong overseas in markets such as Africa, where there were 119 rigs operating in September vs. 108 last year. The growth in deep water activity in the Gulf, the North Sea and Africa should provide plenty of demand for Oceaneering, giving you additional confidence, particularly if global prices remain firm through winter. For additional reading, check out Oceaneering's Q3 2013 earnings transcript.
Conclusion
Overall, the strong market seasonal trends suggest there may be opportunities to buy basics companies, such as Helmerich and Oceaneering, for upside into early 2014. The seasonal strength, reinforced by winter weather, could create additional interest in these names as we head into year-end. If so, these two may make for good investments.
Disclosure: I have no positions in any stocks mentioned, but may initiate a long position in OII, HP over the next 72 hours. I wrote this article myself, and it expresses my own opinions. I am not receiving compensation for it (other than from Seeking Alpha). I have no business relationship with any company whose stock is mentioned in this article.