The market is cheering the latest news out of private label food maker TreeHouse Foods (THS) as they announced the acquisition of Sturm Foods. The deal is valued at about $660 million gives TreeHouse strong representation in products like hot cereals and powered soft drink mixes. Clearly, the market believes that this is a very reasonable tie up as TreeHouse stock has traded as much as 18% higher on the news.
Investors love what they hear from the TreeHouse management team about the deal, as they expect it will add $340 million in revenue annually once the deal closes. Furthermore, the deal will be 16% accretive to EPS on an annual basis, which translates to ongoing earnings of $.38 to $.40 per share. Coming into the day, the stock was trading at nearly 16x this years earnings, so it is not unreasonable to expect the stock to rise close to $6 in response. Such an opportunity to add substantially to corporate profits for only $660 million is certainly an enticing deal.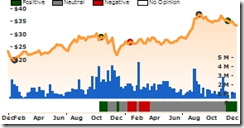 This deal will further diversify TreeHouse's product set, and each of Sturm Foods biggest products are showing impressive growth. Private label hot-cereal grew by 12.6% from 2006-2008, and powdered drink mixes were even more impressive over that period with compound annual growth of 24.8%. These are two areas that do not compete with TreeHouse's current offerings and thus should provide a boost to sales and earnings.
Coming into this announcement, we had an Undervalued rating on Treehouse Foods because it sells below its historically normal ranges of price-to-sales and price-to-cash earnings. Obviously, Monday's action in the stock's price has diminished some of that value in the short term, but for the long term investor we will likely maintain our Undervalued stance going forward. This deal makes a lot of sense, and investors should see a fundamentally more attractive stock from day one after the close of the deal.