Comcast (NASDAQ:CMCSA) just presented Q3 results which pointed towards improvements in a variety of business segments and financial metrics. NBCUniversal impacted Q3 performance through its decline in Broadcast revenues. What follows is an overview of Comcast's most relevant Q3 takeaways.
Cable communications
Q3 2013 Video revenues increased 2.9% to $5.1 billion compared to $5.0 billion in Q3 2012. Video revenues were also up 3.1% for the first nine month 2013 to $15.4 billion. High-Speed Internet revenues increased 7.9% to $2.6 billion vs. $2.4 billion in last year's quarter and rose 8.1% to $7.7 billion YTD. The strongest growth rates could be booked in the Business Services segment where quarterly revenues grew 26.4% to $836 million in Q3 2013 ($662 million in Q3 2012). YTD revenues grew 26.8% to $2.4 billion vs. $1.9 billion in 2012. Voice revenues increased 2.6% to $919 million vs. $895 million in Q3 2012 and 2.5% YTD to $2.7 billion. Advertising was the only segment posting negative revenue growth with revenues down 10.8% to $541 million in Q3 2013 vs. $607 million in Q3 2012. Revenues in this segment decreased 2.8% to $1.6 billion YTD.
NBCUniversal
Broadcast Television revenues turned out disappointing in Q3 2013: Revenues dropped 41.1% to $1.6 billion (vs. $2.8 billion in Q3 2012) and the quarterly revenue drop is probably the most noteworthy negative result in Comcast's Q3 presentation. YTD Broadcasting revenues are down 21.1% to $4.9 billion. Lower Broadcast revenues are also responsible for the 14.2% decline in quarterly NBCUniversal revenues from $6.8 billion in Q3 2012 to $5.9 billion in Q3 2013.
A comparative chart containing YTD and Q3 y-o-y values for NBCUniversal is provided below:

Click to enlarge
Strong business momentum was instrumental in improving operating cash flow and free cash flow by meaningful margins. Operating cash flow increased 6.4% in Q3 2013 to $5.3 billion vs. $5.0 billion in Q3 2012. Free cash flow improved 30% to $2.0 billion compared to $1.5 billion last year. Comcast's EPS decreased 16.7% to $0.65 in Q3 2013 vs. $0.78 in Q3 2012. Nonetheless, YTD EPS is up 7.0% to $1.84.

Click to enlarge
Share performance
Benchmarking Comcast against a variety of peers in the Entertainment sector shows that the company is pretty much the average sector performer. Comcast's shares are up 101% over the last two years which is mainly in line with the performance of other sector firms.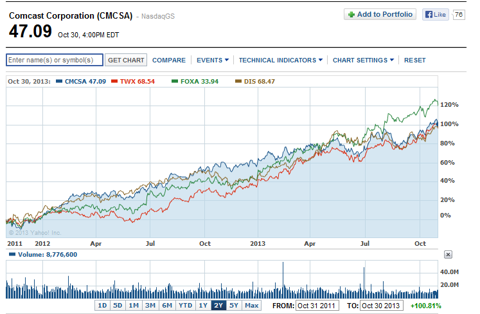 Click to enlarge
Valuation
Comcast disappointed the market with its quarterly EPS hit and lower consolidated revenues which declined by 2.4% in the third quarter. Though Comcast has achieved revenue growth in the majority of its segments, the revenue drop in Broadcast Television is massive: Quarterly revenues have declined by $1.1 billion in Q3 2013 compared to Q3 2012.
The Diversified Entertainment peer group seems to be overvalued with an average forward P/E of 17. Comcast achieves a multiple of 16.70 and can hardly be classified as a bargain at this level.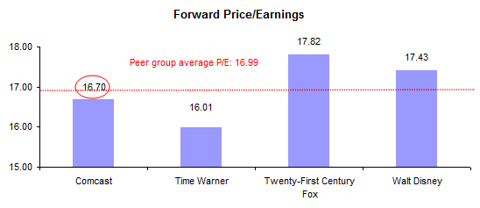 Click to enlargeShareholder remuneration
Comcast is committed to paying out substantial amounts of free cash flow for dividends and share repurchases. In Q3 2013 Comcast has repurchased $500 worth of common stock and paid out $512 million in dividends. YTD the company has repurchased shares in the amount of $1.5 billion with $2 billion remaining under its authorized share repurchase program. Even though Comcast pays out decent absolute amounts in dividends the price of Comcast has risen so much over the last two years that the dividend yield of 1.66% can barely be a reason to purchase this company for income portfolios.
The table below summarizes valuation metrics and dividend yields for the Diversified Entertainment sector including Time Warner (NYSE:TWX), Twenty-First Century Fox (NASDAQ:FOXA) and Walt Disney (NYSE:DIS). The table depicts that the entire sector seems more than fairly valued at an average peer group P/E of 17. Much better value and growth opportunities can currently be found in other sectors of the stock market.

Click to enlarge
Summary
Comcast did a decent job in its Cable Communication division but results were dragged down by NBCUniversal. Overall I think the market expected better performance from its Broadcasting business. The company also does present meaningful improvement in operating- and free cash flow, but the valuation of both Comcast and the peer group seems to be fairly high already. The results presented are positive, especially YTD figures, but aren't sufficient to drive further valuation growth. With a multiple of nearly 17 Comcast is expensive. Comcast shares currently have a 1.66% dividend yield which isn't enough to entice income investors to invest in this media and communications company. With a high valuation, a low dividend yield and a diving Broadcast Television segment it would be best for investors to stay clear of Comcast for the time being.
Disclosure: I have no positions in any stocks mentioned, and no plans to initiate any positions within the next 72 hours. I wrote this article myself, and it expresses my own opinions. I am not receiving compensation for it (other than from Seeking Alpha). I have no business relationship with any company whose stock is mentioned in this article.