In the series Dumpster Diving, we will be examining stocks that have been out of favor in an effort to determine if there is a value play to be had or if the stock is simply a value trap. We will discuss why the stock has been out of favor, the validity of these causes, if anything has changed, and if there is a catalyst for change in the future.
Zagg, Inc. (NASDAQ:ZAGG) designs, manufactures and distributes accessories for the mobile device market. Their flagship product is the Invisible Shield, a premium screen protector film design for smart phones and tablets and sold in stores such as Best Buy and Radio Shack and via online vendors and the company website. More recently Zagg has diversified into other mobile device accessory categories including tablet keyboards, portable power supplies and audio through the acquisition of ifrogz. But as of Q2 2013, the Invisible Shields still represented 38% of net sales and a larger percentage of net profits due to their high profit margins.
Until recently, Zagg has been on a rapid growth track benefiting from the growth and adoption of the Smart Phones market. Sales increased from $76.13M in 2010, to $179.12M in 2011 and to $264.42M in 2012.
For a while, gains in its stock price reflected this rapid growth, rising from $3.93 per share to $7.62 per share in 2010 and reaching $16 per share in July of 2011 before beginning a long and arduous down trend. Today, the stock price is hovering just above $4 per share, a mere 11.9% above where it was 4 years ago. Meanwhile, its revenue is up over 500% over these same 4 years.
Recent Events
For much of the last two years, as Zagg declined from over $13 to under $5 per share, Zagg has remained in the Elevated risk state based on the SmartStops equity risk signals. However, on October 25th, the risk state returned to Normal.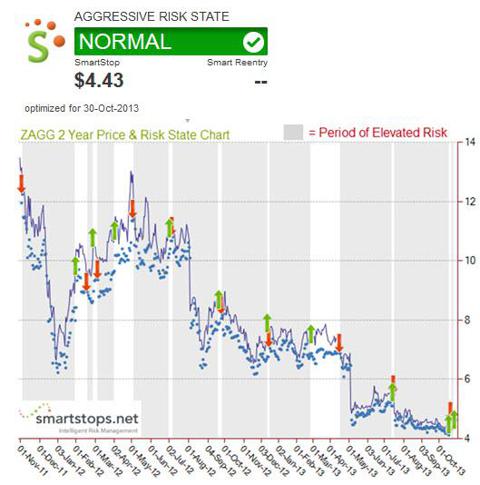 Source: SmartStops.net
So where does ZAGG go from here?
The Negatives
Initially, Zagg was a one trick pony driven by its flagship product, the invisible shields. Many view these film screen protectors as a commodity product, one that is difficult to maintain margins on and one that will become obsolete as anti scratch glass technologies continue to improve. While Zagg has made an aggressive effort to diversify its product line, as of Q2 2013, the invisible shields still represented 38% of net sales. In addition, many of the new products such as tablet keyboards and ifrogz ear buds carry lower margins.
In an effort to gain reach and increase control over pricing and branding, Zagg has shifted its distribution strategy from one of many direct retailers to one of a few primary direct retailers and distribution channel partners. The transition period has been rocky and the new distributors have taken longer to fully onboard than anticipated.
Recent disarray in the management team and poor execution combined with a slow product release period for smart phones and tablets resulted in a drop in sales and significantly lower margins. Can Zagg clean up its act and execute better?
The Positives
Zagg continues to make progress in diversifying its product portfolio, reducing revenue dependency of the Invisible Shield from 41% in Q2 2012 to 38% on Q2 2013. In addition to the new line of tablet keyboard and cases, Zagg is launching a much anticipated game controller category later this year.
Zagg sales has been highly dependent on and correlated with Apple iPhone product cycles and sales. The launch of the iPhone 5s and 5c at the end of September as well as the recent updated ipad launches should help Zagg in the coming quarter.
Zagg is maturing as a company and bringing operational expertise into its management team with the recent hire of Jason Schwartz, former COO of Sanyo North American Group, to serve as COO.
On October 25th, Zagg returned to the Normal Risk State according to SmartStops.net equity risk signals.
The biggest factor impacting the future of Zagg is the growth of the mobile device market. According to Gartner, Combined worldwide tablet and mobile phone unit sales is expected to increase by 9% Year over Year in 2014.
Worldwide Device Shipments by Segment (Thousands of Units)
Device Type
2012
2013
2014
2013 - 2014 Growth Rate
PC (Desk-Based and Notebook)
341,273
303,100
281,568
-7%
Ultramobile
9,787
18,598
39,896
115%
Tablet
120,203
184,431
263,229
43%
Mobile Phone
1,746,177
1,810,304
1,905,030
5%
Tablet & Mobile Phone
1,866,380
1,994,735
2,168,259
9%
Source: Gartner Research
Despite experiencing negative sales growth year over year in Q2 2013, Zagg still generated over $5M in operating cash flow in the quarter.
Gross margins also improved from the large drop experienced in Q1, rising quarter over quarter from 37% to $42%.
The HZO Wild Card: As of June 30, 2013 Zagg maintained 22.7% ownership of HZO, a revolutionary water blocking technology for electronics. HZO is marketing its service to electronic device manufactures and with the goal to have its technology become part of the device manufacturing process. This may prove to be a valuable investment.
Valuation - Zagg VS Logitech (NASDAQ:LOGI)
If we compare Zagg to its larger and more established competitor Logitech , Zagg appears attractive. While they are both rolling out accessories for the fast growing mobile device market, Zagg is not dragged down by also addressing a shrinking PC market as Logitech is. Zagg is also a much smaller company with more opportunity to grow market share. Zagg has consistently delivered positive cash flow while Logitech has been experiencing negative cash flow. On the negative side, Zagg does have $26M in long term debt which seems very serviceable, whereas Logitech is carrying zero long term debt. Despite these strategic and operational advantages, Zagg is selling at a discount to Logitech on price to sales, price to earnings and price to growth basis.
| | | |
| --- | --- | --- |
| Metric | Zagg | Logitech |
| Close 10/30/2013 | $4.73 | $10.51 |
| Market Cap 10/30/2013 | $145.62M | $1.62B |
| Forward PE (fye Dec 31, 2014) | 8.45 | 24.17 |
| PEG Ratio | 1.08 | 1.33 |
| Price / Sales | 0.59 | 0.77 |
| Profit Margin (NYSE:TTM) | 2.89% | -10.2% |
| Operating Margin | 12.52% | 2.17% |
| Cash Per Share (mrq) | $0.44 | $1.84 |
| Debt Per Share (mrq) | $0.86 | $0.00 |
| Levered Free Cash Flow | 24.89M | Negative |
| Levered Free Cash Flow as percent of market cap | 17.1% | N/A |
Source: Yahoo Finance
Conclusion: Value Opportunity or Value Trap?
I view Zagg as a speculative value opportunity at this time.
While I feel that a drop in price over the last six months was justified due to uncertainties regarding the management team, the loss of revenue growth momentum and the reduction in margins, I believe the drop was overdone. Furthermore, it appears that these issues have been or are in the process of being addressed.
Catalysts exist for a rebound in financial performance and a return to growth including the completion of on-boarding of the new channel partners, strong product pipeline, and an increase in recent and upcoming phone and tablet launches from Apple and Android mobile device producers. The biggest risk I see is the potential for a drop in attachment rate of the invisible shields to newly sold smart phones and tablets. However, cursory discussions with several sales reps at Radio Shack and Best Buy indicate that they are still pushing the invisible shields and that the shields continue to sell well.
Zagg remains a young but profitable company battling for shelf space and mind share in a crowded space with products that address a rapidly growing market. In my view it represents a speculative but attractive play at this time at any price under $5.00.
Disclosure: I am long ZAGG. I wrote this article myself, and it expresses my own opinions. I am not receiving compensation for it (other than from Seeking Alpha). I have no business relationship with any company whose stock is mentioned in this article.