I had noted the relative strength in Skyworks Solutions (SWKS) at the very beginning of December. Since then the stock has been consolidating a rebound off what I considered a very unfair selloff based on what the market considered poor results by 2 of its peers. The baby was thrown out with the bathwater but technically the stock is looking much better now.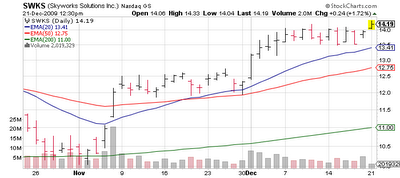 After 3 weeks of building a base, the stock appears to be in the early stages of breaking out; we'd like to see a close over $14.15. I have renewed our affair with the stock at $14.18, with a 2.7% allocation. As long as the blue line above (20 day moving average) is held, the stock should be in fine shape. You can see an almost identical pattern in the month of November, where a 3 week base was followed by a sharp move up. Let's hope for a repeat.
We sold off all 3 RF Semiconductor stocks: Skyworks, TriQuint (TQNT), RF MicroDevices (RFMD) in mid October, but now have 2 of the 3 back. I am looking to add to our current stake in TriQuint Semiconductor (TQNT) soon as well; but since it "head faked" me out of half of our position about 2 weeks ago (a breakout, then failure), I am going to await some more strength before adding back.
[Sep 9, 2009: Skyworks Solutions Raises Guidance, CEO Visits Mad Money]
[Jul 23, 2009: Positive News Out of RF Semi Space - TriQuint Semiconductor, Skyworks Solutions]
Author's Disclosure: Long TriQuint Semiconductor, Skyworks Solutions in fund; long Skyworks Solutions in personal account