Take-Two Interactive (NASDAQ:TTWO) stock has had a very tumultuous run of late. Just over two weeks ago, they reported a worse than expected fiscal fourth quarter where both sales and earnings missed analysts' targets (Bad Quarter Causes Investors to Double Take). Furthermore, they reduced EPS guidance for the current quarter from a loss of $.26 to a loss of no less than $.40 per share. However, it appeared that Take-Two would bounce back quickly as the stock began to rise, thanks in part to activist investor Carl Icahn raising his stake in the company in mid-December. Some analysts upgraded the stock following the disclosure of Icahn's 11% stake in hopes that he would spearhead a turnaround and perhaps eventually replace some members of the board.
After the bell on Monday, Take-Two announced more disappointing news to their investors as they are selling the company's video game distribution business. The Jack of All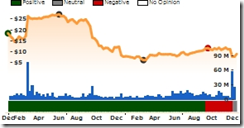 Games unit, which distributes not only Take-Two's games but also video game products from Activision Blizzard (NASDAQ:ATVI), Electronic Arts (ERTS), and Sony (NYSE:SNE), will be sold to SYNNEX (NYSE:SNX) for a total of $43.25 million in cash. Considering the unit brought in revenue of $282 million in fiscal 2009 (just under a third of revenue), the price seems to be a very cheap.
As a result of the sale of their "non-core" game distribution unit, the company was forced to reduce their guidance once again. Now management sees a loss of $.45 to $.55 in the fiscal first quarter, and perhaps more distressing sales are now expected to range between $90 million and $140 million, down from the previous guidance of $210 million and $260 million. If revenue comes in at the midpoint of their range, that would make it just half the average revenue prediction of analysts for the quarter. Obviously, shares are selling off in after hours activity.
At Ockham, we have a Fairly Valued rating on Take-Two Interactive basically because the stock has been so beaten down that it no longer looked Overvalued. That being said, we will have to readjust our analysis based on the new asset sale, especially for what amounts to a fire sale price. It is very likely that we will downgrade Take-Two once these numbers work their way into our analysis.