Let's start this week's column with some data, namely September retail sales. Before the print of (-0.1%) was even dry, pundits were rushing forward to quote the better-looking "core" (excluding autos and gasoline) number of +0.4%. Here's a better perspective, the year-on-year change in 12-month ex-auto, ex-gas sales (data not seasonally adjusted):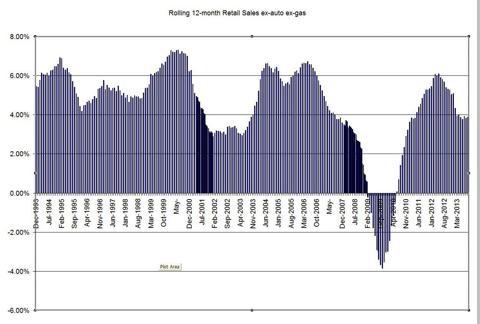 source: US Commerce Dept., Avalon Asset Mgmt Co
There is a little pick-up visible in recent months, but it's a bit deceptive. The range for the last five months is tight, between +3.77% and +3.89%, with September being the high-water mark. The latest month is still subject to revision, and the annual growth rate for all retail sales has been edging downward the last three months.
The year-to-date comparison for the ex-auto, ex-gas category in retail sales is only +3.2%, in part due to a weak first quarter. The fourth quarter of 2012 wasn't strong either, which would point to an easy comparison except that the recent weekly sales data point to another negative month for October - the current quarter may not be off to a great start either. I think the best conclusion is that the second derivative is about zero, or in other words, there is no change in the rate of change.
Last week I noted that year-on-year employment growth has also been in a tight range. Since September 2012, the growth rate has been between +1.57% and +1.69%, with the last three months virtually identical. A little extrapolation suggests that the Bureau of Labor Statistics (BLS) would come up with something around 163,000 for October a week from Friday. The ADP number of only 130,000 suggests a lower figure, though, especially with the downward revision to its August total, but the BLS October data also incorporates a preliminary benchmark revision for 2013, making it even more of a guess. The limb I'll go out on is implied by the data we have on retail sales: There is no change in the labor rate of change. This morning's weekly claims report supports that thesis.
The stock market has been moving ever higher, of course, partly on the tailwind of yet another rally born out of eluding disaster. After Congress impressed the globe with its last-minute swerve from a colossal train wreck of stupidity, the Shiller P/E stands at a lofty 24.8, a figure exceeded only three times in the last 100 years - the bubble of the late 1920s, the tech bubble, and the housing bubble.
Indeed, the word "bubble" has been emerging from the mouths of some of the investment business' biggest heavyweights. Larry Fink of Blackrock, the world's largest manager ($4.1 trillion) called markets "bubble-like" a couple of days ago and exhorted the Fed to get going with its taper program. Not to be outdone, Pimco's ($2.1 trillion) Bill Gross chimed in two days later with the comment that all asset classes had gotten bubbly. In the wake of the minor sell-off that followed the Fed's expected announcement, CNBC's Rick Santelli reported that the faith of traders in QE seemed to be waning, a point I made in this space last week.
Does disaster loom ahead? Not according to Gluskin-Sheff's Dave Rosenberg, who has recently flipped from relentless cynic to unabashed bull. That's unusual in these polarized times, when it seems that all I read are ever-more shrill denunciations of the Fed, Obamacare, the deficit, taxes, the minimum wage and so on as being agents of the end of all days. Positions only seem to be hardening in recent times (for me, another suggestion that the cycle is in a late stage).
The reason I bring up Rosenberg's position is not to pick on him or his leanings, but because a colleague showed me a piece in which the former extolled the recent earnings release from Federal Express (NYSE:FDX) as being a prime example of the recovering economy. Curious, I looked at the latest FedEx earnings report and transcript to see what I might have missed, and what struck me instead is that the FedEx stock price is an outstanding example of bubbly behavior.
The company's management does seem to be coping fairly well with the transition to lower-priced modes of shipping; I'm not here to pick on them either. But the disconnect between the stock price and the fundamentals is stark. The company reported year-on-year revenue growth of 2.4%, which managerial comments attributed to pricing and mix. The growth in stockholder's equity (a metric popular with us CFA types) was only 1.5% over the last twelve months. Pre-tax income was up 5.4% over the same period. Then the company announced a share repurchase program a couple of weeks ago, and the stock went parabolic. It's now up 30% in the last 3 months and trading at nearly 30 times earnings - for 5.5% earnings growth and 1.5% growth in equity. Are you kidding me?
I'm aware that FedEx beat estimates by three cents on the quarter, mostly on the strength of cost control, but the stock did not react so much to that. Indeed Goldman Sachs downgraded the stock to neutral afterwards. I'm sure at least some think that the massive spike is justified, but to me it's an example of the kind of semi-hysterical behavior that characterizes a market topping period. FedEx did not raise its outlook for 2014 and actually lowered its GDP outlook for 2013 to 1.6%. Though the latter was characterized as based on historical revisions, one is still left wondering where the fire is. Or the robust recovery.
In that vein, my own indicators show that the Nasdaq is in its most overbought long-term posture since the December 1999-March 2000 period. It's also strongly overbought on an intermediate basis, though thanks to the last few days of sideways action, only moderately so on a short-term basis.
So I think you can short the Nasdaq 100 tracking ETF here (NASDAQ:QQQ) as a trade, or perhaps buy the inverse QQQ ETF (NYSEARCA:QID), the latter not as ideal because of its very short-term characteristics, but the only thing most people can do in a retirement or non-margin portfolio. As someone who saw a short-selling friend's business annihilated in 1999, I'm very aware that tech stocks can stay overbought for extended periods, historically more so than the broad market. It's not a trade to go all-in on.
Nor do I recommend it as a long-term position, not the QID, nor the QQQ short. I think that the market is due for a general retreat that could last up to Thanksgiving, as I suggested last week when I confessed to buying some TZA, but I also believe that the central tendency is for a modest pullback in the 3%-5% range. It could get worse, of course, if the jobs report eight days from now only shows a five-figure gain, or any of the other usual suspects suddenly loom up out of the fog - a Middle East crisis, another threat of a eurozone fracture, or perhaps a credit problem somewhere in Asia.
Sentiment-driven markets are a funny business, and one must always allow for the buying or selling to be more extreme than events would suggest. Tomorrow is the first day of November and it would not at all surprise me to see the usual rally. If that should come to pass I'll use the close as an occasion to lean the other way. Markets were up 3% in September and are nearly up 5% in October - we're due for a swing the other direction.
With all that said, however, I don't see anything imminent that would derail the traditional Thanksgiving-to-New Year's rally. Whether the latter would be enough to capture new highs before the year's end will depend, all other things being equal, on the size of the proposed consolidation - if it's only two or three percent, then I expect traders to make another attempt at new peaks. But we'll cross that bridge later. First I think we're set up for a test of 1700 on the S&P 500, and want to see how sentiment manages that first.
Disclosure: I am long QID, TZA. I wrote this article myself, and it expresses my own opinions. I am not receiving compensation for it (other than from Seeking Alpha). I have no business relationship with any company whose stock is mentioned in this article.