Stocks have gained 167% since their low in March of 2009 and that whooshing sound is the sigh of relief from hundreds of millions of investors that are back on track for retirement. Shares of Google (NASDAQ:GOOG) have recently broken $1,000 and Tesla Motors (NASDAQ:TSLA) has returned 435% over the last year.
Times are good!
But are you about to lose your hard earned profits? There is a good chance you may be committing the #1 mistake that makes investors lose money?
In up or down markets, you can find investors glued to their computer screens searching and hoping for that next breakout stock. Triple-digit returns do not even seem to be enough as investors pile into shares of Tesla even as CEO Elon Musk admits they do not deserve the hefty valuation.
Investors constantly look for what's next and that is why they lose.
Stop trying to beat the market and beat your own goals
I talk to financial advisors and money managers all the time and the complaint is always the same. If they are not continuously beating the returns on the market, they get dropped by clients. It happens with individual investors as well. You understand that your goals are long-term but continue to trade stocks in your portfolio based on the newest tweet or market flash on CNBC.
What happens is you end up always fully invested in the market and in very risky stocks. As long as the market continues skyward, you make money and everything is rosy. One look at the chart for the S&P500 over the last thirteen years and it's clear that the market doesn't always play along. Being fully invested in 2000 and 2008 set you back between five and seven years.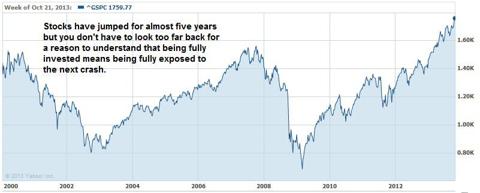 But you want to meet your retirement and spending goals and that means investing in stocks, right?
Absolutely, but how many invest based on their goals and not on what the stock market is doing?
The web is full of retirement calculators. I like the one from CNN Money which includes a fairly broad list of questions. Do not worry as much about the section on your portfolio preference, your selection will not change the annual return you need to meet your goals. I am not a doomsday prepper or an alarmist but I changed the assumption for Social Security to $0 in my own calculation. Benefit checks will probably be there when I reach 70 in 2046 but I am not going to base my quality of life on it.
My own calculation for required annual return came out to between 4.8% and 5.2% depending on different assumptions. I might try for a little higher return and build in a nicer retirement but I obviously do not need to be investing in high-risk, high-reward investments.
If you knew that you only needed an average return of 6% per year to meet your retirement goals, do you think you would have been fully invested in the markets in 2000 or 2008? Of course not, you would have made 8% a year in the five years through 1995 and then dialed it back a little. With a more conservative portfolio, you might not have beaten the markets but you still could have earned another 5% a year in conservative investments and made it through the tech burst relatively safely.
When the market crashes 47% like it did when the tech bubble burst or 57% with the housing bubble, you'll still see a conservative portfolio take a hit but it won't be nearly as bad and you will be in a better position to take advantage of low prices when they come around.
It is ok to underperform the market for a few years if you ultimately protect your long-term returns in a market crash!
Investing for your own goals
I have recently created two model portfolios to help long-term investors be more selective and find the best stocks for their own portfolios. The stocks may not be the only ones in your portfolio but I believe they offer stable long-term returns and you will not need to constantly re-evaluate your holdings.
One of the strongest holdings in the Retirement and Income Portfolio is HCP Incorporated (NYSE:HCP), a real estate investment trust (REIT) that invests in senior housing, medical offices, hospitals, skilled facilities and life sciences ventures. One of my favorite investing themes is risk management, matching investors' financial risks with their portfolios, and the most obvious risk in retirement is the skyrocketing cost of healthcare. By loading your retirement portfolio with companies tied to the industry, you help align your assets with potential liabilities.
HCP pays a strong 5.3% dividend yield and is likely to increase the cash return at a consistent rate as demand for senior living increases over the next decade. The stock price has been hit this year, along with other REITs on interest rate fears, as well as a management change. I do not think either of these is a concern for long-term investors and this may be a good opportunity to add the shares at a discount.
For those investing outside of a retirement account, my Growth and Dividend Portfolio includes stocks with the possibility of higher returns but still offer long-term stability and cash yield. I recently added Annaly Capital Management (NYSE:NLY), a mortgage REIT that has seen its stock drop on fears of higher interest rates. Mortgage REITs borrow at low short-term rates, nearly zero right now, and use the money to buy mortgages. Annaly only buys the highest quality mortgages that are backed by government agencies like Fannie Mae and Freddie Mac and is diversifying assets into commercial real estate as well.
The fear is that rising rates drive the value of current mortgages down and the company sees its book value decrease. This is a legitimate concern but the company is a best of breed in an industry that will be around for as long as people buy houses. The dividend yield and stock price may fluctuate in the short-term but the stock has returned an annualized 14.8% since 1997 and I am taking advantage of the recent selloff to add to my own portfolio.
Both portfolios have an income focus but there is a very important difference. The stocks in the retirement portfolio should be much less risky and offer higher rates of current income. The stocks in the growth portfolio may be more volatile over the short-term but should come out strong over the longer-term.
Know the difference between investing and gambling
It really comes down to whether you are investing rationally for your long-term goals or gambling for ever higher stock prices. The distinction is the subject of the first chapter in, "The Intelligent Investor," by Benjamin Graham. Graham was Warren Buffett's mentor and the book is one of the most widely-read and respected investment books ever written.
I will be covering two chapters from the book each week, with stock applications for each chapter, in a series starting the first week of November. Discussion will be available through the comment section in each article. Join me on Facebook or follow me here on Seeking Alpha.
Disclosure: I am long HCP, NLY. I wrote this article myself, and it expresses my own opinions. I am not receiving compensation for it (other than from Seeking Alpha). I have no business relationship with any company whose stock is mentioned in this article.