There is a lot of talk in the market and among investing professionals these days concerning the tremendous run we have been on. Not among a particular sector, but equities in general. Some have blamed some of the rally on share buybacks thinking that this has created an unrealistic floor for many stocks and also thrown the supply/demand ratios in the market out of balance. The way we see it is that this is a perfectly functioning market and if one simply looks at the P/E ratios of many of the names in question it is easy to see that the valuation of these names has not been affected beyond the rise in the general market.
Each shareholder simply owns more than they did before, and in the cases where we have seen big run-ups it is usually explained by the monetization of underperforming assets and that money being reinvested in the core business or used to buy shares back.
This is why we are a bit confused as to why investors are making such a big deal about some of the big names in the oil sector and their capital allocation. At the end of the day it is all the same.
Stock to Watch:
Exxon Mobil (NYSE:XOM) is a name to watch as the company reported EPS which beat expectations but saw falling refining margins clip what could have been an even more impressive quarter. The refining margins will probably continue to be an issue but the good news for Exxon Mobil shareholders is that production growth has resumed, even if it is a modest 1.5%. It has been two years since we have seen growth in these figures, but with the company spending heavily on exploration and development this number should continue to increase moving forward.
We did not see a big buy back announcement from Exxon Mobil or a sizeable increase to the company's quarterly dividend which leads us to believe that further capital expenditure and possibly a purchase are in the works down the road. It may be cheaper to drill for oil on the floor of the NYSE than in the field, but it appears that Exxon Mobil wants to actually increase its share of the production pie rather than just increasing shareholders' share of a shrinking pie.
We liked this name in the mid-$80s and we still like it now. The shares have traded relatively flat and appear set to outperform peers in the industry, especially should a pullback occur.
Chart of the Day:it
Gold broke through the $1,340/ounce level and has fallen precipitously since. The Fed did tweak its language yesterday to become less dovish, but it did not appear that it would affect the precious metals this much. It is a bad day for commodities, so maybe we are seeing the fast money simply trickle out so as not to get trapped.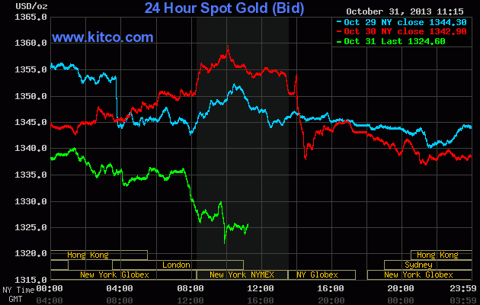 Source: Kitco
Commodity prices this morning are as follows:
Gold: $1322.50/ounce, down by $26.80/ounce
Silver: $21.965/ounce, down by $1.018/ounce
Oil: $96.41/barrel, down by $0.36/barrel
RBOB Gas: $2.6188/gallon, down by $0.032/gallon
Natural Gas: $3.604/MMbtu, down by $0.016/MMbtu
Copper: $3.3075/pound, down by $0.018/pound
Platinum: $1452.20/ounce, down by $27.70/ounce
Commentary
Investors attacking how companies such as Exxon Mobil and possibly Chevron (NYSE:CVX) allocate capital might have points that are somewhat valid. But our viewpoint is that share buyback programs should be done in a manner to derive the biggest bang for one's buck, which requires companies to be willing buyers of their own equity at times when the market is not their biggest fan and their underlying business is not in the best shape. Right now the oil and natural gas business is the best it has been in years, with many companies seeking capital to help develop their vast holdings of shale acreage. The 'Big Oil' names should be gobbling up acreage via joint ventures and acting like banks, but they are too busy buying back their own shares to please activist investors and in some cases thwart those activists before they get through the door. Increasing the dividend is a much better long-term play than buying back shares to please short-term investors. There is a risk in the business that shareholders are willing to bear and they should be rewarded by that.
Although there has been some volatility in the share price, Exxon Mobil's shares are essentially flat for the year when all is said and done. That does not really give shareholders anything to be happy about, and might explain some of the restlessness among them and the analysts.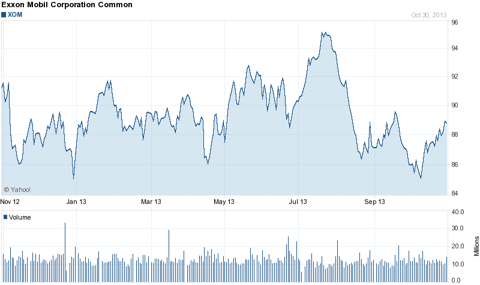 Source: Yahoo Finance
It is our opinion, and we have stated this multiple times before, that the big names will have to come in and gobble up a few of the newer names to get production growth back on track in the mid single digits, and that means Exxon Mobil will probably be among the buyers. Those names which have focused most of their free cash flow and debt spending on growing production will be ideal targets as their cost of borrowing can be lowered and their growth rates provide exactly what 'Big Oil' needs. Look for Chesapeake Energy (NYSE:CHK), Whiting Petroleum (NYSE:WLL) and Rosetta Resources (NASDAQ:ROSE) to be among those names taken over in the next few years, especially because of their focus on natural gas liquids and oil these past few years. We believe that these bets will pay off handsomely for those shareholders who stick around, and even if a buyout does not occur the production growth will create some very formidable mid-tier E&Ps.
Disclosure: I have no positions in any stocks mentioned, and no plans to initiate any positions within the next 72 hours. I wrote this article myself, and it expresses my own opinions. I am not receiving compensation for it (other than from Seeking Alpha). I have no business relationship with any company whose stock is mentioned in this article.