Booo. That's what AudioCodes (NASDAQ:AUDC) long-term holders, especially myself and my loyal Seeking Alpha followers experienced when we listened to the CEO conduct his 3rd quarter conference call yesterday morning. Since the call was made from Israel, I was pondering that maybe we interrupted the CEO from his Halloween costume party where he was dressed as the illusionist. Okay, all kidding aside, yesterday AudioCodes delivered good 3rd quarter results by beating the street on both revenues and EPS while guiding in line with Oppenheimer's estimates of $36 million for the 4th quarter. All in all; a positive for the company and its shareholders. The call and the results were all very much accepted and understood until the question and answer session opened up. This is where the call turned into a trick or a treat depending on how well you listened to the call, how well you follow its chief competitor Sonus (NASDAQ:SONS) and how much outside due diligence you've done on AudioCodes itself. I'm here to tell you with very strong conviction, that this conference call was a treat and shares should be accumulated very deliberately as my bullish thesis backed by numerous articles is coming to fruition in multiple forms.
The Treats:
Mobility, mobility, mobility. I'm sure you all read my enthusiastic take on MailVision back in April prior to the takeover of the remaining 60%+ by AudioCodes. The company announced on the call that in the very near term it'll be releasing a cloud based OTT solution for enterprises via service providers. The company said it is actually in beta version in Israel. This cloud-based platform will result in customer wins and stronger One Voice partnerships with hosted PBX-IP customers as they now have a mobile solution to overlay on hosted cloud-based platforms. No one was paying attention to this on the call. This will land hosted players and bring service providers to AudioCodes for its new software SBCs (16,000 sessions), routers, IP-Phones and gateways.
One Voice for hosted services; BroadSoft (NASDAQ:BSFT) and other hosted players need AudioCodes more than you know. Acme Packet and Cisco Systems (NASDAQ:CSCO) are the partners of choice when a hosting company looks for a complete end to end solution. In the past, when the Unified Communications (UC) market was fragmented these partners were ideal. Today, Acme Packet is now part of tech giant Oracle (NASDAQ:ORCL) and Cisco is in a very competitive mode (Microsoft (NASDAQ:MSFT) Lync) which is not a favorable thing to smaller hosting companies like BroadSoft Inc., 8X8 Inc. (NASDAQ:EGHT) and RingCentral Inc. (NYSE:RNG). Basically, Oracle and Cisco have become a competitive threat to the hosted companies. AudioCodes is now the only non-competitive play in town and is ready to supplant a Cisco Systems or an Oracle in an all IP voice network - this is a big, unique opportunity. This alone makes AudioCodes a buy right here.
One Voice for Microsoft Lync is growing and landing larger deals than ever before. Everyone must understand, Microsoft has a number of partners for Lync including Sonus, but I believe AudioCodes is starting to be its preferred partner of choice. A large deal doesn't start with $1 million in equipment and services the next day. No, it's deployed in numerous stages or phases as many large corporations have offices and phone lines worldwide and it must be done systematically over time. Since AudioCodes started the program in early 2013, and the CEO did say that Lync growth would start 9 to 12 months from the May conference call, then his comments on the call yesterday were consistent with that, although it came off as if they weren't due to a misunderstanding of the question.
The Tricks:
The CEO said he's not working with BroadSoft with One Voice. I believe BroadSoft and AudioCodes are going to lead with this One Voice for hosted services and now mobility (cloud-based announcement) included. This will be the driving force that gets other hosted players to sign up. I think the company has already signed up new players or is in the process of doing so. Do not let the CEO's comments fool you. BroadSoft is the number one hosted player and it is a long time partner of AudioCodes and its mobility solution.
AudioCodes' Lync sales are growing 25% year over year. The company said Lync represents 15% of overall sales but that it grew by 25% over 2012. The CEO is staying steadfast that Lync will gain more steam in early 2014 as Asia is seeing its first signs of activity with Lync. You must look at Lync as the snowball effect - the seats get deployed in stages and then the services come on as a lagging effect, but eventually the machine is in full gear. We still believe Lync sales will be hitting its stride by March 2014.
New products are gaining traction. On the call it got confusing but AudioCodes made a good point that its new initiatives and investments turn into growth engines. SBCs, routers and IP Phones were up 150% year over year from their introductions. That's impressive and shows the company can innovate and stay in the game. Let's watch out for the new cloud-based initiatives that it said it'll be releasing in due time. I'm optimistic that the mobility will reinforce its position as an end to end solutions player.
The Shabtai effect: You must take the good with the bad. The good is that he's a visionary and a great strategic planner. He survived a terrible downturn in the voice infrastructure market, restructured the company and positioned it as a Cisco or Oracle replacement in a fresh, all new IP network upgrade cycle. That's huge. The bad, he's not going to give you a consistent great communicator effect on each call, but he doesn't mean ill will. I now accept that and I think long-term holders can assess that post conference call.
Valuation:
AudioCodes trades at a $230 million market capitalization with $58 million in cash and $150 - $158 million in estimated sales for CY 2014. That's basically 1.1 - 1.2 times revenues which is way too cheap for a company that beat estimates and guided higher for the next quarter. Sonus, AudioCodes' peer trades at an $800 million market cap with $267 million in cash and $290 - $300 million in estimated sales for CY 2014. That's 2 times revenues which is where AudioCodes should be trading. Sonus missed Q3 results and posted mid-range revenue guidance at $72.5 million which was $1 million below consensus. Sonus has a CEO that can communicate and it has a very good SBC product, but at the end of the day it does not implement the complete end to end solution strategy deployed by AudioCodes. You can attack a product only company very easily from a competitive point, but it's much harder to attack a solutions player such as AudioCodes which means the valuations should be flipped.
I stand by my revenue targets of $158 million for 2014 and $180 million for 2015 and when the large institutional players realize that I'm accurate in my research the shares will again hit 52-week highs and I believe that it'll be sooner than later. This is not the time to sit on the sidelines; it's the time to initiate and add to this tactical innovative voice IP solutions player.
Chart: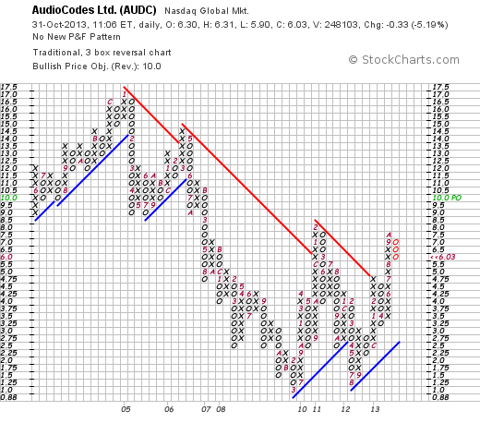 Click to enlarge
The great point and figure chartists, Dorsey Wright told me that they always buy stocks that have run up on the first three box reversal. A three box reversal is a buy signal as it shakes out the weak holders and will generally reverse and move significantly higher after the selling has dried up. I believe that this is the case here with AudioCodes, it is shaking out the weak holders and I see no better time to buy than here. I believe that looking back, we will view this as the great shakeout to remember.
Conclusion:
AudioCodes is coming to New York City on Monday for Needham's "Network Infrastructure" conference and I believe it'll follow it up with numerous days of marketing to institutional funds. I believe that with the highest number of analysts participating on the call (William Blair, Needham, Oppenheimer, Northland Securities and Sidoti) AudioCodes will get the attention of some astute investors bringing the shares back up to cover some of yesterday's sell off. I believe yesterday's call will be looked at as a treat for investors that see Microsoft as a force in the PBX market. AudioCodes has a great strategy with its One Voice solution versus product only and it's a rare substitute to Cisco and Oracle which makes it a great treat for another large player to eat.
Disclosure: I am long AUDC. I wrote this article myself, and it expresses my own opinions. I am not receiving compensation for it. I have no business relationship with any company whose stock is mentioned in this article.