From a long-term historical valuations perspective, US equities are in "dance near the exit" territory. The S&P 500 is up over 24% year-to-date through yesterday and on a valuation basis, is becoming a bit frothy. The duration of and size of the rally since the interim low in August 2011 has caused many of the negative forecasts from equity strategists to cry uncle.
Below I will detail why I think it's time to cut back on equity allocations and rotate into safer or more esoteric investments. There are several factors that I'm looking at including an eventual end to QE, sluggish global growth, high valuations, weak earnings, contracting margins, and the great rotation out of bonds.
Market Valuation
The broader market is up significantly with a large portion of the move higher due to expanding multiples. For instance, the Schiller CAPE P/E is now at 24.9x, well above the mean and median ratios of 16.5x and 15.9x for the last 133 years. There are many obvious drawbacks to this metric but I feel it's a good place to start.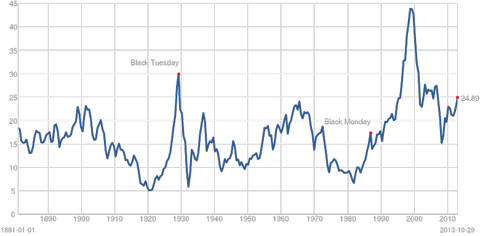 Meanwhile the forward P/E has jumped significantly from the August 2011 lows of 10.5x to the current 14.9x. The ratio is now approaching two standard deviations above its five year median average of 13.2x.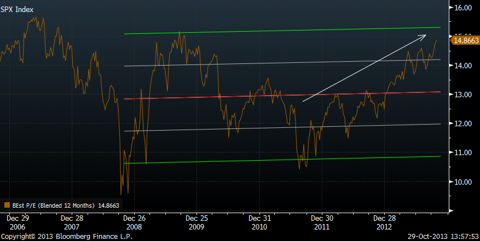 Since the start of the year, better than expected corporate profits can account for roughly a third of the market move higher but just over two-thirds is coming from an expansion in multiples. S&P 500 earnings are trending towards $109 per share, up from expectations last year that were looking for $103. For fiscal 2014, the numbers look even better with estimates approaching $120 per share. This equates to roughly 10% earnings growth calendar 2014 over 2013.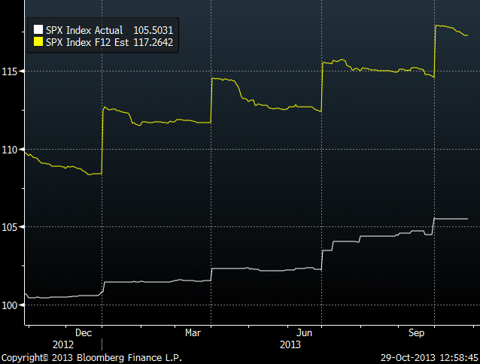 The question becomes what will be driving the earnings power of S&P 500 companies going forward and is there any juice left in the multiple expansion story?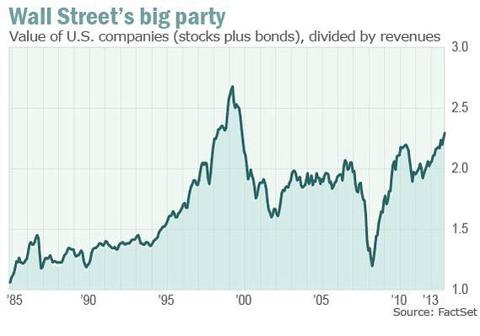 Earnings Growth
S&P 500 earnings have come in slightly better than anticipated in the third quarter of 2013 but that is against much lower estimates than just a few months ago. Quarterly earnings growth has been trending down from 5.5% in Q42012 to 3.6% in the first quarter of this year to 2.1% in the second quarter. So far in the third quarter, the earnings have ticked back up slightly to 3.2% through October 28th.
Still, as has been the case for the last year, earnings growth of the financials, especially the banks, have largely driven S&P 500 EPS growth, meager as it has been. Second quarter 2013 EPS growth would have been negative if you excluded financials from the results. Banks and consumers are taking advantage of the low interest rate environment by refinancing or purchasing homes helping to drive up home values and therefore repair bank balance sheets. This allows banks to revalue past loan loss provisions and release those reserves into earnings. They also collect the fees from the multitude of homeowners who are taking advantage of the lower mortgage rates to refinance. But how long can this continue? Surely the bulk of people who can refinance to a lower rate have done so by now. I look for bank earnings to plateau without a significant rise in interest rates.
Not only has earnings been anemic in the low single digits for the last couple of years, but revenues have fared worse. Earnings growth can be inflated by share buybacks, often done with borrowed capital. With interest rates ultra low and creditworthy companies like Microsoft (NASDAQ:MSFT) and International Business Machines (NYSE:IBM) able to borrow only a few bps above what the treasury pays, they are doing so and buying back shares to boost EPS growth.
Lastly, guidance has been especially weak in the last year with significant revisions to the downside.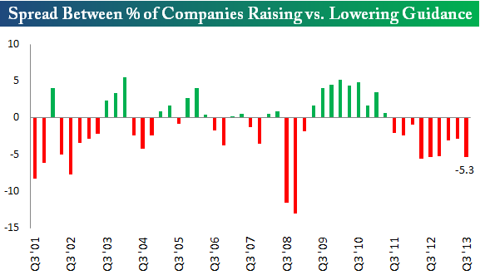 Revenue and Margin Growth
Revenue growth in the quarter is even more tepid at 2.6% yoy, down from expectations at the end of the second quarter of 3.0% yoy. This is especially disheartening when you factor in that 40% of revenues in S&P 500 companies come from outside of the US where growth is typically higher.
Current forecasts for 2014 are being driven by all-time high net margins. Net margins are expected to hit 10.0% in the first quarter of 2014, 10.2% in the second quarter, and 10.3% in the third quarter of next year. This is substantially higher than the 9.4% for the third quarter of this year and well above the prior peak of 9.3% in early 2007. The trend for margins have been higher for the last several years as companies put off hiring in favor of wringing out more productivity from existing employees and curtailing other costs to boost the bottom line.
While it's possible that margins will continue to expand, history suggests that at some point, they may revert. Margins follow a cyclical pattern expanding as the economy grows out of a recession. But eventually capacity constraints kick in forcing companies to spend more for incremental business, labor costs increase substantially as the labor market tightens or competition from newly formed business compete on prices and decrease profitability of existing firms.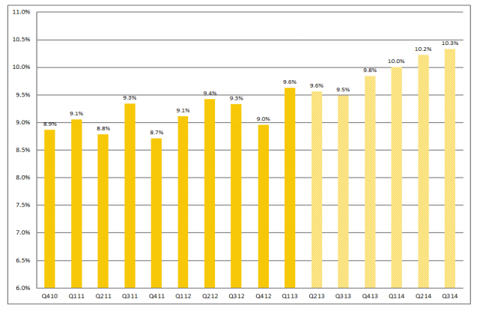 Asset Allocation and Leverage
A lot of what is driving flows into equities and pushing up valuations is likely the bond market. There has been a preponderance of articles telling investors to sell all their bonds because the end of the bull market in fixed income has come. With yields at historical lows and bond prices way up, pundits have been urging investors to sell in favor of higher yielding equities.
According to ICI, since the start of this year, a total of $106 billion in capital has flowed into equities while that number has come out of bonds in just the last three months. While some of that capital is going into a cash, a lot is going into the equity markets helping to inflate asset prices.
Leverage is also throwing some fuel on the fire thanks to abnormally low interest rates. The plunge in rates have sparked a tsunami of new bond issuance by companies, some of which is used to buy back their own shares.
Enterprise values, the more appropriate measure to look at valuations rather than market capitalization, are extremely high. Enterprise value includes bonds and nets out cash compared to the formula for market cap which is just based on equity. In total, the S&P 500 index is now at 2.3 times annual corporate revenues. This is the highest level ever recorded outside of the late 1999/early 2000 bubble. It is nearly twice the level of the average up until 1994 and compared to when Greenspan was issuing his irrational exuberance warning in 1996, it is 40% higher today.
The Taper
The taper, the gradual decline of the Federal Reserve's bond buying program, is coming. There is just a question of timing. However, it really doesn't matter to investors if the taper will begin in December, March or June as a few months difference is immaterial.
When the Fed hinted at an end to the program back in May, both stock and bond markets threw a tantrum with the ten-year treasury bond jumping from approximately 1.7% to nearly 3% in a short-time frame. The equity market fell from 1,666 on May 21st to 1,573 on June 24th, a fall of 5.6% in a month.
While I don't expect the same sudden and abrupt reaction to occur again when the Fed finally does taper, I do think it will be a headwind for both equities and fixed income assets.
Weak Economic Growth
Economic growth has been anemic but one must be cognizant that the economy and the markets are two very different and distinct entities. However, over longer periods of time, the market roughly tracks the growth rate of the economy.
Non-farm payroll growth has been anemic with yoy increases of less than 1% and trending towards zero. In most of the past instances when this occurred, it was followed by a recession and market losses.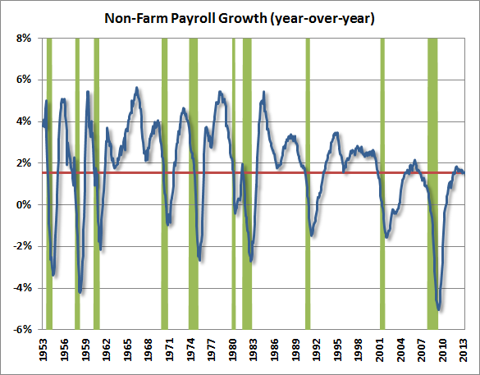 Bloomberg is obviously a great resource for economic data points but another great and free resource is bullandbearwise, which creates its own index using economic data. The index takes the daily economic releases and assigns a point value to it with a positive result being a plus or one, two, or three depending on the type of release with a negative result detracting that amount. Below is their five-year history where you can see recent results have been not overtly bearish but the trend has been lower recently.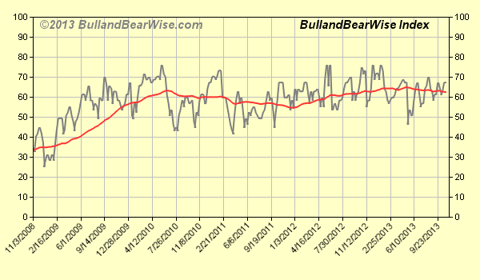 Red flags
The value players are usually the earliest money managers to get out of the market. Recall back in the late 90's you had several of the more prominent value managers raising cash, calling the market irrational and underperforming significantly. In the end, they were vindicated.
Recently, we had Carl Icahn, Donald Yacktman, Seth Klarman, Charles de Valux, Wally Weitz and Warren Buffett coming out and either saying the market was overvalued, they were having trouble finding places to put money or they were returning capital to clients, or all three.
Conclusion
There is an enduring myth being perpetrated generally among the media that everybody hates this market. Of course, if that were true it would be a strong bullish indicator as it would imply there was the potential for a lot more investors to jump in. However, it's not true and is based on the bull market media cheerleaders seeking out bearish commentators to make their point that the market is unloved.
In the end, speculation and investing are two very different concepts. Barring some sudden exogenous shock, I wouldn't expect the market to 'reset' its current excessive liquidity-driven upward momentum. So, it appears like we will observe a set of conditions where the boat is not rocked and the positive trend following measures are maintained.
Overbought and overbullish levels can prevail for excessive periods of time. During the 1990's bull market run, they first appeared in early 1998, more than two years time and 64% below the market peak in March of 2000. In fact, when the market reached its nadir in late September 2002, it was just 13% below the level when those overbought signals materialized. It's entirely possible that the overbought conditions can permeate for several more years and by getting out now, the opportunity costs are worse than if you simply stayed in and rode the cycle.
Timing the market means that you have to be correct both when getting out and getting back in which is exceedingly difficult. The market has come a long way since the March 2009 lows and the August 2011 interim lows. Earnings growth drove roughly a third of that move but as I noted, earnings growth is likely to be much more muted over the next year or two. Market strategists and portfolio managers who claim the market is not overvalued but merely fairly valued are using forward operating earnings and record operating margins as the basis for that assessment. There are numerous pitfalls to using this technique.
In the end, we are slowly moving from a macro data driven risk-on, risk-off market where action in Washington DC drives the S&P 500 to a stock pickers market. Correlations are down to levels not seen since early 2007 and means it is becoming a market where alpha can be realized again.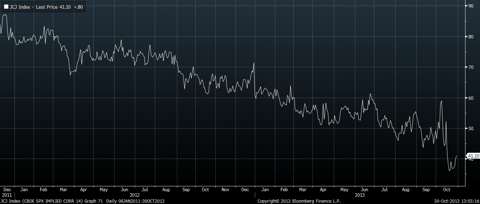 Actionable Intelligence
With a problem in timing the market, you can take action to rotate into safer investments in equities, alter your asset allocation away from equities, or hedge or partially hedge your portfolio.
1) Safer investments: As always you can sell your high beta names while going long the low beta names. Another route would be to simply purchase the SPLV, a basket of low volatility stocks in the S&P 500.
2) You can rotate out of equities into hedged equity vehicles. My preference would be to look at funds like LSOFX, ARLSX, and MFLDX.
3) Upon calculating your portfolio beta, you can buy long-dated index put options to hedge all or a portion of your portfolio. With the index at 13.7, you can do this relatively cheaply.
Disclosure: I have no positions in any stocks mentioned, and no plans to initiate any positions within the next 72 hours. I wrote this article myself, and it expresses my own opinions. I am not receiving compensation for it (other than from Seeking Alpha). I have no business relationship with any company whose stock is mentioned in this article.