One of the major tenets of value investing is buying stocks when they're unpopular.
So with the market on a tear recently, what types of stocks could be seen as being out of favor now?
Defensive stocks.
These non-cyclical companies make products with sales that usually don't ebb and wane with the general beat of the business cycle. These stocks typically have a beta of around 1 or less, which means they respond to ups and downs with less volatility than their cyclical counterparts.
And often, these stocks will provide investors with a dividend and may also have share buyback programs that will help stabilize the stock price in declining environments.
A good defensive stock has some weight to it to toss around and traditionally won't be a small cap company. The larger company size gives these stocks some resistance to institutional activity, which in smaller companies can single-handedly move the price of a security.
Three stocks that fit this model for defensive investments are Energizer Holdings (NYSE:ENR), Kimberly-Clark (NYSE:KMB), and Johnson & Johnson (NYSE:JNJ).
(Click to enlarge. Sourced from Zacks Investment Research.)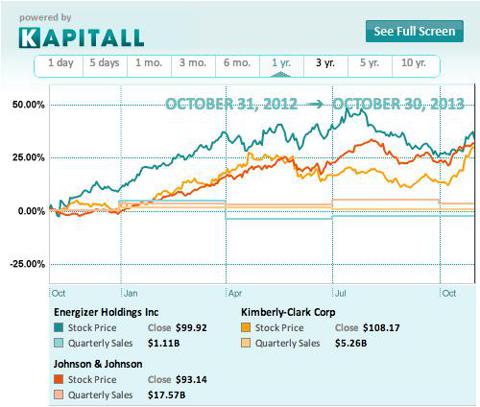 Energizer is a name synonymous with batteries. The $6 billion company has been around since 1896 and operates in 160 countries around the world. Fulfilling the classic requirements of a defensive stock, Energizer has a dividend yield of 2% and an ongoing share repurchase plan that in the past 12 months has bought back more than 5% of total shares outstanding.
If Energizer's dividend and share buybacks are not enough defense for you, the company is also focused on growth, as shown by the company's recent acquisition of feminine hygiene products, which expands on their ownership of men's shaving products like Schick and Edge.
The aggressive moves seem to be sitting well with their bottom line, as this year saw EPS growth of over 67%. From a pure valuation perspective, Energizer looks to be discounted, recently trading at just 14.8 times earnings.
Another well-known company, Kimberly-Clark, sells staples like toilet paper, tissues, and diapers. Not exactly the most appealing product portfolio, at first glance, until you realize it could be a perfect defensive play.
With a beta of around only 0.35, this could be a centerpiece stock for a defensive portfolio and serve as a baseline for growth. Kimberly-Clark's recent return on equity of around 37% is nearly double that of its closest competitor Johnson & Johnson and their dividend yield of around 3% is the highest of this group of stocks. Kimberly-Clark has raised the dividend unfailingly for 41 consecutive years and does it all with a payout ratio of 65%.
Kimberly-Clark, like all good defensive stocks, has a continuous share buyback program, and for 2013, the company has targeted $1 to $1.2 billion in share buybacks. An investment strategy that follows the premise of the tortoise and the hare may not be exciting, but it can be potentially very profitable. With dividends reinvested, an investment in Kimberly-Clark in January 2003 would be worth around 228% more today.
Finally, a long-time Warren Buffett favorite, Johnson & Johnson is known for brands like Tylenol, Listerine, Band-Aid, and more household names. By far the largest company covered here, with a recent market cap of over $266 billion, Johnson & Johnson is a component of the Dow Jones Industrial Average, and provides investors a dividend of around 2.8%. Like Kimberly-Clark, the company has a long history of dividend raises, averaging over 8% annually.
A staple of defensive investing, Johnson & Johnson enjoys relatively high gross margins of over 68%. The company carries a low long-term debt load of $11.5 billion, while cash and cash equivalents total over $14 billion. Combined with the company's approved $10 billion buyback program, this stock is well prepared to weather practically any economic storm and still produce positive results.
One of the biggest risks when investing in defensive stocks like these is opportunity cost. While these sectors can be prone to long periods of stagnation, they can be considered investments in wealth protection. And appreciation over time can be realized with reinvested dividends.
(Click to enlarge. Sourced from Zacks Investment Research.)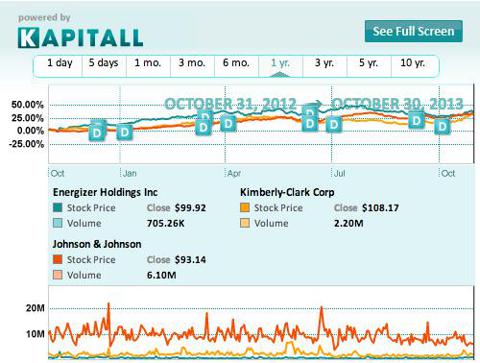 Disclosure: I have no positions in any stocks mentioned, and no plans to initiate any positions within the next 72 hours.
Business relationship disclosure: Kapitall is a team of analysts. This article was written by Daniel Cross, one of our writers. We did not receive compensation for this article (other than from Seeking Alpha), and we have no business relationship with any company whose stock is mentioned in this article.