I just read an interesting article on the App's Revolution that is currently taking place.
Here is the article.

When I first bought my iPhone in 2008 Apple (AAPL) offered a few hundred Apps at the time and I for one enjoyed the few I downloaded, but never expected the Apps concept to amount to much. To my surprise, this whole new technology has erupted and now Apple offers 100,000 Apps on its Apps Store.
What the article fails to mention is that this Apps concept may not just be a USA specific growth engine for Apple, but since the iPhone will be sold in some 100 countries soon and eventually be in every country on the globe there are for sure to be programmers, in each of those countries, who will want to make some money by designing an App in their own language. The growth rates may not be as astounding as they are in the USA, but will be tremendous growth nevertheless.
What has really amazed me though is how this phenomenon can also be used as a marketing tool or practical application for companies to market their products and services. For example, my data source provider Morningstar (MORN) just enhanced their App and have had over 45,000 downloads from customers.
This is what the President of Individual software had to say about it.
"We've added these new features and functionality after listening to feedback from iPhone users, who responded with overwhelming enthusiasm to our mobile app's initial release in May," said Kunal Kapoor, president of individual software at Morningstar. "These enhancements will help investors with a comprehensive application packaged specifically for their mobile device that provides anytime, anywhere access to the information and research they need."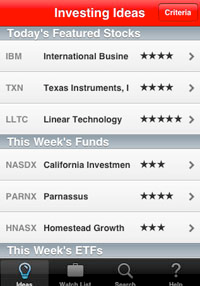 Then to further help me in my business my broker , Interactive Brokers (IBKR) created this: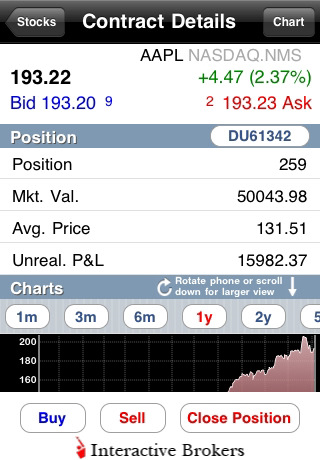 So when you think about it, we have yet to see the real growth of the App's concept and I think we are just at the beginning of this revolution.
I will conclude with this key point that the article made;
Indeed, veteran industry executives, investors and analysts are calling the shift to internet-capable devices and the apps that run on them a once-a-decade leap in technology, on a par with the great personal computing boom of the 1980s and the debut of the World Wide Web in the 1990s. "The ramp [growth rate] of the iPhone and iPod touch in the first eight or nine quarters is more than five times the ramp for the internet," says Kathryn Huberty, Morgan Stanley tech analyst. These devices, and faster wireless networks, are both now reaching about a fifth of the global population, she estimates, which will drive much more rapid development : "Globally," she says, "2010 is the tipping point." No company is more central to the shift towards the mobile internet than Apple, which enjoys a wide lead in distributing applications. More than 100,000 apps are available on its App Store and more than 2bn have been downloaded in less than a year and a half.
Disclosure: Long AAPL, No Position in MORN, IBKR