In my prior Suncor article, I outlined my investment thesis on Suncor Energy (NYSE:SU). In this article, I will update my arguments in light of Suncor's stellar Q3 results, although the company did lower its production outlook in Q4 so it was not a perfect report. Needless to say, Buffett's Berkshire Hathaway (NYSE:BRK.A)(NYSE:BRK.B), which owns 17.8 million shares or 1.2% of the company, must be very pleased given the positive long-term outlook for the company. Buffett recently bought Suncor in Q2 at an average price of $29.50.
Below contains a comprehensive overview of the Q3 results and my updated investment thesis.
Suncor's Q3 Results:
Below is a summary of the key financial and operating metrics taken from Suncor's Q3 Report.
GAAP EPS of $1.13 vs. Bloomberg consensus of $0.83
Adjusted EPS of $0.95 vs. Bloomberg consensus of $0.86
Revenue of $10.37 billion vs. Bloomberg consensus of $10.88 billion
EBITDA (calculated from the income statement) of $3,470 million vs. Bloomberg consensus of $3,256 million
Cash flow of $2,528 million or $1.69 per share
Total upstream production of 595Mboe/d
Oil Sands production of 423.6 Mbbls/d
Oil Sands cash cost of $32.60/bbl
Return on Capital Employed (adjusted) of 12.9% vs. Q2/13's of 12.5% (adjusted) and 12.4% in Q3/12. The adjusted ROCE adds back the one-time negative impact of the $1.5 billion write-down of the Voyageur upgrader project in Q4/12.
Suncor reported excellent earnings and production for the quarter. The increase in return on capital employed is very encouraging and the downtrend in oil sands cash cost is another plus.
Table 1: Comparison of Q3/13 Results with Q2/13 and Q3/12. Numbers in millions of Canadian Dollars
| | | | | | |
| --- | --- | --- | --- | --- | --- |
| | Q3/13 | Q2/13 | Q3/12 | Q/Q | Y/Y |
| Net Earnings | 1,694 | 680 | 1,544 | 149.1% | 9.7% |
| Operating Earnings | 1,426 | 934 | 1292 | 52.7% | 10.4% |
| Cash Flow | 2,528 | 2,250 | 2,743 | 12.4% | -7.8% |
Source: Suncor Q3 Report. Q/Q= quarter-over-quarter change, Y/Y=year-over-year change
Table 2: Breakdown of Earnings, Operating Earnings and Cash Flow by Divison
| | | | |
| --- | --- | --- | --- |
| | Earnings | Operating Earnings | Cash Flow |
| Oil Sands | 951 | 951 | 1702 |
| E&P | 446 | 316 | 406 |
| Refining and Marketing | 350 | 350 | 371 |
Source: Suncor Q3 Report. All figures are in millions of Canadian Dollars
Graph 1: Net Earnings, Operating Earnings and Cash Flow For Last 4 Quarters. Numbers are in millions of Canadian Dollars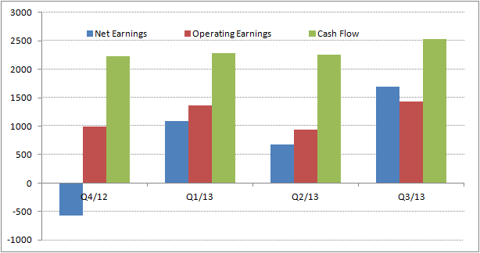 Click to enlarge
Source: Suncor Q3 Report
Graph 2: Suncor's Total Upstream Production for the Last 8 quarters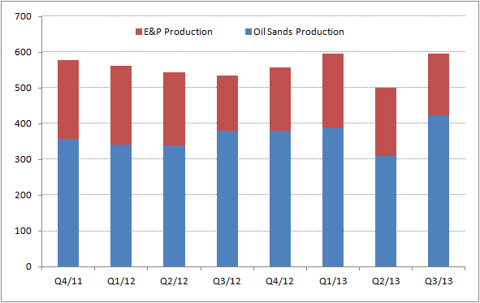 Click to enlarge
Source: Suncor Q3 Report
One significant item of note was the sanctioning of the $13.5 billion Fort Hills mining project, which Suncor has a 40.8% working interest and is the operator. Suncor expects first oil at Fort Hills in Q4/17 vs. prior expectation of first oil at Q1/17. Production will reach 90% of its designed 180Mbbls/d of capacity within one year. The mine life will be 50 years given the 3.3 billion of bitumen resources. The cost will be $84,000 per flowing barrel, which Suncor says is in-line with completed oil sands projects.
Furthermore, Suncor returned $426 million to shareholders under its current $1.8 billion Normal Course Issuer Bid (Canadian term for Share Buyback Program). With cash flow steady at the $2.35 billion run-rate (average last three quarter), 2013's cash flow will be at least $9.4 billion, which implies about $2.7 billion in free cash flow after accounting for the $6.7 billion of planned capital expenditures.
Oil Sands Operations:
Oil Sands reached record production of 423.6Mboe/d (396.4Mboe/d for Suncor's own operations excluding the Syncrude Canada JV) and achieved a record profit of $951 million. According to Steve Williams, Suncor's CEO, the results were driven by record production, strong reliability and favourable pricing for Canadian crude oil. Suncor's operations were helped by strong ramp-up of its Firebag complex and implementation of several debottlenecking projects. The Firebag complex produced 152.7 Mbbls/d of bitumen vs. 113 Mbbls/d in Q3/12, a 35% year-over-year increase. Suncor is expected to ramp up production at Firebag to 180Mbbls/d soon. MacKay River produced 29.2Mbbls/d of bitumen in Q3/13 vs. 17Mbbls/d in Q3/12. The further ramp-up of Firebag and the MacKay River expansion (capacity increase from 30Mbbls/d to 38 Mbbls/d) is positive for future production growth.
E&P Operations:
E&P operations was slightly weaker due to lower production in Libya. Total E&P production was 171.4Mboe/d and the division earned $446 million in earnings. The weakness was due to the 63.5Mboe/d in the international E&P operations compared to the July guidance of 91-96Mboe/d for the full year.
Refining And Marketing:
Refining operations was weak due to lower crack-spreads (in various regions). The 3-2-1 crack spread declined from $30 to $15. With a 50% year-over-year decline in crack spreads, investors should not be surprised that Suncor's downstream profit was cut in half from $710 million to $350 million. Nonetheless, utilization rates were very high at 98%.
The beauty of Suncor's integrated model is that if upstream Oil Sands results are weak, it can recapture some lost profit in its refining (downstream) segment. Because Suncor achieved record profits in its oil sands segment, it's natural to see weak results in its downstream operations. The power of the integrated model allows Suncor to weather volatility in crude differentials. Crude differentials are often more volatile in a lower priced environment due to inventory build-up.
Suncor's Outlook:
There was a slight cut in production for FY2013 because of lower production at Suncor's Syncrude Canada Joint Venture and operational difficulties in Libya. Reuters reported that production in Libya, in earlier October, is essentially only 10% of capacity and may decrease even further because of political unrest. In addition, as the result of excellent capital discipline, the guidance for capital expenditures (capex) for FY2013 is reduced to $6.7 billion from $7 billion.
Table 2: Comparison of Suncor's Guidance for FY2013
| | | | | |
| --- | --- | --- | --- | --- |
| | Q3/13 | Q2/13 | Implied Q4 | Q3 Results |
| Total Prod(Mboe/d) | 545-590 | 559-609 | 578 | 595 |
| OS Prod (Mbbls/d) | 350-380 | 350-380 | 428 | 396.4 |
| OS JV (Mbbls/d) | 32-33 | 34-38 | 38.8 | 27.2 |
| N.A. Onshore (Mboe/d) | 41-46 | 36-38 | N/A | 45.5 |
| EC Canada Prod (Mbbls/d) | 55-60 | 55-60 | 51.2 | 62.4 |
| Intl Prod (Mboe/d) | 72-79 | 90-96 | 56.6 | 63.5 |
| | | | | |
| Capex ($MM) | 6700 | 7000 | 1700 | 1539 |
| Oil Sand Cash Cost (per bbl) | 33.5-36.5 | 33.5-36.5 | 30.75 | 32.60 |
Source: Company FY 2013 Guidance as of end of Q3/13. Prod=Production, OS= Oil Sands, N.A= North America, EC= East Coast Canada, Intl= International, $MM= Millions of Canadian Dollars. Implied Q4 uses the mid-point of the Q3/13 full year 2013 guidance to estimate Q4 results. For N.A. Onshore, the company said it expect about 4-5Mboe/d of production after sale of its conventional natural gas business in Q3/13.
Conference Call Details:
Suncor hosted a conference call at 9:30AM EDT. Below includes some interesting details from the conference call.
On share buybacks, the company continues to work through its current its $2 billion program. With $200 million purchased in Q2 and $426 million purchased in Q3, the program has $1.37 billion of unused firepower. I like the fact that the company is a value buyer and does not rush its share buyback program like most other companies. The weighted average purchase price is under $31 (vs. current share price of $38), which shows good discipline of buying low. The company has bought back 6.5% of shares outstanding in the last 2 years. One analyst on the call pressed for details about long-term buyback strategies. The CFO answered by declining a specific annual target but will continue to purchase shares in a disciplined manner and will commence another buyback program once the current one expires.
On sustaining capital expenditures (capex), the company expects that higher reliability allows the company to reduce sustaining capital expenditures in the future from the current $4 billion run rate. Also, there won't be major turnarounds in its Oil Sands operations until 2016, which means lower sustaining capex in 2014-2015 and higher free cash flows.
On the Joslyn project, the company expects to delay the project in order to avoid overlapping with Fort Hil

ls. Mr. Williams

continues to stress that Suncor and its partner Total (NYSE:TOT) will continue to make progress on the project and make sure that the project earns the required IRR, which Suncor targets around 15%.
On Oil Sands upgrader reliability,

Mr. Williams

expects to reach over a 90% utilization rate in the future and that will drive cash costs at oil sands even lower. Suncor achieved a record low cash cost of $29/bbl in August.
Investment Thesis:
The investment thesis is largely unchanged from my prior article. Suncor presents an excellent opportunity for both growth and income. The company has a rock solid balance sheet with about $5.7 billion in net debt and a debt to capitalization ratio of 20%. The company will not have any trouble meeting its debt obligation given 1 year of operating cash flow covers net debt by 1.8 times.
Growth:
Although production growth may be less than the long-term 7% target in FY2013 due to lower output from its E&P operations, I see the 7% production growth target intact. The long-term output expansion from its Oil Sands operations cannot be ignored despite lower output in its E&P operations. Suncor has various debottlenecking projects such as the MacKay River expansion. There could be more details on further Firebag ramp-up of stage 5 and 6. Another interesting opportunity for growth is in Suncor's Montney assets, which the company is considering future expansion but little detail has been provided. To sum up, with 6.9 billion barrels of proven reserves and 23.5 billion of contingency resources, there are plenty of opportunities for future growth. Suncor is pursuing smart growth over outright growth, which will enhance long-term shareholder value. Buffett has stressed that intelligent capital allocation is key for creating value and Suncor has clearly demonstrated smart capital allocation by deferring higher cost projects and pursuing low cost debottlenecking opportunities. Furthermore, Suncor's oil sands business possesses tremendous operating leverage that can benefit shareholders. Because the costs in the Oil Sands division is essentially fixed, higher production growth can fuel higher earnings growth in the future.
Income:
With free cash flow running at $2.7 billion this year expected to grow to around $3 billion next year ($10 billion in cash flow and $7 billion in capex for FY2014), the company can easily boost its current quarterly payout of $0.20, which is about $1.2 billion per year. Given the company increased dividends by 54% in April, Mr. Williams has clearly changed the company's attitude toward paying out excessive free cash flow vs. his predecessor Rick George who liked to pursue outright growth. Because of the positive financial trends, I expect a 2-3 cent increase (10-15%) in the quarterly dividend in February, 2014, when the company revisits its payout policy. I see a dividend growth rate of 10%, in-line with earnings growth for the next few years.
Valuation:
I slightly adjusted my estimates after Q3 results. I expect EBITDA of about 13.5 billion this year and earnings of $3.20 for FY2013 and $3.40 for FY2014. My intrinsic value is now $45.70 ($43.90 for Suncor's NYSE listed shares), which represents a nEV/EBITDA ratio of 5.5X. The price target also implies a forward P/E of 13.4 times given my FY2014 earnings of $3.40, which I believe is cheap given its growth potential. My price target implies a further 20% price appreciation.
Conclusion:
Suncor's results were stellar in Q3 and will continue to profit ahead. The production cut is a near-term headwind, but should not affect the long term investment thesis. Suncor investors clearly got more treats than tricks out of the Q3 results and should continue to invest in the company that provides both income and growth.
Disclosure: I am long SU. I wrote this article myself, and it expresses my own opinions. I am not receiving compensation for it (other than from Seeking Alpha). I have no business relationship with any company whose stock is mentioned in this article.
Additional disclosure: This article is for informational purposes only and does not constitute an offer to buy or sell any securities discussed in the article. The stock mentioned in this article does not represent financial advice. The target price presented in this article are based on current information and are subject to change without further notice. Investors are recommended to conduct further due diligence before committing capital to any investment.