The third quarter report from Whirlpool (NYSE:WHR) shows that the company is experiencing high earnings growth as a result of the recovering housing market and by moving production to low-cost areas. This manufacturer of appliances achieved EPS of $2.72, which beat estimates by $0.07 and represented a 51% year-over-year increase. Revenue also increased from $4.5 billion to $4.7 billion year-over-year, representing a 4.2% increase. Whirlpool looks attractive as an investment as the market for appliances is expected to remain strong.
One attractive feature for Whirlpool's business is that it is easy to understand. The company manufactures and sells home appliances such as refrigerators, dishwashers, ovens, washers & dryers, etc. It's a transparent business with a high level of visibility. Since it is wise for investors to understand their stocks, Whirlpool is a company worth considering as an investment.
The company reported the following year-over-year results in each of its four segments for Q3 2013:
| | | | | |
| --- | --- | --- | --- | --- |
| Segment | % of Total Sales | Units Sold | Sales | Gross Margin |
| North America | 46.7% | +11% | +8.4% | +2.1 pts |
| Latin America | 24.6% | +11.9% | -6.5% | +2.5 pts |
| EMEA | 21.8% | +3.7% | +10.8% | +4.3 pts |
| Asia | 6.9% | - 0.3% | -2.3% | +0.8 pts |
In North America, Whirlpool is seeing positive trends in the U.S. housing market. It is also benefiting from the normal replacement cycle of appliances and a return of discretionary purchases to the market. This is being driven by increases in existing and new home sales and increased consumer confidence. This is likely to continue going forward as the economy makes incremental gains.
The Latin America segment's sales were hurt by inflation and currency changes which reduced demand in the region. However, the company is currently experiencing a pick-up in demand in that segment and expects that strength to continue in the fourth quarter and beyond.
The Europe, Middle East and Africa segment is seeing a weak, but stabilizing Eurozone. This segment experienced an increase of $36 million in operating profit and an increase of 520 basis points in operating margins. This was attributed to higher sales and benefits from cost reductions, which offset higher material costs.
The smaller Asia segment experienced a decrease in sales as a result the unfavorable impact of foreign currency and decrease in units sold. This was partially offset by a favorable product & price mix.
Returning Value to Shareholders
Whirlpool pays a modest dividend of 1.7% on a 23% payout ratio. The company raised the dividend payments for the past three years after keeping the payment steady from 2004 through 2010. Whirlpool's strong expected growth should allow the company to continue to increase the dividend payments. In addition to dividends, the company resumed its share repurchase program, buying back $140 million worth of stock, leaving $210 million remaining on the authorization. While the dividend puts money directly into investor's hands, the stock buyback indirectly returns value to shareholders by boosting EPS and reducing the number of shares outstanding, which leads to an increased stock price.
Attractive Valuation Based on High Future Growth
Whirlpool is trading with a forward PE ratio of 12, a PEG of 0.48, a price to book ratio of 2.5, and EV/EBITDA of 7.17. This is priced below the S&P 500's forward PE of 16 and PEG of 1.3. Whirlpool is also priced below its competitor, Electrolux AB (OTCPK:ELUXY). Electrolux is trading with a forward PE of 15.3, PEG of 1.5, price to book of 3.16, and EV/EBITDA of 8.16. The reason for Whirlpool's attractive valuation is due to its strong expected annual earnings growth of about 30% for the next five years. This type of growth is what you would expect to see in a strong, high-growth small-cap company. As a comparison, Electrolux is expected to grow earnings annually at only 10% over the same time period. The average S&P 500 company is expected to grow earnings at about 9% - 10% annually. Whirlpool's potential earnings growth is being driven by the recovery in the housing market, the stabilizing economy in Europe, and the expected strength in the Latin America region.
The Risks
Whirlpool does face a lot of competition, not only from Electrolux, but also from General Electric (NYSE:GE), Samsung (OTC:SSNLF), Panasonic (OTCPK:PCRFY), and LG. Whirlpool has done a great job of producing the innovative appliances that consumers demand. The company will need to continue to remain on the cutting edge of innovation to maintain and grow its market share.
The company is tied to the health of the housing market, so Whirlpool could take a hit in the event that the housing market softens. Similarly, the health of the overall economy is important for the company's health. Another economic downturn could cause a sharp drop in revenue, earnings, and ultimately, the stock price.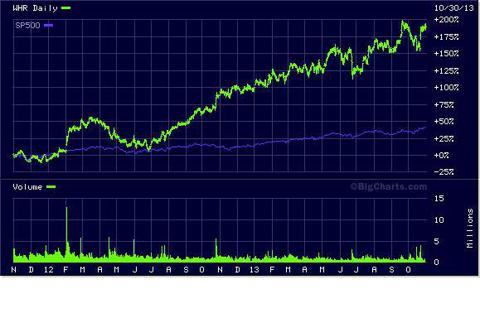 Conclusion
Whirlpool is currently priced attractively and poised for above average growth over the next several years. Improvements in the U.S. housing market, the new stability in Europe, and the strength in Latin America are likely to allow the company to achieve above average earnings growth for the long-term. With 30% expected annual earnings growth, Whirlpool's stock could at least double the performance of the S&P 500 over the next several years.
Disclosure: I have no positions in any stocks mentioned, and no plans to initiate any positions within the next 72 hours. I wrote this article myself, and it expresses my own opinions. I am not receiving compensation for it (other than from Seeking Alpha). I have no business relationship with any company whose stock is mentioned in this article.