Third Quarter 2013 Results
ICU Medical, Inc. (NASDAQ:ICUI), a developer and manufacturer of medical devices, recently released its third quarter financial reports that showed a surprise to the upside on its earnings. ICU earned $0.72 per diluted share, 7.45% better that the MSN Money estimate of $0.69. However, the earnings were lower than its 2012 third quarter earnings of $0.82 per share, even though 2013 third quarter revenue was $82.8 million compared with $81.4 million in the same period in 2012.
There were some positives and negatives in the report. International sales increased 19%, and (according to the CFO) there were sequential improvements in its critical care products, even though its sales were down for the year by 8.1%. Sales of critical care products have been declining since 2009 when it purchased Hospira, Inc.'s (NYSE:HSP) critical care product line for approximately $35 million in cash. According to ICUI's 2012 annual report, critical care sales accounted for $55.5 million, or 17% of total sales in 2012, $61.4 million, or 20% of total sales in 2011, and $63 million, or 23% of total sales in 2010. The company's recent statement that there was "robust improvement in critical care", is the first sign that ICUI may be turning around that division of the company. On the downside, third quarter domestic profits decreased 3.5% yoy, and there was a decline in the infusion therapy division. ICUI also reduced its full year revenue guidance from a range of $320 million to $325 million, to a range of $319 million to $321 million, and its earnings from a range of $2.50 to $2.55, from its previous guidance of $2.50 to $2.60.
Dr. Lopez's Resignation as President and CEO
The most surprising item in the third quarter report was Dr. George Lopez's resignation as President and CEO of the company, for health reasons. Dr. Lopez will keep his position as Chairman of the Board and will be employed by the company in a new position created in the Research and Development Department. Dr. Lopez is the founder of ICUI, and has held the positions of Chairman, President and CEO since 1989. The 2012 annual report represented that Dr. Lopez owned 15.3% of the company stock. The company has appointed Steven Riggs (who has been Vice President of Operations since 2002) as acting CEO.
Sale Rumors
On August 14, 2013, I wrote an article for Seaking Alpha concerning several rumors that ICUI was up for sale. In the article I set forth an opinion that ICUI would be a good acquisition for Baxter International Inc. (NYSE:BAX) which has a stated policy of growing its business through acquisitions. BAX has recently completed the acquisition of Gambro AB, a privately held medical technology company. Since publishing my article I have heard no further rumors of a ICUI sale, and its share price has decreased from $71.00 to $63.00. Although Dr. Lopez's announcement does lend some rationale for the sale rumors of last summer, it also brings further uncertainty to ICUI that could be a buying opportunity for investors. At this time, the market does not appear to know what to do with this stock. Below is a five-day price chart of ICUI that shows a steep decline after the news release and then a choppy sideways movement.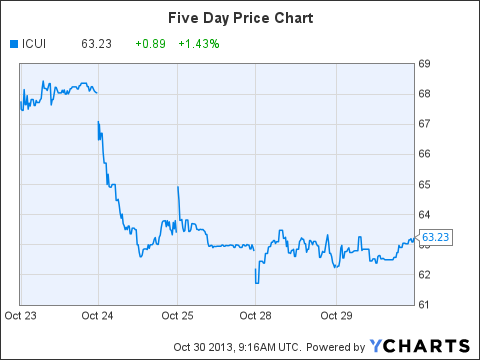 Valuation
I have calculated a fair value price for ICUI of $62.00. I used a present value model of total owners' earnings (earnings plus depreciation minus capital expenditures) over a ten-year period. The total ten-year earnings (using a 12% average growth rate and 2012 owners earnings of $2.85 per share) came to $56.16. I then added the current share price of $62.00 to get a total of $118.16. The share price is added to the total earnings for the reason that without it there would be an assumption that the company goes out-of-business and has no value at the end of ten years. I believe such an assumption is unreasonable. I look at the share price as I would the principal of a loan that will be paid back when the term of the loan ends. I then computed the present value of $118.16 using a 7% discount rate (ICUI's WACC rate is 7.48%). The result of the calculation was a fair value price of $60.06 which is slightly below the price it is selling at today. I would be a buyer of the stock if it goes below $60.00. Although ICUI's PE ratio at $60.00 per share is slightly above its 5 year average PE of 20.44, I believe the stock is worth that amount for the reason that in addition to getting a solid company with a strong balance sheet and essentially no debt, you might also get a substantial premium, if the company is sold.
Another premium may come from the possibility that if ICUI is not sold, it could easily issue a special or regular dividend. At the present time the company has $260.1 million in cash and investment securities. This is almost double its five-year average of $140 million. With all this cash the company could declare a dividend (or a share buyback). If ICUI used only 25% of its 2012 net income after taxes, it could pay a dividend of $2.92 per share (4.6% yield). In view of Dr. Lopez's reduced roll in the company, I think a dividend is plausible. Currently ICUI does not pay any dividend.
There is one substantial risk that should be considered before investing in ICUI. That risk is ICUI's long time relationship with HSP, a provider of specialty injectable pharmaceuticals and infusion technologies. In 2012 HSP accounted for 42% of ICUI's worldwide revenues. Under the best of circumstances, such a large percentage of revenue from a single customer would pose a significant risk. In ICUI's case the risk is even greater because of problems HSP has had with the FDA since 2008, because of a contamination issue at its Rocky Mount, NC plant. To this day HSP remains in the remediation process and its outcome with the FDA is not a certainty. Seeking Alpha contributor Buddy Lyons, CFA recently published an excellent analysis on HSP in his recent article:
Hospira: Regulatory Woes, Pipeline, And Potential Takeout Offer Assymetric Multi-Bagger Oppotunity
I would recommend anyone considering investing in ICUI to read this article, since HSP is such a major player in the ICUI story.
Disclosure: I am long ICUI. I wrote this article myself, and it expresses my own opinions. I am not receiving compensation for it (other than from Seeking Alpha). I have no business relationship with any company whose stock is mentioned in this article.