On Wednesday, October 30, Marathon Oil (MRO) said its Mirawa-1 exploration well has discovered multiple stacked oil and natural gas producing zones on its Harir Block in Iraqi Kurdistan. The company's CEO Lee Tillman noted that the well found "significant resources" and "demonstrates the importance of this region as a potential major hydrocarbon producer." In the wake of Marathon's zone-related discovery, I wanted to highlight a number of reasons why I remain bullish on shares of this particular oil and gas play that yields 2.13%.
Recent Performance and Trend Behavior
At the close of Wednesday's trading session, shares of MRO, which currently possess a market cap of $25.39 billion, a P/E ratio of 16.11, a forward P/E ratio of 11.38, and a dividend yield of 2.13% ($0.76), ended the day at a price of $35.76/share.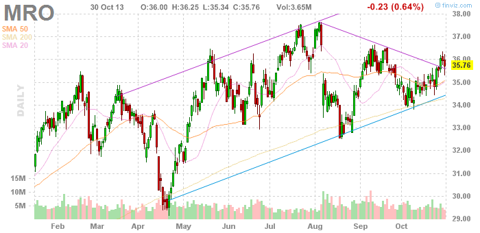 Based on their current price of $35.76/share, shares of MRO are trading 2.25% above their 20-day simple moving average, 2.07% above their 50-day simple moving average, and 4.30% above their 200-day simple moving average. These numbers indicate a short-term, mid-term and a long-term uptrend for the stock, which generally translates into a moderate buying mode for both near-term traders and longer-term investors.
Recent Dividend Behavior
Since August 15, 2011, the company has increased its quarterly distribution twice over the last two years. In the last 24 months the company has increase its payout from $0.15/share to $0.19/share, which represents an increase of 26.66% or 13.33% per year. The company's forward yield of 2.11% ($0.76) makes this particular oil and gas play a highly attractive option, especially for those who may be in the market for a conservative stream of quarterly income.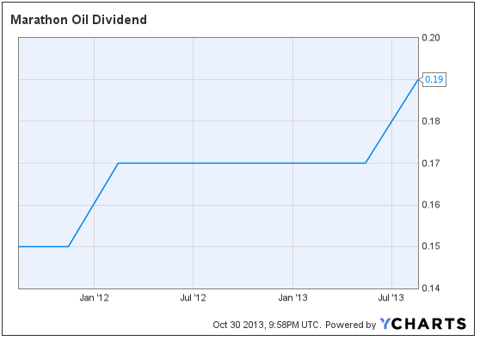 Upcoming Earnings
On November 4, Marathon Oil will be announcing its results for the third quarter and Wall Street estimates are calling for the company to report net income of $0.77/share on revenue of $3.8 billion. In my opinion, the company will meet or slightly exceed earnings estimates based on the fact that operating margins could widen to at least 41.8% (based on an average operating margin increase of 1.45% in both Q1 and Q2 2013) and sales volumes could see a slight increase since the planned turnaround in Equatorial Guinea may be factored in already.
Risk Factors
According to Marathon Oil's most recent 10-K, there are a number of risk factors all investors should consider. These factors include but are not limited to an unexpected cost of exploring for, developing and producing liquid hydrocarbons and natural gas, political instability or armed conflict in oil and natural gas producing regions (such as Libya), and lastly, the ability of the members of OPEC to agree to and maintain production controls.
Conclusion
For those of you who may be considering a position in Marathon Oil, I'd keep a watchful eye on a number of catalysts over the next 12-24 months as each could play a role in the company's long-term growth. For example, near-term investors would want to focus on the company's recent performance and trend behavior, while long-term investors would want to keep an eye on how well the company is able perform during the upcoming quarter as well as any further developments that may come of out the Mirawa-1 exploration well.
Disclosure: I have no positions in any stocks mentioned, but may initiate a long position in MRO over the next 72 hours. I wrote this article myself, and it expresses my own opinions. I am not receiving compensation for it (other than from Seeking Alpha). I have no business relationship with any company whose stock is mentioned in this article.