Investment professionals are constantly looking for an edge in constructing their portfolio's to invest in companies that will outperform a chosen benchmark and their peers in the sector. The purpose of The Applied Finance Group's (AFG's) Market Forecast Project (MFP), a sentiment survey of a large group of investment professionals is to provide that edge. Drawing from "the wisdom of crowds" to gain valuable insights on how policies will affect the markets and economy as a whole can help investors better communicate with clients, gain actionable buy and sell ideas as well as to help construct their portfolio's.

A recent MFP question on health care pointed the way back in September of this year that a health bill that would include a public option would fail to be passed. 78% of participants believed a public option would fail to become a reality and this has had a major impact on private health insurers such as Humana (HUM) and Aetna (AET). With many issues surrounding these private health insurance companies when the threat of a public option was much larger, these companies had been punished by the market.
If you had a crystal ball to tell the future (like the MFP) you would have been able to predict that the public option would not be passed well in advance of its actual occurrence and therefore the private insurers would have looked much more attractive. Investors who paid attention to the MFP in September and loaded up on all of the private health insurers in the S&P 500 would have outperformed the S&P 500 and the Health Sector ETF (XLV) from September 1st through today. Private health insurers in the S&P 500 are up 18.24%, The S&P 500 is up 10.46% and the XLV is up 10.55% since the MFP identified that a public option bill would not be passed.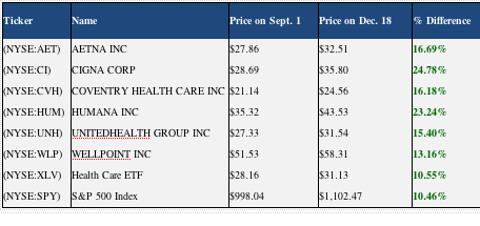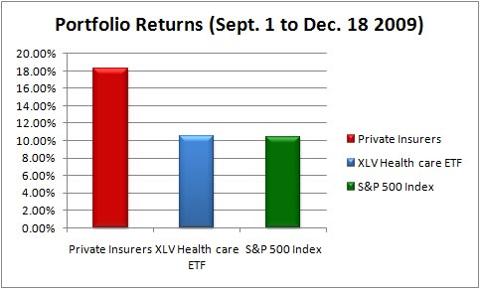 The Market Forecast Project is designed as a free service for professional investors who are interested in gaining insight into how their peers currently view the market and what the "wisdom of crowds" predicts for the effect of policies and events on the markets and overall economy.