By David Russell
Liberty Media (LINTA) has spent the past four months consolidating above $10, and one big investor is confident it will hold that level.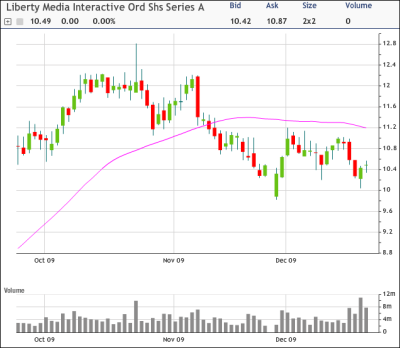 optionMONSTER's tracking programs detected the sale of 7,869 February 10 puts for an average premium of $0.41. There was no existing open interest in the strike before the trade, which will make money as long as LINTA closes above $9.59 on expiration.
LINTA rose 0.58% to $10.49 on Monday. The media company, which owns networks including QVC and Starz, has rallied more than 500% between November 2008 and late October, and now has been drifting lower.
The stock has been a popular target for put sellers looking to earn premium. In the process, they have pushed implied volatility down from 102% to 44%.
The next scheduled event that could serve as a potential catalyst for the shares is the company's participation in the Citi Global Entertainment, Media and Telecommunications Conference after the bell on Jan. 6.
Overall options volume in LINTA was 17 times greater than average, with the put sale accounting for almost all the activity.
(Chart courtesy of tradeMONSTER)