"I made [my fortune] by being smarter than the smarties and tougher than the toughies! And I made it square!" - Scrooge McDuck, Disney Character
For many income investors, the goal of creating a fortune is in the past and the current objective is to maintain a balanced portfolio that kicks off healthy distributions. Within the balanced portfolio, dividend-producing equities are designed offer both capital appreciation and income.
When investing in equities for income, the focus should be on the dividend and margin of safety. Regarding the dividend, the key factors are stability, historical growth and projected growth. To create a long-term margin of safety, the company must have a sustainable dividend yield where the investor could be content to "hold forever," as to quote Warren Buffett.
Buffett famously said,
I never attempt to make money on the stock market. I buy on the assumption that they could close the market the next day and not reopen it for 10 years.
For the individual income investor, such success is replicable. In today's market, there are several companies which fit the bill. One company, Philip Morris International Inc. (NYSE:PM), fits the premise to the "T" and could be considered a gem at today's valuation.
Philip Morris International - A Global Dividend Champion

Philip Morris International was split from parent Altria Group (NYSE:MO) in early 2008 to isolate domestic litigation risks from its international assets. This U.S.-based company is valued at $145.8 billion and is the largest manufacturer and distributor of cigarettes in the world.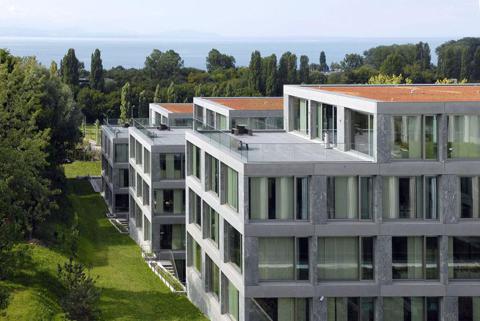 Above: PM Operations Center, Lausanne, Switzerland
The company has been well-managed as the quarterly dividend has grown from $0.54 to $0.94 over the past five years, for a 5-year compound annual growth rate [CAGR] of 11.72%.
The current dividend yield is higher than the SPDR S&P 500 index ETF (NYSEARCA:SPY), as well as other large-cap, dividend focused companies such as The Coca-Cola Company (NYSE:KO) and Wal-Mart Stores, Inc. (NYSE:WMT).
Regarding dividend safety, PM has a current payout ratio of 66%. While this is higher than the aforementioned dividend peers and the S&P 500, it does leave a margin of safety should a sudden threat to revenue appear.
The 3-year projected earnings CAGR from S&P analysts is 12%. If 2014 earnings meet the analyst expectations at $5.96, this would give the following estimated EPS guideline through 2017.
With buy and hold income-producing stocks, the investor is rewarded for maintaining a stock position through regular dividends. As long as company fundamentals are sustained and the growth rate exceeds the historical dividend CAGR, the dividend increases can be assumed to continue at a similar rate.
PM has historically raised the dividend in the third quarter of each year. When the company dividend increases, one measure to determine yield is called yield on capital invested (YOC). With the 5-year dividend CAGR of 11.72% maintained and well-covered through a 12% annual earnings growth projection as well as current share buybacks ($6 billion authorized in 2013), a 6.56% FWD mid-2017 YOC would be attained using our previous assumptions (2017 est. dividend $5.86/purchase price $89.34).
Like KO and WMT, PM has competitors but operates in a business with a high barrier to entry. The Philip Morris International economic moat is wide due to the risks of litigation, heavy regulation and high levels of taxation.
World-wide there are a few key cigarette distributors in each market. PM owns well-known brands (such as Marlboro) that dominate many global cigarette markets. With smokers, brand recognition and loyalty are key factors that differentiate PM from competitors.
At current levels, PM offers an attractive entry point. The stock yields 4.21% and the 2014 forward P/E multiple is 14.99. The dividend growth can be safely projected to continue at a rate of 11-12% compound annual growth looking at the historical dividend growth, forward earnings projections and a flexible payout ratio.
The Philip Morris International Sustainability Initiative
While PM provides a product that causes health damage, the company does have sustainability programs in place to manage environmental performance, reduce the PM long-term carbon footprint and encourage good agricultural practices. Investors understand that smoking is a right and that there must be tobacco distribution companies, however the PM sustainability initiative shows a conscious commitment to the environment that helps offset some of the social costs of doing business.
Conclusion
Five years of stable dividends, extremely high barriers to entry and a dominant global position qualifies PM as a safe dividend player. PM's strong historical dividend growth rate, share buyback program, conservative payout ratio and long-term growth prospects make the company a global dividend champion.
Philip Morris International meets Buffett's "buy on the assumption that they could close the market the next day and not reopen it for 10 years" mantra as it commands well-known brands, it is a well-run company and people will always buy cigarettes.
With a current yield of 4.21% and a forward earnings multiple of 14.99, investors are given an attractive entry point into the world's largest cigarette manufacturer. If the company was valued at a 2014 forward P/E of 17.5, the stock would be priced at $104.30, which is an upside of 16.7% from the October 30, 2013 closing price of $89.34.
Disclosure: I have no positions in any stocks mentioned, and no plans to initiate any positions within the next 72 hours. I wrote this article myself, and it expresses my own opinions. I am not receiving compensation for it (other than from Seeking Alpha). I have no business relationship with any company whose stock is mentioned in this article.