Fact: My high deductible ($3,000) health insurance plan made available through Obamacare costs $129 per month.
Fact: My liability-only car insurance costs $65 per month.
Fact: Monthly parking in the downtown US metropolis I live costs $199 per month.
Question: Given the facts above, which income stream would you rather own (insurance premiums or monthly car park) given the potential cash flows of each respective income stream, all else being equal?
My answer: The parking lot. Hands down.
I find it hard to believe that the cost of insuring me AND my car is less expensive than the monthly cost of parking.
This whole economic scenario started to grind my gears and got me thinking. If it costs more to park a car than it does for health and car insurance, surely a parking lot is a great asset to own.
I understand that in the United States, parking represents between a $25 and $30 billion industry, conservatively estimated. And it is a highly fragmented industry, given their aren't any publicly traded, pure-play parking lot investments, save for Standard Parking (STAN). The asset class remains attractive, given the cash generative nature of the business. Frank McCourt, the embattled former owner of the Los Angeles Dodgers, built his fortune by developing parking lots in Boston in the 1970's and 1980's. When he recently sold the LA Dodgers to a consortium of investors, he retained a 50% interest in the parking lot area around Dodger Stadium for future development. Land and parking lots clearly have a lot value.
As an asset class, parking lots require little capital expenditure and have low operating costs relative to other forms of real estate assets. And they have a built-in inflation hedging component, especially in markets where parking lot operators have pricing power due to supply/demand imbalances. Relative to various forms of insurance, parking lots also have much more certain cash outflows. For example, if an insured were to suddenly become afflicted by a serious illness or get into a serious car accident, the insurer would be on the hook for a lot of money.
It follows than that an investment in a parking lot has lower operating costs, lower capital requirements/better pricing power and/or more certain cash (out)flows than many businesses, including insurance companies. Therefore, I give you The Link REIT [(OTC:LKREF)(0823.HK)] ("Link" or "the company").
Link owns 182 retail properties with 11 million square feet of gross leasable area and 80,000 parking spaces in Hong Kong. Link is the largest REIT in Asia, and has generated returns in excess of the broad market since its inception in 2005 (23.8% annualized total investment returns through March 31, 2013). About 20% of Link's revenue comes from its car park operations, and makes up about 15% of its net asset value appraised by the company and independent appraisers. As such, Link is a way to play the parking lot theme, coincident with diversification through Link's exposure to commercial real estate and property leasing.
Given the underlying economics of commercial real estate and car parks in Hong Kong, in particular, continued economic growth and limited new supply of real estate assets/car parks, I expect that Link will continue to compound investment returns in excess of the broad market.
Recently, Link shares have suffered weakness, creating a nice risk/reward scenario for discerning investors who want real estate, parking lot and Hong Kong exposure. While I think Link is close to fairly valued relative to its historical premium/discount to net asset value, I think Link represents a compelling way to play commercial real estate and parking lots with plenty of growth potential ahead given the nature of the businesses. As such, I look at Link as a great business at a good price that should benefit prospective investors through compounding returns over a long-term time horizon given its attractive asset base.
Shares trade over-the-counter in the US with limited volume; over 5 million trade daily in Hong Kong.
(click to enlarge) (note: chart is for the Hong Kong issue)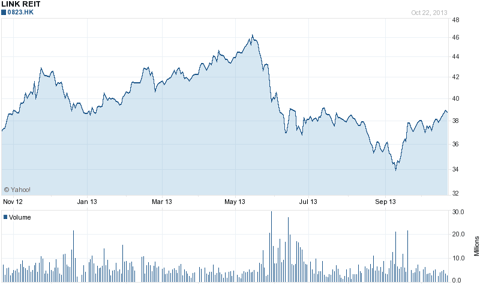 The Business
Link REIT is priced at some $11.4 billion, and has a very conservative capital structure where its net gearing ratio is only 13%. While Link shares have gone on quite a run since 2009, the underlying value of its holdings have increased significantly as well, both in terms of underlying asset value and earnings power. Historically, Link shares trade within about a plus or minus 10% band of its net asset value.
Net asset value as of March 31 was HK$35.68. If we assume Link's net asset value increased commensurate to its historical returns over the last six months, Link's net asset value is likely closer to HK$39 per unit today, or in parity with the current price. In my view, buying Link shares at its net asset value represents a compelling investment because I believe the underlying asset value and earnings power of Link's assets can continue to increase at rates in excess of the broader market given the dynamics of commercial real estate and parking in Hong Kong.
Operating Performance
For a synopsis of Link's operating performance, I have included the 5-year operational performance chart below.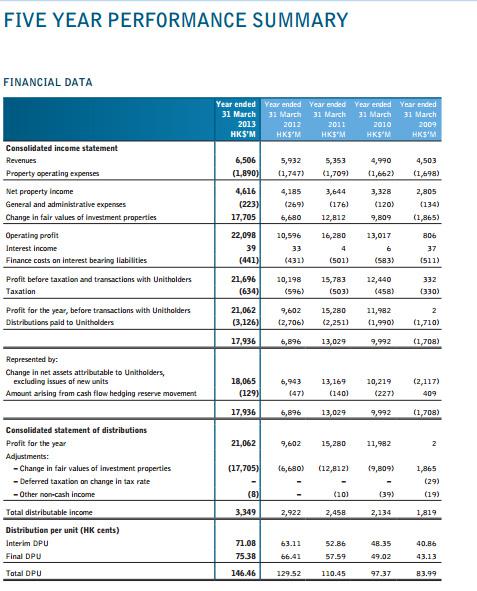 The earnings/cash flow leverage in the Link REIT business is incredible. Since 2009, revenues increased 44% while property operating expenses have been contained to only an 11% increase over the same time period. Meanwhile, Link's cost of financing has decreased as a result of its conservatively managed balance sheet and through an active refinancing of its debt into longer maturities and lower rates of interest.
The result is serious incremental cash flow attributable to Link unit holders, which is reflected in the steady and increasing dividend. Since 2009, the dividend increased nearly 74%, or about 15% annualized. Link currently yields about 3.8%, but I expect that to increase as the dividend per unit increases along with the underlying cash generation of Link's portfolio of real estate and car park assets.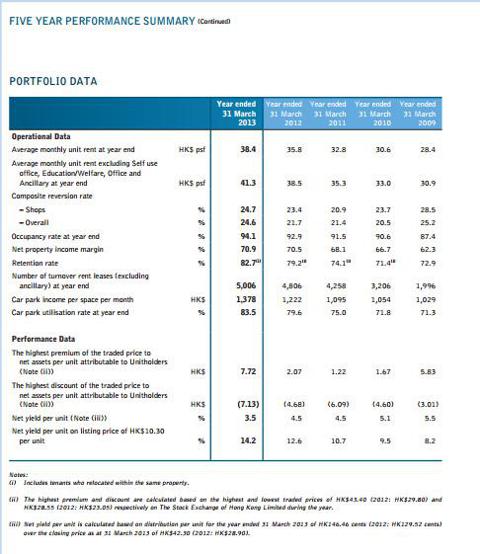 From an operational perspective, the revenue drivers for Link include: (1) rent per square foot / hourly & monthly parking rates and (2) occupancy rates / car park utilization rates, all of which continue to increase steadily and have room to run. As explained above, incremental revenues largely drop to the bottom line given the significant operating leverage in Link's businesses.
In my view, the underlying sales performance of Link's diversified tenant base should help alleviate fears that rents and/or occupancy rates are topping out in the Hong Kong market. To that end, Link's tenants' are growing sales faster (9.6% year/year) than the rent increases imposed by Link (7.6% year/year). Therefore, I expect Link has leverage to increase in-place rents when they are up for renewal, leading to rich incremental profits. In terms of the car park, I expect hourly/monthly rates to continue to increase to match supply/demand of the local parking market.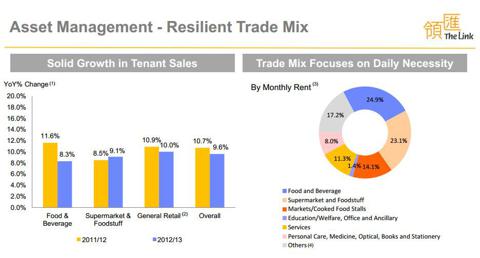 From a cash flow perspective, Link is clearly a cash generator.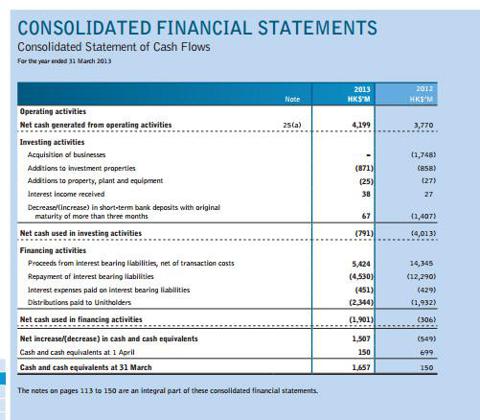 Nearly 75% of all the incremental revenues for Link lead to incremental cash inflows. Operating cash flow was up HK$429 million year/year on the back of revenue being up HK$574 year/year, coincident with high operating leverage.
If one assumes Link can continue to increase rents and parking rates meanwhile increasing, or at least, maintaining occupancy/utilization rates, then significant value will continue to accrue to unit holders, likely in the form of increased dividends and resulting in further capital appreciation.
However, there is risk in the property market in Hong Kong. Link management clearly stated in the latest conference call that there are no bargains in the Hong Kong market, especially since there are many sophisticated owners/operators of real estate assets in that market. But management continues to be passive in terms of acquiring new assets, thereby assuaging investors that they are not over paying for real estate.
In Hong Kong, residential parking spaces as an investment class are in favor due to government curbs on home buying and speculation. In November 2012, the median price of buying a residential parking space in Hong Kong was $82,000 (HK$640,000), which are values approaching 1997 levels when Hong Kong experienced a crash in real estate prices. While that may appear frothy, it is my opinion that the rise in parking values lends credence to the value of asset class. Link holds its parking spaces on its books at about $25,000 (HK$192,000) per space. The wide disparity is likely as a result of the different characterization (residential versus commercial) and the speculation that appears to be occurring in the residential parking asset class by individual investors.
Link also has one of the lowest costs of capital in the Hong Kong real estate market, and one of the lowest gearing ratios. While a collapse in real estate prices would likely have a deleterious short-term effect on Link's share price, it is my opinion that Link would likely outperform after a period of uncertainty given its relatively unlevered balance sheet, ability to borrow at attractive rates and to buy bargain real estate should it become available. Therefore, if investors are interested in Link shares, it is advisable to open with a starter position and average down if the share price experiences further declines.
In the meantime, the economics suggest that the underlying cash generation and earnings power of the businesses would remain irrespective of asset values, and would help buttress the value proposition in Link shares should volatility or mark downs occur in the broader Hong Kong property market.
Competitors
Link's commercial real estate holdings represent 9% of all the retail space available in Hong Kong, and its car park represents a significant share as well. The other major car parking operator is Wilson Parking, a subsidiary of Sun Hung Kai Holdings (OTCPK:SUHJY), who owns over 300 parking structures comprised of 110,000 spaces. It is hard to get a gauge on the relative value of Wilson Parking in respect of Link REITs holdings given the Wilson group comprises more than just parking assets (including toll roads, etc), and Wilson only makes up a small portion of the net asset value of Sun Hung Kai. To that end, the Hong Kong car park market appears to largely be a duopoly, where pricing pressures should remain at bay.
Conclusion
Parking lots are about as plain vanilla an investment one can imagine. They are highly cash generative, require little capital expenditure and its operating costs are low. Add in the inflation benefits of a hard asset with the ability to pass through cost, and the value in Link shares becomes apparent.
The car park makes up only about 20% of Link's revenue (and 15% of its stated net asset value), and the value proposition is reinforced by the diversification of the commercial property leasing operation. In my view, Link is set up to outperform given its attractive business model and exposure to Hong Kong real estate assets. For long-term investors, buying at today's prices should deliver acceptable levels of risk-adjusted returns as Link should compound returns in excess of the broad market in the years to come. Based on the business model, I'm thinking 10 to 12% annualized returns (dividends plus capital appreciation) are achievable over the long term. For more conservative investors, setting a limit order at about less than 10% of Link's net asset value should help alleviate downside risk.
In a high density city like Hong Kong, I can only imagine that the premium on commercial real estate parking spaces will continue its upward trajectory for the time being. That bodes well for investors looking to park a little capital in Link shares on the recent price weakness.
Disclosure: I have no positions in any stocks mentioned, and no plans to initiate any positions within the next 72 hours. I wrote this article myself, and it expresses my own opinions. I am not receiving compensation for it (other than from Seeking Alpha). I have no business relationship with any company whose stock is mentioned in this article.