On October 28, 2013, Celgene (NASDAQ:CELG) presented the results of PALACE study at the American College of Rheumatology conference in San Diego. In the PALACE study, Celgene found that after 16 weeks of treatment with its oral drug "Apremilast" at a dose of 20mg twice a day, patients showed 20% improvement in the signs and symptoms of psoriatic arthritis, such as swollen and tender joints. Celgene has already filed for FDA approval of Apremilast for psoriatic arthritis, which is due to receive FDA verdict in March 2014.
Psoriasis is a chronic autoimmune disease that occurs when the immune system sends faulty signals that increase the growth cycle of skin cells. Some people with psoriasis develop psoriatic arthritis when the immune system attacks the joints as well, causing inflammation. About 30% of people with psoriasis also develop the symptoms of psoriatic arthritis. According to the National Psoriasis Foundation, currently 7.5 million U.S. citizens have psoriasis.
Apremilast, positive for psoriasis with nail and scalp involvement
On October 3, 2013, Celgene announced the results of ESTEEM 1 study on nail and scalp psoriasis, which showed that its drug Apremilast significantly improved general signs and symptoms of psoriasis across a wide-range of patient types.
Study results:
After 16 weeks treatment with Apremilast 30 mg dose twice a day, the group of patients demonstrated significant improvements in Nail Psoriasis compared to the group treated with the placebo. The study demonstrated an improvement of 22.5% versus a worsening of 6.5% observed in placebo treated patients. The study with similar dosage and duration on patients who were suffering with scalp psoriasis demonstrated an improvement of 46.5% versus 17.5% for placebo treated patients. These improvements were generally maintained through 32 weeks. According to Professor Kristian Reich, M.D., of SCIderm Research Institute and Dermatologikum, Hamburg, Germany:
Up to 55 percent of patients with psoriasis at any given time have nail involvement, and more than half have scalp psoriasis, which can be particularly debilitating for individuals dealing with this difficult-to-treat disease.
Celgene is planning to file a new drug application or NDA for Apremilast for the treatment of psoriasis with nail and scalp involvement in the fourth quarter of 2013.
Apremilast Potential
If approved, Apremilast will compete with Amgen's (NASDAQ:AMGN) Enbrel and AbbVie's (NYSE:ABBV) blockbuster drug Humira that generated sales of $1.15 billion and $2.77 billion respectively in the third quarter 2013. In the third quarter, Amgen's Embrel contributed 24.85% of Amgen's total revenue, while Humira accounted for nearly 60% of AbbVie's total sales of $4.66 billion. Amgen's Enbrel was the first therapy approved for psoriatic arthritis in the United States in 2002 followed by AbbVie's Humira in 2005.
Both therapies have proved to be highly effective but have serious side effects, such as opportunistic infections, since both medicines suppress the patient's immune system. Apremilast's lower side effects compared to the available therapies and the results from the trial phase studies will help Apremilast to give meaningful competition to Amgen and AbbVie's blockbuster drugs. Looking at the sales of Enbrel and Humira, I believe the Apremilast holds huge potential in the market.
Revlimid and Abraxane the shining spots for Celgene
Celgene's multiple myeloma drugs continue to drive its revenue. In the third quarter of 2013 its blockbuster drug "Revlimid" sales increased 12% year over year and generated revenue of $1.09 billion. Multiple myeloma is a blood cancer occurring in white blood cells, which are part of the human immune system. Celgene offer drugs for every stage of multiple myeloma, Thalomid for newly diagnosed patients, Revlimid as second line treatment, and Pomalyst for the third line treatment.
Revlimid is also approved for third line treatment of patients with mantle cell lymphoma, which affects about 11,000 people in the U.S. Celgene is in phase three trial for Revlimid to receive FDA approval as the initial, or first line, treatment for Multiple Myeloma. I expect the multiple myeloma drugs to continue the growth momentum for Celgene. Currently there is no direct competition for Revlimid as the second line treatment of multiple myeloma, but Celgene may face competition from Millennium Pharmaceuticals' Valcade, which is also marketed by Johnson & Johnson in Europe, for the first line treatment of multiple myeloma.
In the third quarter of 2013, Celgene's cancer drug Abraxane's sales increased 60% year over year. Its use in treating non-small cell lung cancer and new pancreatic cancer patients is driving its growth. Abraxane recently received FDA approval as a treatment of non-small cell lung cancer and for late stage pancreatic cancer.
Performance in the last quarter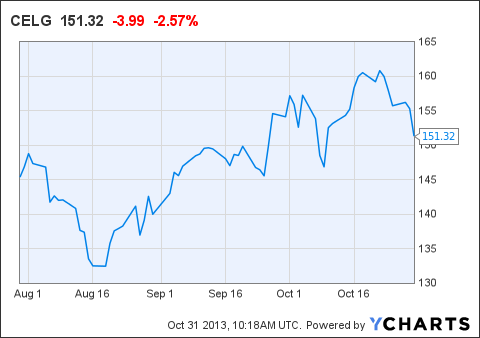 In the last three months, Celgene's stock has given a return of 4%. Generating revenue of 1.67 billion, Celgene reported 19% increase in its net profit year over year. It has ended the third quarter with a strong cushion of $5.8 billion in cash and marketable securities. The company incurred $372 million in expenses from its research and development activities. Given the strong cushion of cash and marketable security and the growing revenue, Celgene's financial standing looks very strong. Currently Celgene's stock is hovering at all time high levels. Driven by the high growth potential, Celgene's stock is trailing at a higher PE ratio of 44.98, compared to industry average of 25.64. However, its price to sales ratio is more favorable at 10.53 compared to the industry's 13.66, reflecting its strong revenue generation capability.
Conclusion
Celgene's Apremilast will take the company outside its core hematology and oncology focus. The drug holds a huge market opportunity, as it has a benign side effect profile compared to the competing drugs in the market. Looking at the positive study results for Apremilast, I expect a positive result for the company from the FDA. In the recent quarter, the company's multiple myeloma drug Revlimid has performed strongly. The new approval for Abraxane for non-small cell lung cancer and new patient starts in pancreatic cancer has revived its sales. In light of all these positive developments, I expect the company to outperform in the foreseeable future.
Disclosure: I have no positions in any stocks mentioned, and no plans to initiate any positions within the next 72 hours. I wrote this article myself, and it expresses my own opinions. I am not receiving compensation for it (other than from Seeking Alpha). I have no business relationship with any company whose stock is mentioned in this article.