There has been endless speculation over the past few months about how holiday retail estimates were too conservative because inventories that were slashed would have to be re-stocked, consumers needed to release their "pent-up" demand, and performance was being compared to sales declines from last year which were the worst on record. Well, as we near the end of the holiday season, it appears the original estimates were spot on, and the best that can be expected is a just slight increase from 2008.
The "Super Saturday" snowstorm tempered expectations for what is normally the biggest shopping day of the year, and Redbook Research said retailers are indicating this week will have to be considerably stronger than previously projected in order to meet their targets, and are therefore scaling back December forecasts. The company reported that same-store sales rose 1.9% for the week ending Dec. 19th compared to last year, while comps increased 1.5% on a month-over-month basis. Relative to November, month-to-date comps are down 4.9%.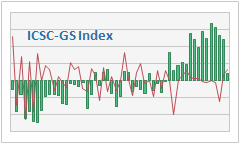 There is still reason for some optimism, however, as the International Council of Shopping Centers (ICSC) said that there will be some catch-up as the percentage of consumers who have completed their gift buying is only 70.9% compared to 80.1% at this point last year. ICSC Research reported weekly chain store sales increased 0.4% compared to a year ago and rose 0.6% from last week. The company still expects December comps to be up 2% from last year, while reaffirming its forecast for a 1% gain in Holiday Season (November-December) sales.
Shoppertrak, which will release weekend figures later today, originally predicted that Super Saturday weekend would be the busiest this season, with a preliminary estimate for a 3% increase from last year. However, that was before the storm,, and company officials do not expect the weekend's tally to match the pace from Black Friday weekend.
While performance of late has slowed from the early season's pace, Nielsen suggests the start of the holiday season was not as strong as first thought, as shopping trips were off 3.4% through late November when compared with the same 4 week period last year. They said "discretionary categories which typically rely on holiday gifting, such as mens and women's fragrances and ethnic health and beauty aids are in for another tough year."
The last week before Christmas is always important for retailers, and with the snowstorm and the extra shopping day because Christmas falls on a Friday, it will be even more so this year. Competition is heating up as retailers extend store hours, hype free shipping offers, and increase promotional activity in the hopes of grabbing a share of last-minute spending.


Disclosure: No Positions

Disclosure: No Positions