You would think Apple (NASDAQ:AAPL) investors would be breaking out the champagne. Apple just reported record iPhone sales for a September quarter.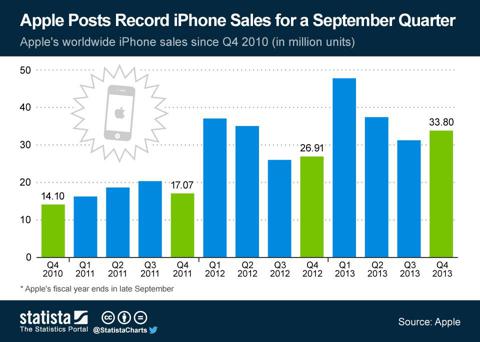 In the past few weeks, Apple introduced its new iPhone 5s and iPhone 5c; a new iPad Air and a new iPad Mini retina; and, a new MacBook Pro, with rave reviews for the most part.
Yet, the stock is down. Retail investors are asking why.
One reason is that for the first time in ten years, Apple's net income is down year over year.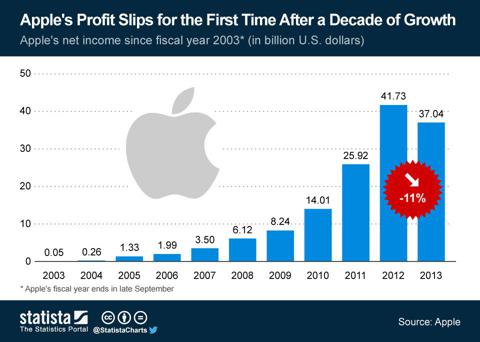 Just as importantly, investors can now see that future growth in net income is going to be hard to come by. The reason is Apple's dependency on the iPhone in an increasingly competitive smartphone market.
Apple loses money on everything except iPhones. At least that is the way I see it.
The iPhone 5s is very likely the most profitable iPhone in Apple's line up. It is top of the line and has an estimated bill of materials cost of between $199 and $218 according to IHS estimates and commands the highest price of any iPhone.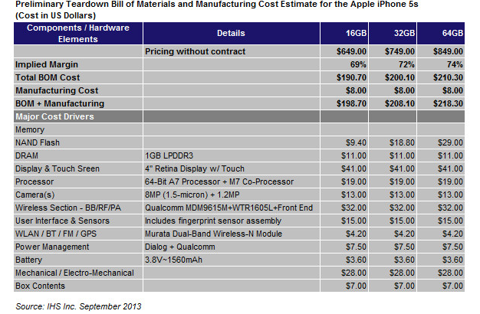 Apple sold 150 million iPhones in the year just ended at an average selling price of $577.
The iPhone economics are pretty straightforward. Sell 150 million units at $580 more or less for $87 billion in revenues. Subtract something like $230 per iPhone for its BOM, advertising, applied overheads and whatever other costs the product attracts, and you have direct costs of about $35 billion. What is left is the direct contribution of the product to Apple's operating income, totaling about $52 billion.
Apple reports operating profit for the year ended September 30, 2013 of $50 billion.
Without the iPhone Apple would be break even or losing money.
It is easy to quibble with the analysis. There are $15 billion of R&D and General and Administrative costs to consider. How much of that is iPhone? The major advances are a new processor, which is used in the iPad and likely to be used in other products, a fingerprint reader which is a known technology not developed by Apple, and a few bits and pieces over and above the technology in the original iPhone. The technology for the processor was licensed from ARM Holdings (NASDAQ:ARMH). I presume a lot the R&D cost was incurred by ARM.
The fact is Apple makes its money on iPhones. Full stop.
The market gave a round of applause to iPhone sales of 33.8 million, up 26% year over year. Standing on its own, it sounds fantastic. But the market for smartphones grew 45% year over year. Apple's market share dropped to 13.2% of the 251 million smartphones sold in the fourth quarter.
To put Apple's performance into context, it was the slowest growing name in the high end smartphone market behind Nokia's Lumia, Lenovo, Huawei, Samsung, LG and everyone else taken as a group.
Smart phone Vendors Year Over Year growth (Percentage)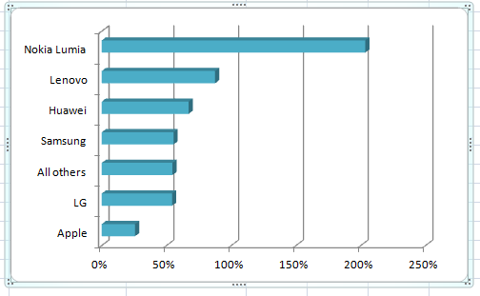 Apple's iPad volume barely held at 2012 levels falling well behind competitors and the industry. While Apple sold 14.1 million tablets in the September quarter, versus 14.0 million in 2012, the industry grew smartly at a 36.7% rate and competitors advanced with Asus and Lenovo setting the pace, according to IDC data. Apple still leads the segment with a 29.6% share but Samsung is closing in at 20.4% and if the growth trends persist Apple will fall out of first place in short order.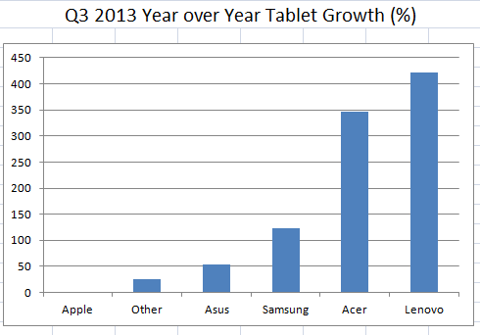 You can be impressed with Apple all you want, and I do not dispute it has terrific products, is highly profitable and has an enormous number of enthusiastic customers and investors.
That will not be enough to protect it from falling sales as the market matures and lowers profits as its sales fall, nor will it be enough to protect Apple investors from losses on their Apple shares as the inevitable decline takes place.
In my opinion there is little Apple can do at this point to reverse the decline in its smartphone business. Its key competitors have excellent smartphones, a formidable ecosystem, and the ability to compete at price points Apple has avoided. In a nutshell, Apple has been harvesting its product line for a year or two now and the harvest is pretty well in.
The Apple bulls can hang their hats on a China Mobile deal, new "big thing" innovations that no one knows about, or "magic." Those hopes will be dashed by the weight of competition, the backbone of American business.
Samsung has been a formidable competitor to Apple with extraordinary success. But it is not the only one Apple should fear, particularly in Asian markets where most of the growth will come from in the next several years. At least four other competitors are emerging as serious threats to Apple's market share.
Xiaomi
With a market share in China that just passed that of Apple, Xiaomi is on path to become a major player in Asian markets. Xiaomi's "red rice" phone line is becoming the phone of choice for younger Chinese with a feature set that parallels the iPhone but a price the equivalent of $130 U.S. versus over $700 for the iPhone. How does Xiaomi sell for such a low price? It makes its money on software and services, selling the phones at close to break even.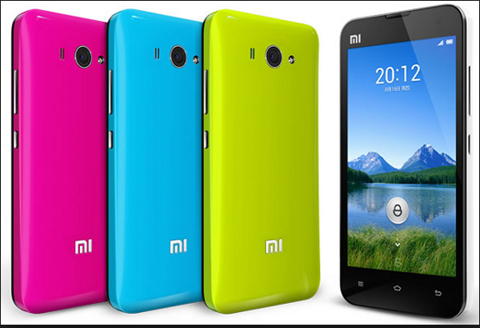 Xiaomi ranks as one of the most popular smartphones brands in China according to Trendforce.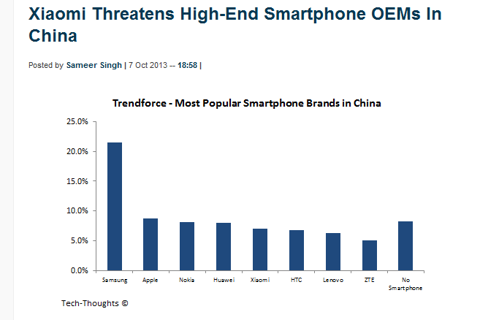 Microsoft (Nokia)
Nokia's Lumia phones are catching up to iOS and Android in Europe and approaching a 10% share of market in that region.
The handset division of Nokia, about to be taken over by Microsoft (NASDAQ:MSFT), launched two new "Phablet" form factor smartphones and its first tablet on the same day Apple launched its new iPads.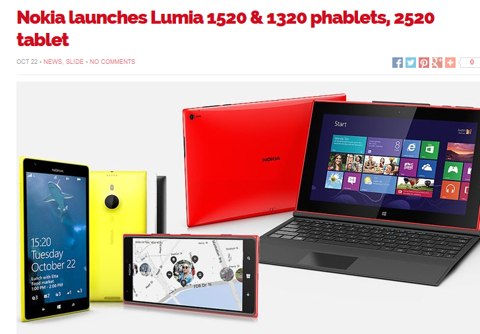 Nokia is one to watch in 2014. As a division of Microsoft it will have the resources and clout to advance.
Huawei
Huawei has overtaken Lenovo for a place in the top 5 smartphone suppliers worldwide in the third quarter.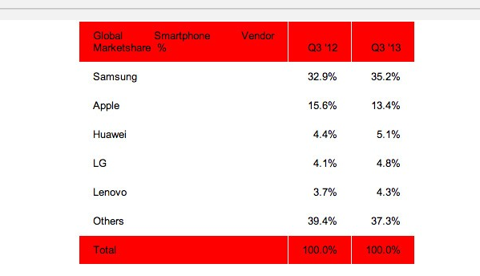 Like Xiaomi, Huawei has a portfolio of fully featured smartphones running both Android and Windows OS and competitively priced in all markets.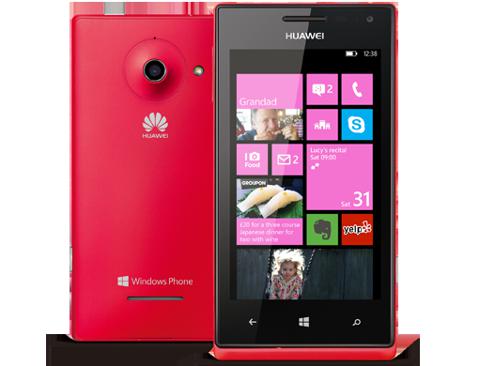 I purchased a Huawei Windows phone just to try it out and I was very impressed. In addition to success in Asia, I think we will see a lot more Huawei smartphones in North America.
Micromax
Micromax has an impressive 22% of the smartphone market in India, far outstripping Apple's tiny share in that market. Micromax is targeting a 33% share in India by 2015. Micromax's portfolio of smartphones are fully functional and beautifully presented with form factors that include the "phablet" which is very popular in India.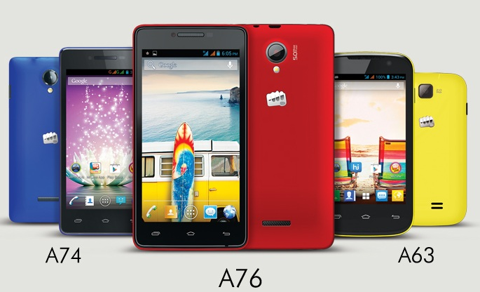 Micromax's current line up of Android phones is likely to be augmented by the addition of a Windows OS phone in the near future providing 4G capability at the high end of the market.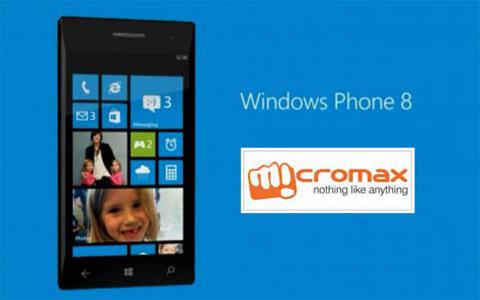 Conclusion
The smartphone market in 2014 is likely to show moderating growth and increasing competition. In that environment, Apple will have a fight on its hands.
For those who like forecasts, for fiscal 2014 I look for Apple to sell 155 million iPhones, about 50 million iPads and about 20 million Mac computers. Prices and margins are likely to trend lower. As a result, I model sales for the year of about $170 billion with net income of $33 billion or about $37 per share. In my view, the risk to these results is to the downside and the stock may disappoint.
Fiscal 2014 Forecast
| | | | |
| --- | --- | --- | --- |
| Product | Units sold (MM) | ASP | Revenue ($B) |
| Mac PCs | 20 | $1,250 | $25.00 |
| iPads | 50 | $400 | $20.00 |
| iPhones | 155 | $575 | $89.13 |
| iPods and other | | | $36.00 |
| TOTAL REVENUE | | | $170.13 |
| GROSS MARGIN (36%) | | | $62.05 |
| EXPENSES | | | $17.00 |
| TAXES (26.5%) | | | $11.94 |
| NET INCOME | | | $33.11 |
I am short the stock through options.
Disclosure: I am short AAPL. I wrote this article myself, and it expresses my own opinions. I am not receiving compensation for it (other than from Seeking Alpha). I have no business relationship with any company whose stock is mentioned in this article.
Additional disclosure: I am net short Apple through options comprising short calls and short puts, both at a $515 strike expiring January 2014. The trade will be profitable if Apple stock stays between $465 and $555 through mid January.