The Q3 GDP revision to +2.2% issued yesterday (12/22/09) most likely signals the end of the rally leadership for the industrials. Industrials, especially industrial metals, have been leading the equities markets up for almost two months now. The rally has been getting old in the tooth. Many stocks, especially industrial metals have become severely over priced, at least for the near term. Some are 10% to 20% above their 50-day sma. Some are above or near their upper Bollinger Band. Many FY2010 PEs are outrageous given the uncertainty of future earnings of these companies. Some FY2010 PEs are outrageous even if earnings weren't uncertain.
The downward revision of the Q3 GDP means that the base of growth for the subsequent GDP estimates was too high. Future GDP estimates for Q4 and all of 2010 were to some degree based on the Q3 GDP data. This has for a long time been presumed to be 2.8% (3.5% before the first revision). Analysts did not believe it would be revised downward this time. If +2.8% is now really +2.2%, then the growth from this subsequent growth figured as growth from that level will be lower too. This means industrial production estimates, which are directly reflected in the GDP estimate numbers, are now too high.
Translated to a per stock case, it means that the revenue numbers are too high. Within a few days of this GDP revision, analysts will likely revise their estimates for the individual stocks lower to reflect this now lower base point. Plus this lower number in itself indicates the uncertainty in the industrial production estimates. This uncertainty by itself should cause the industrial stock prices to resist going up. If this happens, the industrials will stop rallying. They are likely to retrace.
Certain stocks have exceeded their fundamentals more than others such as X and AA. Some have given negative guidance such as NUE. Some have reported earnings misses such as CMC. Some have specifically been put on ratings watch such as AA by Moody's (possible downgrade to junk). Some such as steel makers have recently all been put on earnings watch for a ratings downgrade by Fitch.
The lowering of the GDP estimate should push these latter stocks closer to a ratings downgrade. That makes them extremely bad candidates to continue a rally. Rather the likely analysts lowering of their earnings and revenue estimates for Q4 and FY2010 should make these stocks more likely to retrace. I have shown the charts of two of these stocks below:
X: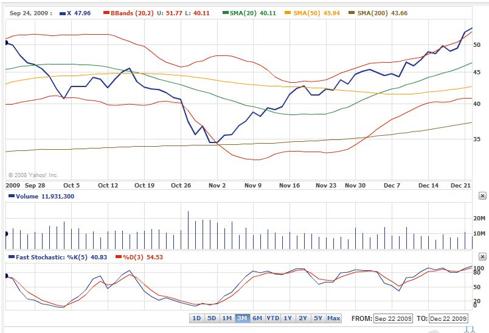 Click to enlarge
AA: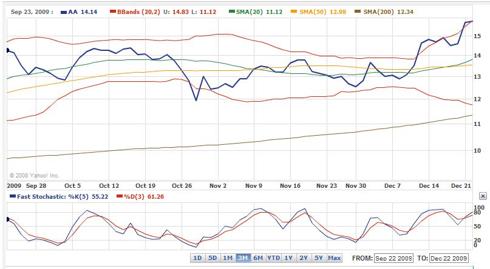 Click to enlarge
SPY: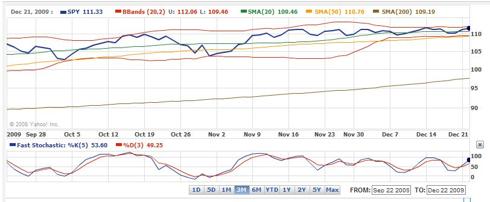 Click to enlarge
Both the X and the AA charts show that they are above their upper Bollinger band. From there they are more likely to go down than not. Both X and AA are also far above their 50-day sma's. X is approx. 25% above its 50-day sma. AA is approx. 17% above its 50-day sma. X is trading at approx. 50 times FY2010 earnings (FY2010 PE = 50). AA is trading at approx. 27 times FY2010 earnings. The FY2010 estimates are speculative at best. With this recent lowering of the Q3 GDP to 2.2%, these already high estimates are likely to be lowered. At the very least analysts and investors will know that these earnings estimates are even more uncertain than most had figured.
In X's case, CEO Surma has already acknowledged the large amount of uncertainty (and possible weakness) in EPS estimates for Q4 2009 and FY 2010. Plus both of these companies will be pushed closer to downgrades of their debt by ratings agencies which have them on watch already. Technically and fundamentally these stocks should fall in the near term.
The SPY also seems more set to go down than to go up. It is near technical resistance that it has backed off of before. It is near its upper Bollinger band. It has effectively just received a downgrade in the unexpected GDP revision to 2.2%.
Yesterday (12/22/09) the market managed to rally in spite of all of this. It rallied mostly on the existing housing sales numbers, which (at +7.4%) were much higher than expected.
However, there are a few "gotchas" to this number. First, the October number was revised downward at the same time as this November number was released. This means the overall number of sales for the last two months is less than the headline number seems to indicate. Second, approximately 1/3 of the homes were bought by flippers (i.e. buying foreclosures). Since they intend to resell them immediately, they are not really reducing the inventory of unsold homes. Third, five mortgage insurers got downgraded by S&P. This should make credit less available. Fourth, November was the original expiration date of the tax credit for first time home buyers. Most think there was a blip up in home sales due to this.
Finally, mortgage rates are undoubtedly headed upward from their recent lows. This will mean tougher home sales for the future. This means a longer, more painful real estate recovery process. This may mean a lot of industrials will post disappointing earnings in coming months as CMC did recently (a big miss). We will have to see.
The increased uncertainty factor now surrounding industrials, especially industrial metals, should mean that the resistance to upward movement will be greater. The lower GDP number means unemployment will be with us longer at higher levels. Unemployed people buy far fewer high priced items -- durable goods (made with metals often). This means lower production levels for industrial metals products. These stocks should go down.
I should note that I am unsure when exactly this down trend will start. In my mind it should start tomorrow. However, it may be that it will have to wait for analyst earnings and revenues estimate lowering, which should occur. If for some reason this does not happen, it may mean that these stocks will not go down until the December auto sales numbers are released. It does definitely put another nail in the coffin of the industrials' rally, especially the industrial metals' rally.
I note that not all industrials and/or industrials metals stocks are in the same technical or fundamental situation. I have described two that I think are far over priced for the near term. Both AA and X currently have negative earnings estimates for FY2009. Since the revised Q3 GDP brings into question their recoveries to profitability in FY2010, they should move down. Good luck trading.
Disclosure: I am short X