Chevron Corporation (NYSE:CVX) earlier in this month released an interim report revealing that it's expecting lower numbers compared to the previous quarter. CVX earlier this year had also set up goals to hit a target of 3.3M barrels of oil per day by 2017. However, recently the company's production has been 2.89M barrels, completely missing the target they had set for themselves. Therefore, if CVX seeks to remain competitive against companies like ExxonMobil (NYSE:XOM) it has to boost its production levels.
CVX's interim report showed that the company had been steadily growing throughout the quarter despite low numbers. In fact, CVX saw a 4.2% gain in natural gas production and a 2.9% increase in production growth, which are solid. But steady growth doesn't mean that CVX will hit its targets by 2017. What all analysts are looking to in future quarters is how well CVX can not only increase production, but also growth.
Chevron Corporation is expected to report FQ3 2013 earnings on Nov. 1st before the market open. The information below is derived from data submitted to the Estimize platform by a set of Buy Side and Independent analyst contributors.
The current Wall Street consensus expectation is for CVX to report $2.96 EPS and $59.345B revenue, while the current Estimize consensus from nine buy-side and independent contributing analysts is $2.89 EPS and $59.202B revenue. The magnitude of the difference between the Wall Street and Estimize consensus numbers often identifies opportunities to take advantage of expectations that may not have been priced into the market. In this case, we're seeing a smaller differential between the Estimize and Wall Street numbers compared to previous quarters.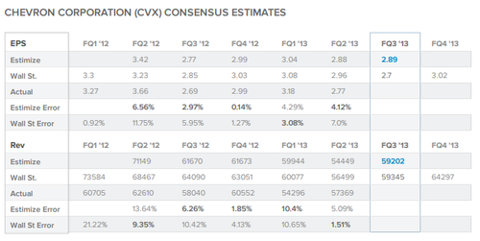 Over the past four months the Wall Street consensus trend for EPS has decreased from $2.96 to $2.7, while Wall Street revenue expectations have increased from $56.499B to $59.345B. The Estimize EPS and revenue consensus have increased this quarter with EPS going from $2.88 to $2.89 and revenue increasing from $54.449B to $59.202B.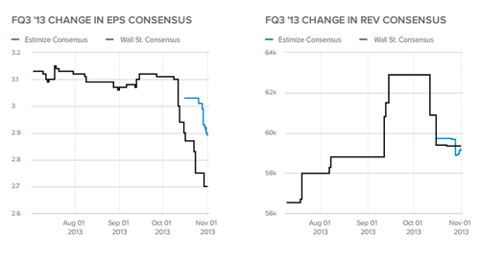 Over the previous six quarters, CVX has beaten the Wall Street consensus for EPS 2 times and revenue 1 time. Over the same time period CVX has beaten the Estimize EPS consensus 2 times and the Estimize Revenue consensus 1 time.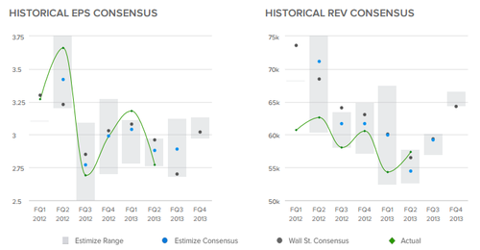 The distribution of estimates published by analysts on Estimize range from $2.68 to $3.12 EPS and $56.855B to $60.046B revenues. We're seeing a smaller distribution of estimates this quarter for CVX than normal. The size of the distribution of estimates relative to previous quarters often signals whether or not the market is confident that it has priced in the expected earnings already. A narrower distribution signaling the potential for greater volatility post earnings, a wider vice versa.
The analyst with the highest estimate confidence rating this quarter is Adam Sussman who projects $2.94 EPS and $59.546B in revenue. Estimate confidence ratings are calculated through algorithms developed by our deep quantitative research, which looks at correlations between analyst track records and tendencies as they relate to future accuracy.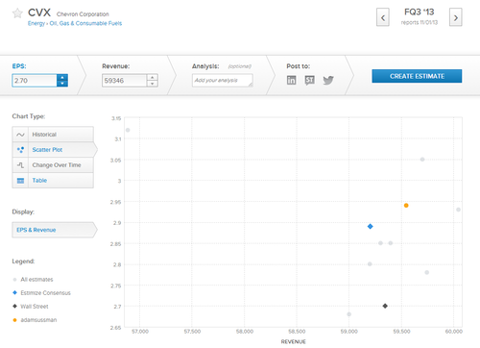 Chevron Corporation is a company in a direction of growth. However, for numerous quarters, it has failed to meet or beat Wall Street expectations and it has failed in meeting its own production expectations. Looking at the optimistic side of things, however, CVX has shown that it does have the ability for long-term growth, especially with the numbers it put out for its interim report. Therefore, there's always the possibility that in the long run CVX is setting itself up to do great things. But in this quarter, don't expect too much.