Equity Futures: Dow +36.00. S&P +3.50. NASDAQ +8.25. Japanese Nikkei +10.00. German Dax +13.00.
European Trade: Wednesday marks the third consecutive day in which the European markets continue to rise. The S&P futures also advanced overnight, as investor consider that the global economy is in a strong recovery phase.
Since the session started, the regional indexes across Europe gained on average 0.60%, with the Nordic and Eastern European markets lagging behind. However, in Western Europe, the CAC 40, DAX 30 and the FTSE 100 indexes reached the highest value in 14-months throughout the overnight session. Earlier in the day, the Nikkei index closed almost 2% higher, near the highest value touched since September 09.
The trading volumes have been very low in the cash and futures equity markets lately. This is happening because of the upcoming Holiday Season, which forces most institutional trade desks to close their books a few days earlier. Trading volume and liquidity are expected to return to the market during the first part of January, especially since Q4 earning results are quickly approaching.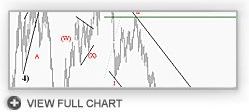 S&P Technical View: TheLFB Member Charts
Overall View: Looking for a top of an ending diagonal (reversal) pattern
4 Hour Chart Flows: Mixed Price Points: 1125, and 1135 Looking for: An ending diagonal (reversal pattern)
Momentum: The S&P futures market confirmed a Long momentum read on Nov 11th and has also built a solid near-term support base around 1085. The trend has flattened out, and now the 1105 area will be a major resistance point to battle this week. The moves to test and hold support are impressive, and are backed with Japanese and German equity markets that are also looking bullish.
Elliott Wave: S&P futures are very bullish, at the same time that the dollar index trades above 78.00 support. The S&P is threatening the highs from early December and our alternative wave count has now become our primary wave count.
We are looking for a more complex wave 5) leg, as it seems that the market is forming a (W)-(X)-(Y) pattern in larger wave 5) with wave c of wave (Y) in progress. Targets of this final bullish wave are shown at the 1125 region followed by a second target at the 1135 zone, where a potential top may be hit.

Sector Moves: Banks and insurers added the most points in European trade, both sectors advancing approximately 1%. The only sector that declined in Wednesday trade was food & beverages, but the losses were contained. From the opening bell, the food & beverages companies lost 0.10%, after U.S. regulators said that Nestle (OTCPK:NSRGY) violated U.S. marketing rules. In Swiss trading, Nestle was down 0.50%
European semiconductor companies also advanced on Wednesday, following the announcement made by Micron (NASDAQ:MU) throughout the prior U.S. session, that semiconductors sales have picked up on smart-phones. As such, the German listed Infineon (IFX) and the French listed STMicroelectronics (NYSE:STM) were trading up 2.20% and 1.50% respectively.

Upcoming Economic Moves:
08:30 EST Cad GDP Exp 0.3%, Prev 0.4%
08:30 EST Usd Personal Spending Exp 0.6%, Prev 0.7%
10:00 EST Usd New Home Sales Exp 442K, Prev 430K
10:30 EST Usd Crude Oil Invent. Exp -1.5M, Prev -3.7M

Crude oil was recently trading at $74.75 per barrel, higher by $0.35
Gold was recently trading down by $1.80 to $1084.90.

Disclosure: No positions